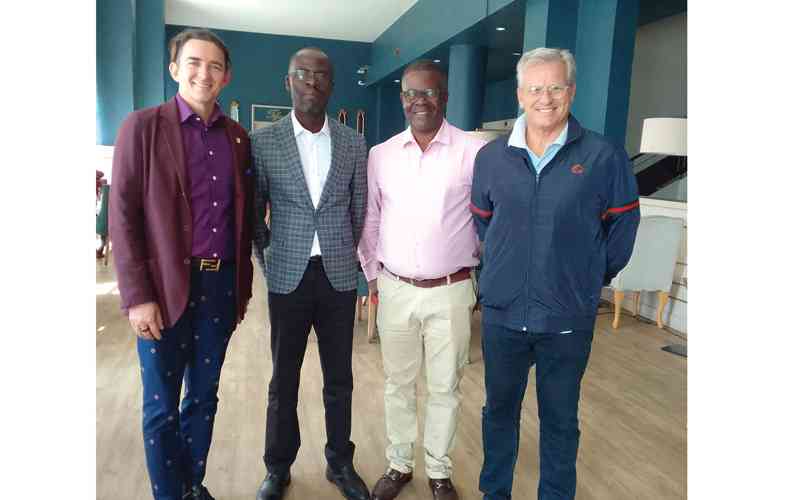 STOCK Market enthusiast Alfonce Maketo last week launched his second book titled How We made it in Zimbabwe: Value Investing for the Long-Term at a local hotel in Harare.
In August last year, I featured Maketo on this column after he had written his debut book titled How We made it in Zimbabwe: Investing on the Zimbabwean Stock Exchange. His latest offering is the second in a 3-volume series titled How We made it in Zimbabwe and is focused on addressing a few key metrics for some of the largest stocks on the Zimbabwean Stock Exchange and tries to illustrate why and how long-term investing is important.
Born and bred in Chitungwiza, Maketo is a stock market enthusiast with a bias towards capital markets. He holds a BSC (Hons) degree in Agricultural Economics from the University of Zimbabwe and an MBA degree from Solusi University. He has entrepreneurial interests spanning from agricultural processing, automotive industry to mining.
He takes pride in raising literacy on how the Zimbabwean Stock Exchange(ZSE) works and has conducted several workshops in enlightening the public on the importance of participating on the stock market.
Former energy minister Advocate Fortune Chasi, West Prop CEO Ken Sharpe, Eye Specialist Dr Solomon Guramatunhu and financial analyst TC Nemaungwe were some of the guests who graced the launch.
In a speech read on his behalf, ZSE CEO Justin Bgoni stated that he had been impressed by the increasing number of people participating on the stock exchange.
"The ZSE has been an enigma for a lot of people with quite a number of our locals having believed it to be for the elite. However, over the past five years, there has been a lot of locals taking part in it," he said.
"I'm impressed by this technical and in-depth resource on investing for the long-term. As ZSE, we aim at promoting saving and investment through National Development Strategy (NDS1).
"I believe the book will go a long way in encouraging long-term investments".
In his author speech, Maketo stated that he had written the book after receiving feedback from a reader who had purchased his debut book from a local bookshop.
"A white guy came to my office, he had a share certificate from 1981, a Delta Share Certificate and he asked me if it was possible to hold shares for the long-term. We then sat down after which I consulted financial analysts, investors and bankers and from this information I birthed this book," he said.
Maketo stated that he felt that there was a deficit in information, especially from some information institutions and bodies hence he felt the second volume would add a fresh dimension and lure people to consider long-term investments.
The book cover depicts a big bull with graphical variations associated with the ups and downs of the stock market with a translucent background of a Zimbabwean bird on it.
Deriving from its preamble, it seems the book draws some inspiration from the all-time classic, The Richest Man in Babylon which was written by George Clarkson.
In the book, Arkad teaches fellow Babylonians an invaluable nugget: A tenth of what you earn is yours to keep: In the book Maketo emphasises how investing on the stock market is one way of creating generational wealth and argues that risk is inherent on the stock market as much as anywhere else.
He also draws lessons from billionaire Warren Buffet, an acclaimed investor who boosts of a record of having held some of his favoured stocks for decades. He quotes Warren Buffet's "if you can't hold a stock for 10 years don't consider holding it for a minute" and raises concerns on how most investors have lost the core of ethos of investing.
The first 100 copies of the book were bought by property Mogul Ken Sharpe at US$2000 and coincided with the announcement of the impending enlistment of West Prop Zimbabwe onto the Victoria Falls Stock Exchange slated for April 29.
Maketo says he is currently penning a book exploring investment options on the regional stock markets.
The book is now available at Innov8 bookshop.
Fungayi Antony Sox is a content writer, editor, ghostwriter, researcher,communication and publishing consultant at TisuMazwi–a communications-centered social enterprise based in Harare. He writes in his personal capacity. For feedback contact him on +263 776 030 949, connect with him on LinkedIn on Fungayi Antony Sox or follow him on Twitter: @AntonySox.
Related Topics