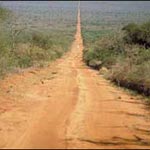 As last week brought the end of the school holidays my friend and I drove to my rural home to pick up the kids who had gone to spend quality time with their grandma.
This trip opened a whole new dimension to our so-called empowerment and development policies and approaches.
The roads are in a terrible state such that one needs an off-road vehicle to "safely" travel to and fro.
Quite recently, there was a newspaper advert to the effect that indigenisation had been a success, just like the land reform programme before it was also hailed as a great success regardless of the associated perennial food shortages, grain to be precise.
How do we hail the successes of our empowerment programmes when most of our rural areas are almost cut off from the rest of the world? How do we empower an inaccessible people?
These are some of the questions that boggle me because again just two weeks ago, I was in Makonde rural where the "roads" are in an advanced state of neglect.
Hypothetically, if there was to be a keen investor to invest in most of our rural areas, the biggest question would be on  how they would go about setting themselves up in such areas that have no reliable road infrastructure.
Our government's attention, or lack thereof, is immersed in the divisive Copac draft constitution and the so-called outstanding GPA issues at the expense of bread and butter issues for the subalterns.
Poor project implementation is on public display as the government is busy attempting to dualise at least three highways at the same time instead of focusing on one project at a time for effective allocation and use of our meagre financial resources.
The DDF is largely offering subsidised tilling services to the "new" farmers and is no longer giving much attention to the maintenance of rural road networks as used to be the case.
Poor road network stifles rural development and our empowerment programmes will come to naught as long as our rural areas are cut off from us. The constituency development fund is something most rural folk are yet to hear about.
Joachim Garikai, Harare.