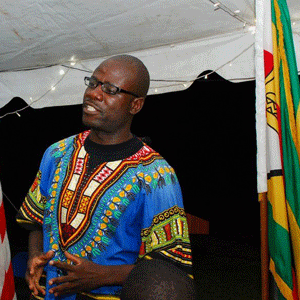 As a young boy growing up in Zvishavane, versatile author and poet Mbizo Chirasha enjoyed listening to his grandmother's folk tales most evenings, as he sat around a fire with other children.
Report by Tawanda Marwizi
While most of his peers took the folktales as simple stories meant to entertain their little minds, Chirasha was inspired to take storytelling to a professional level.
"I got my inspiration from my grandmother who was a good storyteller. I get ideas for some of my stories from those folk tales," said Chirasha in an interview with StandardLife&Style.
Chirasha, who mainly focuses on children's rights, politics, social lives, and gender issues, said artists should explore various issues to inform the society. "We have to tell the society about what is happening out there, so the surroundings also contribute to what I write."
Chirasha has been contributing to different journals in Africa and beyond. "I am humbled by the way my poems have been received internationally. At the same time, it has encouraged me to keep on working," said Chirasha.
Performing in different parts of the world inspired the 34-year-old artist to start projects like the Girl Child Creativity, to assist upcoming artists. "We have toured around the world and I have noticed that sometimes young stars are not given the platform to showcase their talent. So I decided to initiate the Girl Child Creativity," he said.
He said this enabled different female artists to have their talents realised. "Let them show their talents to the people. I am happy with the response we are getting from various discussions we are doing."
Chirasha has been a poet in residence for a number of organisations and has performed at festivals like the Harare International Festival of the Arts (Hifa). His poems have been published in more than 35 journals, magazines, and anthologies in countries including Canada, Germany, Finland, South Africa, United Kingdom, Ghana, Turkey, Grenada, India, United States, and Norway among others.
He co-authored a poetry anthology titled Whispering Woes of Ganges and Zambezi with Sweta Vikram, an Indian-born New York-based poet.
Chirasha's history in brief
Born on June 7 1978 in Zvishavane district, Chirasha did his primary and secondary education at Zvegona and Govarizadze schools respectively, before deciding to pursue literature.