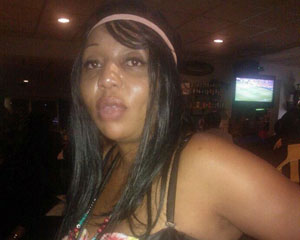 GROWING up surrounded by uncles like mega-rich Dynamos chairman Kenny Mubaiwa, who spoilt her, and counting a male cousin as her best friend since childhood, socialite Mahwindo (born Wanisai Tendai Mutandwa) has never found comfort in the fairer sex.
BY SILENCE CHARUMBIRA
As she grew up under the care of her grandmother in Seke communal areas, Mahwindo loved to hang out with boys — shunning groups of girls in her community.
That characteristic has stuck with her and today Mahwindo says all her best friends are men. In fact, she declares she "cannot stand women".
"I am a short-tempered person. I do not like gossip so I cannot stand women. Women that I hang out with are mostly my relatives. Other than that, there are the Dendera Queens and of course my mother," says Mahwindo.
"My mother accepts me and has embraced the character that I have assumed because she respects what I want in life. We are very good friends and I tell her everything about my life. Being the first born and diabetic, I am like a queen to her. The other reason is of course that my father is very 'English'. Whenever I am at home, we drink together with my father. Everyone knows that even though our family home is in Chitungwiza our house is as good as those in the leafy Glen Lorne suburb."
Her mother is the last born in the Mubaiwa family.
True to her word, Mahwindo's best friends are Gladman Sekawawana aka Dallas whom she met in a club in 2002, music promoter Josh Hozheri and Alick Macheso.
"Everyone else follows after those three guys. Even their families know I am their aunt. Growing up my best friend was Fortune Madhlazi, my cousin and that my uncles spoiled me made it worse," said Mahwindo.
Due to her carefree attitude that includes raunchy moves at live gigs, Mahwindo has often been mistaken for a sex worker by those who don't know her.
After she broke up with her first husband in 2001, she got involved with Macheso's vocalist (name withheld) for nine months before she dated a musical promoter for two years, she told The Standard.
"I know people suspect I have dated Macheso but the truth is we have never been lovers. I first fell in love with his music when I was staying in Chitungwiza as my husband was a staunch fan. So one of the days we attended a show at Nyamutamba Hotel where Macheso was curtain-raising for Leonard Zhakata and Tongai Moyo who were the top acts that time. He had this funny way of dressing and from then after seeing him in the neighbourhood, we became brother and sister," she said.
"Afterwards, I dated the vocalist but the relationship ended when he deserted Macheso. He was Macheso's best friend and I was heartbroken that my brother had been ditched. I dumped him straight away. He is the only musician that I have ever dated."
The bond with Macheso has grown so strong that even before her childhood favourite artiste Simon Chimbetu died, he had been relegated to second best.
Interestingly, even the name Mahwindo came from Macheso.
"We were at a show at Harare Gardens; I remember it was a Sunday in 2003 when Macheso teased me about my big eyes. He used to like what I do with my eyes whenever I got drunk and on the day his manager William Tsandukwa just teased me that my eyes were as huge as windows and the name stuck from then on," she said.
A mother of one, Mahwindo says she does not approve of the police's harassment of women in bars at night.
"That is unacceptable discrimination. It is only fair that when they arrest you while walking outside they also arrest men that are walking alone if it is an offence to do so," she said.
"I am not saying there are no commercial sex workers out there, but it is wrong to say all women who patronise clubs are prostitutes. I for one am into buying and selling and cross boarder trading so I do not go out to look for men."
Born on November 18 1976, Mahwindo says she has no plans to get into a serious relationship soon.
When she is not travelling and trading, she ventures into event organisation and management and says her ultimate goal is to become a music promoter.