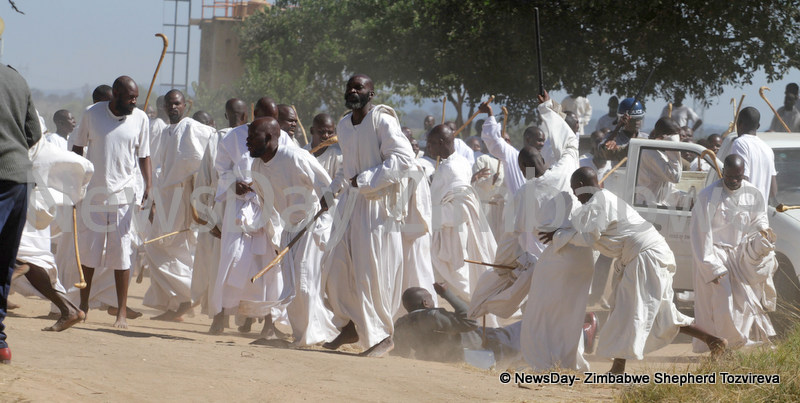 Twenty-four members of the Johanne Masowe eChishanu who were granted bail by the High Court on Thursday are spending another weekend in remand prison after failing to raise the required US$2 400.
BY OUR STAFF
The sect members were ordered to pay US$100 each by High Court judge Justice Esther Muremba as part of their bail conditions.
The Vapositori launched an appeal at the High Court after Harare provincial magistrate Vakayi Chikwekwe denied them bail saying they were of no fixed abode although the National Prosecuting Authority had conceded to bail.
Lawyer for the Vapositori, Obey Shava of Mbidzo, Muchadehama and Makoni law firm yesterday said by the end of the day on Friday only US$1 300 had been raised from a well-wisher, an amount enough to bail out 13 members.
He said the accused would only be released once the full amount of money required had been paid.
"It is painful that people are given bail but still find themselves locked up days later.
"I hope that more well-wishers can come forward and bail them out," Shava said.
Shava said when the 24 Vapositori applied for bail at the High court, he had suggested that they each pay US$10.
"I had suggested US$10 because I know they do not have the means to pay an amount higher than that," he said.
The vapositori will be back in court tomorrow for routine remand. They are facing charges of assaulting police officers and journalists at their shrine in Budiriro on May 30.
They are part of the 36 sect members arrested in connection with the matter.
In granting them bail, Justice Muremba noted that the suspects' record did not demonstrate that they were a threat to public safety.
The sect members were arrested after they allegedly assaulted and injured nine police officers, journalists and officials from the Apostolic Christian Council of Zimbabwe (ACCZ) who were part of a team invited to witness the banning of the sect over allegations of human rights abuses.
Violence broke out after ACCZ president Johannes Ndanga announced the banning of the church as well as ordering the arrest of one of the sect members who allegedly kept interjecting his speech.
This angered the other sect members who immediately pounced on the "intruders" and attacked them using their shepherd staffs.