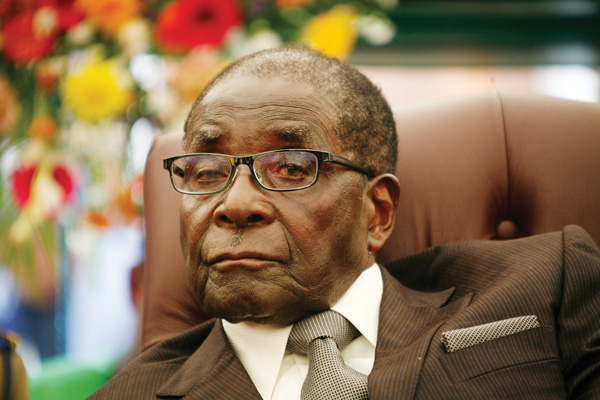 Vice-President Phelekezela Mphoko recently presented a damning report to President Robert Mugabe on the activities of war veterans that stopped short of accusing them of treason, it has emerged.
by XOLISANI NCUBE/EVERSON MUSHAVA
A furious Mugabe last week lashed out at the war veterans, describing them as dissidents for allegedly threatening war should Vice-President Emmerson Mnangagwa fail to succeed the 92-year-old leader.
Senior Zanu PF officials said Mugabe's shocking statement, which evoked memories of the 1980s Gukurahundi atrocities, was motivated by the report.
Mphoko was acting-president when war veterans held a meeting in Gweru where they came up with several resolutions backing Mnangagwa's presidential candidature.
Mnangagwa has been linked to the Team Lacoste faction in Zanu PF, which is fighting with the rival G40 group in the race to succeed Mugabe.
In Mphoko's report, war veterans' leader, Chris Mutsvangwa, his secretary general Victor Matemadanda and spokesperson Douglas Mahiya were described as threats to national stability, calling Mugabe to rein them in.
Armed with the report, Mugabe reportedly pushed for the ouster of the trio in last week's politburo meeting.
But he was reportedly refrained from going ahead by secretary for security Kembo Mohadi and secretary for war veterans Sydney Sekeramayi who said the party should live to its promise to put an end to suspensions.
"On Monday (last week) Mphoko briefed the president on what had transpired in his absence (as he had travelled to Papua New Guinea) and in the briefings, he tendered a report which had audio, newspaper cuttings , minutes of the war veterans meeting as well as a detailed narration of the state security situation in the country," said an insider.
"The report highlighted the issue of war veterans' leaders who are alleged to have stated that they will go to war if Mnangagwa does not succeed Mugabe and the VP sought clarification on whether it was proper for the war veterans to make such statements—to which Mugabe said it was not correct."
Mphoko is said to also have claimed that he was in possession of a document, Blue Ocean Strategy, by war veterans, outlining strategies the former fighters with the backing of Mnangagwa wanted to use to oust Mugabe, although he did not produce it in the politburo meeting.
Mphoko on Friday refused to comment on the matter saying; "Do you think I can discuss such things with you," before hanging his mobile phone. Matemadanda last night said he did not know anything about the Blue Ocean strategy.
"I was only told yesterday (Friday) that it is a strategy of exclusion. It's a theory," Matemadanda said.
"If they have minutes of rallies they should produce them and they should be signed by the chairperson.
"One of us, Cde Black Jesus has said at five of our meetings that President Mugabe should be declared life president. They don't want to talk about it because they want things against us."
He added: "The Blue Ocean thing which is their imagination is what they are using to get the president angry about us. It is sad that in the ruling party decisions are being made based on rumour mongering."
In Mphoko's report according to insiders, certain military officials were said to be behind the war veterans' move. They said on Saturday last week, some generals instructed war veterans to issue a statement attacking Mphoko and deny making a statement to the effect that they would be bloodshed if Mnangagwa does not succeed Mugabe.
The report, the insiders further said, also questioned Mnangagwa's silence over the matter with Mphoko imploring Mugabe to demand that his co-VP speak on his role within the war veterans.
"In the report, VP Mphoko complained that he and other senior party leaders such as the First Lady, secretary for commissariat, Saviour Kasukuwere and Jonathan Moyo have become permanent topics for discussion at every war veterans meeting although they are not members of the organisation."
Mphoko also narrated to Mugabe that the attacks by those perceived to be supporting Mnangagwa started long back but the VP has remained mum.
"He also touched on the conduct of the expelled Zanu PF youth chairpersons led by Godfrey Tsenengamu, alleging Mnangagwa funded his Save Zanu PF campaign and helped them with strategies aimed at attacking Mugabe, his wife, Mphoko and other senior party leaders," another senior Zanu PF official said.
He added: "Talking about bloodshed is a declaration of war and that alone is dangerous. Even the president did not like such an utterance.
"He equated it to the allegations that were once levelled against Rugare Gumbo (that Mugabe will be removed the Kabila (Laurent) style) and said the war veterans were stocking hatred in the party."
In Gweru, war veterans resolved that Mnangagwa was "the only man known in China" and as the second most senior member should automatically take over from Mugabe.
This according to party and government sources infuriated Mugabe who was determined to have war veterans leader Christopher Mutsvangwa fired from the politburo.
War veterans from Matabeleland saved Mutsvangwa in the central committee after Hurungwe MP Sarah Mahoka and Mandi Chimene pushed for his ouster.
"The issue was also raised in the politburo and Mnangagwa denied ever sending the war veterans to make such statements –exposing them to censure," said another insider.
"Don't be surprised to hear that they have been expelled from the party—the leadership because Mugabe felt their statements were divisive and treasonous.
"He agreed with Mphoko that action has to be taken against Mutsvangwa or else the party could disintegrate into chaos and anarchy."
Mutsvangwa has however disowned the Midlands report and came out guns blazing against Mphoko, accusing him of misinforming Mugabe. Some central committee members reportedly claimed that the minutes where doctored by G40 to destroy Mnangagwa's political ambitions.
Mnangagwa reportedly challenged members if there was anyone who ever heard him saying he wanted to take over power from Mugabe.
Mphoko is also said to have laboured to explain his war credentials to central committee members as he tried to dispel accusations by war veterans that he was a war deserter.
Mugabe's wrath against war veterans was also said to have been triggered by a report that was also submitted in the politburo that was written by Kadoma businessman Jimaya Muduuuri that seriously attacked G40 and partly, war veterans and at the same time exonerating Mnangagwa.
Muduvuri had been making rounds meeting war veterans while in the company of suspended secretary for youth Pupurai Togarepi in a mission he is widely believed to have been sent by Grace through director of State House Innocent Tizora.
Mugabe's spokesperson George Charamba and Zanu PF spokesperson Simon Khaya-Moyo were not available for comment yesterday.