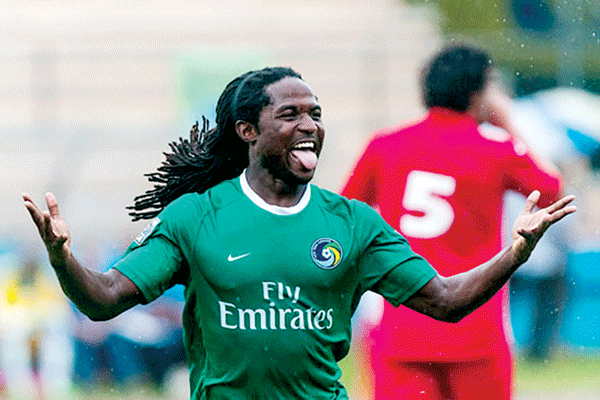 UNEHERALDED United States-based Zimbabwean striker Lucky Mkosana is hogging the limelight in the United States' North American Soccer League (NASL) with a string of impressive performances, which has seen him emerge as one of the key players for the table-topping New York Cosmos.
BY DANIEL NHAKANISO
The 28-year-old forward, who is in his second season with New York Cosmos, has been a regular feature for his club, who are currently sitting on top of the Fall Season and Combined standings ahead of second-placed FC Edmonton.
Mkosana, who is yet to be capped for the national team after being overlooked by previous Warriors coaches — including the current gaffer Kalisto Pasuwa — has made 18 appearances for Cosmos this term, scoring four times and providing three assists.
Venezuelan star Juan Arango, who has found the back of the net four times in the last two games, is the club's leading scorer with nine goals.
Used primarily as a substitute until recently, Mkosana, a former Dartmouth College standout, has been particularly valuable for Cosmos since the start of the Fall Season, with all his four of his 2016 goals coming since the start of July.
Recently, he was named NASL Player of the Week after a standout performance in his club's 3-0 win over Puerto Rico FC, where he had a hand in all three of New York's goals against Puerto Rico FC.
Mkosana recently spoke of how he had to call on all his powers of patience when he had to be content with a bit-part role in the side, coming on as a substitute in seven games without scoring a goal throughout the Spring Season as the Cosmos finished in second place.
The spell on the Cosmos bench came after the talented player had started 21 matches last year and finished second on the team's scoring list with five goals, as his side went on to claim another league title.
"For me, it's understanding this is part of my job," Mkosana told NASL.com.
"Sometimes, things are not going to go well. Sometimes, they go fine. I think I've been mentally tough. I keep on working hard off the field and take care of my body to make sure I'm ready."
And when he was finally given the opportunity, Mkosana proved his quality with a string of impressive performances, which earned him praises from his coach, the former Venezuela international Giovanni Savarese.
"Lucky's performances have been extraordinary and reminded the league what he is capable of doing," Savarese said.
"There is no doubt Lucky is a very important player for us and he has demonstrated that. From a coaching point of view, we are very pleased with Lucky's hard work and perseverance. To us, every single player is important and it is great to know that you have depth in your squad to give every player in the roster the opportunity to contribute."
Mkosana joined the Cosmos prior to the 2015 season after spending time with the Tampa Bay Rowdies.
Before making his NASL debut, he played with the United Soccer League (USL)'s Harrisburg City Islanders and the Professional Development League's Michigan Bucks.
His career, however, started at Dartmouth College, where he was named the 2011 Ivy League Player of the Year and made All-Ivy League First Team all four years from 2008 to 2011.
Mkosana was selected by the Chicago Fire in the second round of the 2012 Major League Soccer SuperDraft, but never signed for them, opting instead to join the Harrisburg City Islanders.
He scored 20 goals and tallied four assists in 41 games for the USL Pro club.
In the 2013 season, Mkosana tied a club single-season record with 13 goals, and ended his stint at Harrisburg tied for third place on the franchise's all-time scoring list.