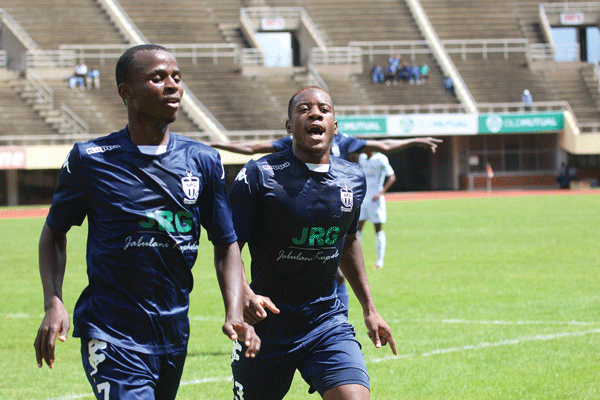 Recreativo do Libolo . . .(1)2 Ngezi Platinum Stars . . (1)1
NGEZI Platinum Stars were left feeling hard-done after questionable officiating denied them a last gasp equaliser in a 2-1 loss to Recreativo do Libolo in a Confederation of African Football (CAF) Confederations Cup first round, first leg encounter at the Estadio de Calulo yesterday.
By Daniel Nhakaniso in Calulo, Angola
Terrence Dzvukamanja's last minute tap in from a cross by Godknows Murwira, which would have given the visitors, a crucial draw away from home was harshly flagged offside by Zambian first assistant referee Kabwe Chansa.
Liberty Chakoroma scored the priceless away goal in the 22nd minute after Brazilian striker Fabricio opened the scoring with a 12th minute header before nodding the winner nine minutes after the restart.
It was a bitter finish to a brave display by Tonderai Ndiraya's charges who fought bravely in front of a partisan Recreativo do Libolo crowd of around 5 000 fans which had come expecting a rout.
Despite weathering the early pressure from the hosts, Ngezi Platinum Stars still found themselves chasing the game after Fabricio headed home a freekick from down the right flank from Kaya.
Ngezi responded in emphatic style after Chakoroma silenced the home crowd as the hosts' goalkeeper Landu Mavanga could only parry his low shot from a Qadir Amini cross onto the inside of his left handpost. The goal seemed to breathe the much-needed impetus into Ngezi, who before then had struggled to contain the hosts' attacks from the flanks.
Recreativo started the second half just like they started the opening stanza and were soon rewarded after Ngezi defenders were yet again caught off-guard at the set pieces.
Fabricio headed home from close range after Ngezi defenders failed to clear the second rebound from a Kaya corner. Ngezi finished very strongly after the introduction of Mclive Phiri and Donald Teguru, hence the disallowed goal which they thoroughly deserved.
Ngezi Platinum went into the match on the back of frustrations.
Despite leaving Zimbabwe on Wednesday in a bid to give the players enough time to rest before the match, Ngezi arrived in the city of Calulo in two batches, less than 24 hours before kick-off time, denying them an opportunity to have a feel of the match venue.
In fact, the Ngezi players, who missed their connecting flight to Angola at the OR International Airport on Wednesday, ended up spending another day in Luanda after delays with the chartered flight to Calulo that the club had secured.
Coach Ndiraya remained optimistic of his team's chances after coming out of the match with what looks like a positive result.
Line-ups:
Ngezi Platinum Stars: Nelson Chadya, Keith Murera, Edgar Tapera, Partson Jaure (c), Walter Mukanga (Terrence Dzukamanja, 79), Dominic Mukandi, Godknows Murwira, Liberty Chakoroma, Tichaona Mabvura (Donald Teguru, 87), Washington Pakamisa (McClive Phiri, 79), Qadir Amini
Clube Recreativo Desportivo do Libolo:- Landu, Mariano, Jaime, Celson, Eddie Afonso, Ito, Sidnei, Kaya, Cabibi (Diawara, 46), Fabricio (Paizinho, 88), Nadinho