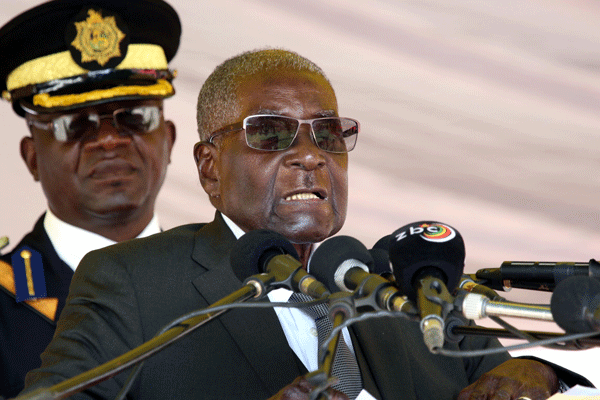 President Robert Mugabe could have given the biggest hint yet of his preferred successor after his first campaign event on Friday and a presentation by Higher and Tertiary Education minister Jonathan Moyo, a day earlier where he put forward Defence minister Sydney Sekeramayi as one of the most qualified people to take over from the 93-year-old ruler.
BY OBEY MANAYITI
Mugabe used a meeting organised by the Zanu PF youth league in Marondera on Friday to berate ruling party factions jostling for his post, in remarks that appeared targeted at Vice-President Emmerson Mnangagwa's faction.
He rejected the notion among Lacoste supporters that it was now time for Karangas to rule, which would derail Sekeramayi's ambitions. Mugabe insisted that the next leader would be chosen at congress.
At the Marondera rally, Sekeramayi was uncharacteristically given the rare opportunity to give a vote of thanks, which is usually reserved for Mugabe's two deputies, Mnangagwa and his counterpart Phelekezela Mphoko.
Zanu PF youth chairperson Kudzanayi Chipanga also kept referring to the party's "Look East policy", in what insiders said meant the party's leader will come from the east. Sekeramayi is the most senior party leader from Mashonaland East.
Analysts said Moyo's utterances and the events at the Marondera rally were a clear indication that Mugabe might be finally making a move about his successor as concerns mount about his failing health.
Moyo — speaking in his personal capacity — at a Sapes Trust Policy Dialogue Forum on Thursday, said Sekeramayi was a far better candidate to succeed Mugabe than Mnangagwa who is linked to Team Lacoste.
Political analyst and Sapes director, Ibbo Mandaza said the Zanu PF strategist's utterances were not accidental.
"I am sure so. There has been no contradiction of his position so far except from the expected quarters," he said.
"It appears that they [G40] are fighting back and not that alone but maybe the succession issue is now resolved or is being resolved."
G40, a Zanu PF faction linked to Moyo, has been at the receiving end for the past two months, with one of its key members, Zanu PF national commissar Saviour Kasukuwere under pressure from protestors who wanted him fired on allegations of plotting to overthrow Mugabe by allegedly forming parallel structures.
Two other key G40 members, Bulawayo provincial affairs minister, Eunice Sandi-Moyo and Hurungwe East MP, Sarah Mahoka were forced to resign from the Zanu PF women's league where they were deputy secretary and treasurer respectively.
But Moyo, who has been quiet for the past few months, used the Sapes event to renew his attacks on Mnangagwa.
"The notion peddled by the so-called Team Lacoste that its leader is the only one who is above or senior to everyone else below President Mugabe is false and that falsehood should stop. There are others that are senior to the leader of the so-called Team Lacoste," he said.
"One of them, by way of an important example, is Dr Sydney Sekeramayi whose loyalty to President Mugabe, the party and country; whose liberation credentials, experience, consensus-style of leadership, stature, commitment to the nationalist project and humility have no match."
Legal expert Alex Magaisa also said Moyo appeared to have the backing of Mugabe or first lady Grace for him to throw Sekeramayi's name into the ring.
"Sekeramayi has often been referred to as the 'dark horse' of the succession race. It is also important to consider the role of Mugabe's hand in the latest developments," Magaisa wrote on his blog yesterday.
"During his delivery, Moyo looked relaxed and confident, with the assurance of a man who knew what he was doing.
"He was ready and prepared to discuss the succession issue openly. It is hard to imagine that he threw in Sekeramayi's name by accident."
He said Moyo was clever enough to have known, or anticipated, the implications of deploying Sekeramayi's name in the context of his stinging criticism and dismissal of Mnangagwa's presidential ambitions.
Magaisa said there were striking similarities between Sekeramayi and Mnangagwa, both having been in influential positions since independence, including the ministry of and Defence.
The two are war veterans who have been working hard to keep Mugabe in power.
Youth and Indigenisation minister Patrick Zhuwao, who has been linked to G40 despite his repeated denials, yesterday sprang to Moyo's defence on his remarks over the thorny Zanu PF succession issue while berating the state media for "flagging a dead horse".
Zhuwao said an editorial in the state media which described him and Kasukuwere as Moyo's cheerleaders for attending the Sapes forum was a childhood tactic meant to bully him into silence.
He claimed to have started participating and presenting at Sapes events when he was still in Form 4, over 30 years ago.
"The Herald's editorial policy seeks to enforce an idiotic notion of command thinking under the foolishly mistaken notion propagated by the doomed successionist Team Lacoste's paper tigers who are seeking to cow Zimbabweans into being submissive cowards. Hatisi mbwende dzino vhundutsirwa nezizi risina nyanga [We are not cowards who can easily be intimidated by pretenders]," Zhuwao said.
Zhuwao said he fully supported Moyo's exhortation that "The time has come for the silent majority to stand up and speak up. Silence must not be an option for those who support the president".
He alleged the state media was employing the Blue Ocean Strategy that chronicled how Team Lacoste would wipe off G40.
Zhuwao told The Standard that Moyo's remarks were very credible as an academic analysis.
He said the state media, starting during the build-up to last year's One Man Million March, has been critical about the youth league activities.
Zhuwao said he was surprised by another attempt by ZBC to try and tarnish Mugabe's Youth Interface meetings last week.
"Even as we went towards the run up of this major event which is testimony to the organisational capability of our young people, you also find that the ZBC of Monday edition actually attempting to have a story of trying to call youths a lost generation, which is entirely nonsensical."
He accused the state media of trying to prop up Team Lacoste, which he described as a dead horse, adding the alternative media had proved more relevant and objective.
In 2014, Mugabe saved Sekeremayi after he was identified as one of several senior ruling party officials that were sympathetic to former vice-president Joice Mujuru, who was accused of plotting to topple Mugabe.
The Defence minister is also one of the few Zanu PF leaders that have been consistently retained in Mugabe's Cabinet since 1980.