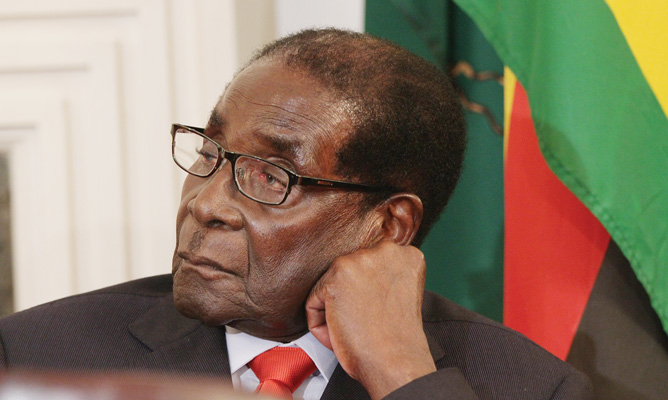 President Robert Mugabe is in Singapore for medical treatment for the umpteenth time this year amid concerns that his health problems are becoming a strain on the fiscus.
By Everson Mushava
Zanu PF last night announced that Africa's oldest ruler had cancelled a rally scheduled for Lupane on Friday, an indication the latest trip was unplanned.
Mugabe (93), quietly flew out of the country last Friday afternoon and this time State media did not announce his trip as it usually does when he leaves Zimbabwe or returns home.
The Zanu PF leader has dismissed previous reports that he suffers from prostate cancer, saying he only visits Singapore to get treatment for an eye problem.
However, the increased frequency of his trips that peaked last year has fuelled more speculation about his health.
"He has gone for his routine medical check-ups," a senior government official said yesterday. "At his age, it is normal that he constantly needs medical attention."
Information minister Christopher Mushowe refused to disclose reasons why Mugabe is in Singapore, just a few days after returning home from a trip to Ethiopia.
"It's a private visit," the minister said in a terse response.
Mugabe spent close to three months out of the country in the first half of the year.
The president spent a staggering 77 days out of the country between January and May as his love for foreign travel continued to drain the cash-strapped government.
The trips excluding the latest Singapore visit have gobbled over $50 million, according to information from Treasury.
Mugabe's government last year ran an $1,4 billion budget deficit and the figure is expected to increase this year due to an upsurge in foreign travels cost that stood at $53,27 million as of December, more than double the $23 million set aside by Finance Minister Patrick Chinamasa for the purpose.
Mugabe's office remained the biggest spender, chewing $30,7 million in foreign travels within 10 months in 2016.
The money was than that spent on on critical ministries such Industry and Commerce, which had a $35 million budget and most referral hospitals that were allocated less than $1 million each.