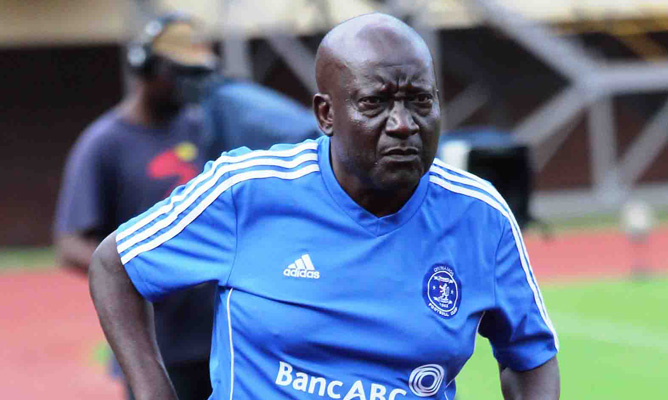 IN October last year, 1980 Soccer Star of the Year and former Dynamos coach David Mandigora had his right leg amputated — the same leg that dazzled the local football scene, scoring many goals in numerous championship-winning seasons for DeMbare before and after Independence.
BY MUNYARADZI MADZOKERE
Mandigora ranks among some of the best coaches to emerge from Zimbabwe. but the loss of his priceless limb to peripheral vascular disease effectively called time on his coaching career.
Since the amputation, Mandigora has spent a lot of time at his Vainona home and the last time he made a public appearance was when he sat on the dugout at the time Zimbabwe legends played Barcelona Legends in November.
Now truly and surely recovered, the former national team assistant coach's pulse still beats for football and he is contemplating coming back into football albeit not as coach.
"My desire is to work again as soon as possible. You know, I have a family that has supported me so much during the time I was not well. Now I am better so I would like to do something that should enable me to fend for myself than to rely on other people and also take care of my family," the 61-year-old mentor told The Standardsport at his Vainona home on Friday.
"I don't see myself coaching again though. I don't think I will be able to do the actual coaching as well as I would like, so I would love to come back and do something else. I am still considering what I can do, but I still want to contribute to Zimbabwean football," he said.
It has not been an easy journey to recovery for Mandigora since he lost his leg and he feels indebted to his family and the football community for encouraging him. The first step for him was when he was invited to be part of the technical team that included head coach Sunday Chidzambwa and Rahman Gumbo when Zimbabwe legends played Barcelona Legends a month after his leg was amputated.
"That time I was in great pain especially because the wound was still fresh, but I was helped to be out there with others. I had a chance to take my mind off my condition and interact with others," he said.
"The support from the football community has been great especially the initiative by the legends showed me that people still care about me. A lot of times it gets lonely when you are in this condition, but when you see people getting in touch with you it gives you confidence in life.
"It's not easy to adjust to a different kind of life, but I just told myself that I am lucky to be alive, God has been gracious to me. I am happy to be alive, it's only the condition that is different, which is why I feel I can still do something for local football even in this condition," Mandigora said.
Nicknamed Yogi during his playing days, the Highfield-bred Mandigora's football career began in the early 1970s, joining the DeMbare under-16 team in 1973 as a livewire striker.
But then he carved his reputation as a midfielder before he was crowned Soccer Star in 1980.
Mandigora was part of the first national team to represent Zimbabwe at Independence in 1980.
"We used to watch football at Gwanzura a lot, watching the likes of Peter Nyama, George Shaya, Steven Chimedza, Denver Mahachi and Tendai Chieza when we were young. And playing football for us was just to emulate them," he said.
After hanging up his boots in 1987, Mandigora joined Darryn Textiles where he coached and worked as purchasing officer for four years.
His claim to fame as a coach was when he won the Division One league with a Lancashire Steel side that had exciting talents in the form of Kingston Rinemhota, Petros Sibanda and Mike Dinyero, to name a but a few.
Mandigora also recalled how he took over as Dynamos coach in 2006 after Moses Chunga left with the entire team to join Shooting Stars.
"I was at Afcon [Africa Cup of Nations] 2006 in Egypt assisting Charles Mhlauri and Sunday Chidzambwa called me and asked if I wanted to coach Dynamos. It was tough putting together a team because there were no players at all. I got a lot of help from Sunday assembling a team bringing in the likes of Edward Sadomba, Justice Majabvi and Sam Mutenheri, who I personally got from Kwekwe.
"It was tough at the beginning, but in the second year we managed to win the championship. I was really excited and it remains a special moment for me especially considering that Dynamos had not won the league in 10 years," he said.
He would also guide Dynamos to the Caf champions league semi-final in 2008.
A return to Dynamos in 2015 was not as successful as he was sacked halfway through the season.
While admitting that he spends much of his time at home, Mandigora says he is not completely shut out from the outside world.
"I go out sometimes. I used to play tennis so sometimes I go to Old Hararians to watch my friends play and sometimes coaches invite me to come watch their teams training," he said.
According to Mandigora, plans are at an advanced stage for him to get an artificial leg.