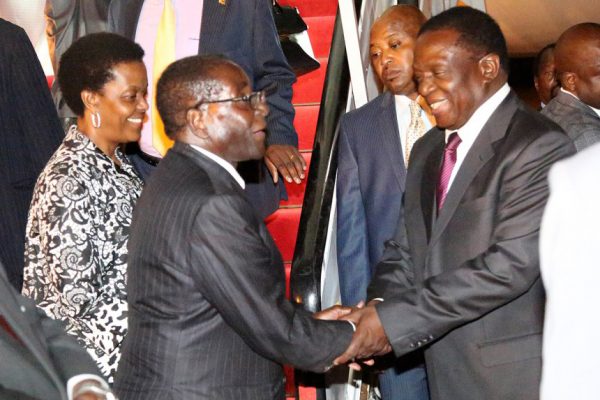 Former president Robert Mugabe tried to visit China at the same time President Emmerson Mnangagwa was in the Asian country, with the government accusing the former ruler's associates of causing confusion.
BY OBEY MANAYITI
Mnangagwa's spokesperson George Charamba made the startling revelations in an exclusive interview with The Standard, where he also accused exiled former Zanu PF officials of trying to drive a wedge between the president and Mugabe.
He said plans for the two to meet and address concerns by the ousted Zanu PF leader were being scuttled by the former G40 "kingpins".
"There is also something that is so provocative that happened just before Mnangagwa was supposed to leave for China: The G40 cabal tried to make the former president go to China the same day that the president left," Charamba said.
"The ostensible reason was that he wanted to buy tiles for his house.
"They were going to leave for China and then Singapore for a genuine medical check-up.
"Originally the president was supposed to visit Singapore as well, but there were budgetary constraints.
"This means the G40 cabal had planned to have the two leaders in China and Singapore at the same time and how would you expect to manage the two leaders in the same country at the same time?"
Mugabe complained bitterly in a recent interview about his alleged ill treatment by Mnangagwa's government.
He said his family and workers were being harassed by State agents who wanted to know the whereabouts of former Higher and Tertiary Education minister Jonathan Moyo. Moyo, who escaped during the military takeover of government in November last year, was accused of being the brains behind the G40 faction.
Charamba said the exiled G40 members feared a meeting between Mugabe and Mnangagwa would scuttle their comeback into politics.
"It was also an issue of G40 people in exile who fear a meeting between the former president and his successor," he said.
"Their calculation, which is rather foolish, is to appropriate the symbolism of Mugabe and use it to relaunch themselves politically, therefore, they don't want any meeting to take place".
He said reports that Mugabe's farm was invaded by gold panners and that his computers were stolen were part of manoeuvres to stop the meeting between the foes.
Meanwhile, Charamba revealed that Mugabe was heading to Singapore for treatment.
Although the president's spokesperson had said Mugabe would fly out yesterday, it emerged last night that he will leave today.