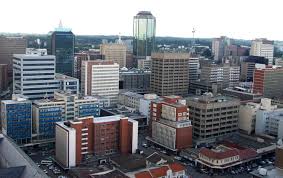 ZIMBABWE'S incoming government should, among other things, address the cancer of corruption, develop infrastructure and strike deals that will not haunt the country in future, an official has said.
BY MTHANDAZO NYONI
Zimbabwe will tomorrow hold crucial elections contested by 23 presidential candidates. 
Speaking at the Institute of Chartered Accountants of Zimbabwe winter school in Victoria Falls on Friday, Troicare country director Dony Mazingaizo said the incoming government should address issues of corruption and strike deals that are beneficial to all Zimbabweans.
"The first being addressing the cancer of corruption and I think it is clear to everyone that as Zimbabwe we are doing badly compared to our peers in the region in terms of corruption," he said.
Zimbabwe was ranked number 157 out of 180 in the Corruption Perceptions Index 2017 by Transparency International.  Zambia was at 96, South Africa stood at 71 and Bostwana 34.
Mazingaizo said government should be candid when dealing with corruption like how the Rwandan government had done. He said government should make sure every deal that it signed with investors would not inconvenience Zimbabweans in future.
"Another key area that I think is critical is how to unpack the deals that many people are talking about," he said.
"I think for a number of years we have been talking about deals being struck for us as a country.
"But how do you ensure that these deals work for everyone? And I think, for me, there are three key areas that need to be addressed going forward.
"The first one is to ensure that whatever deals are concluded with investors are sustainable for the future. "So we need to be able to balance the current demand for the economy as well as what it means for the future generations.
"So if we are concluding deals we need to ensure that we do not mortgage the country into perpetuity.
"I think there has been a lot of talk about whether that balance is being addressed adequately and I think that one needs to be reflected on by whoever is involved in deal-structuring for the country."  
Since he came into power through a military-backed transition, President Emmerson Mnangagwa has reportedly signed investment agreements amounting to over $16 billion.
Some of the major deals that have been reported include the $1,2 billion tourism and hospitality industry deal, the lithium deal ($1,4 billion), Agricultural Finance and Commodities Ecosystem ($1,5 billion), National Railways of Zimbabwe ($1,7 billion) and platinum ($4,2 billion).
Mazingaizo said the incoming government would also be expected to address poverty issues as well as infrastructural development.