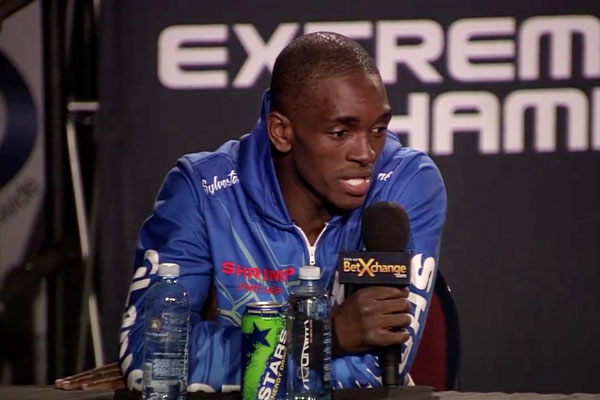 From the dusty streets of Gweru into the glamour and glitter of South Africa's Extreme Fighting Championships (EFC) coliseums, South Africa-based flyweight mixed martial artist Sylvester Chipfumbu is living his dream.
BY TERRY MADYAUTA
And since he made his debut in the competition a couple of years back, his track record is quite impressive.
But having realised how lucrative a business mixed martial arts can be, Chipfumbu is dreaming about pioneering and pushing the sport here in Zimbabwe.
Chipfumbu is looking to partner with veteran karatekas that include renowned trainer Victor Bhunu and Sensei Samson Muripo.
"I want to introduce the sport to the people back home (Zimbabwe). Having been involved in martial arts in the country before, I believe there is so much potential and if we can introduce as many guys as we can to the sport, there's no doubt we'll have world champions in future," he told The Sports Hub from his South Africa base.
That dream may have to wait a little longer because he still has career goals to chase in mixed martial arts such as winning the EFC title as well as fighting on the highest stage, which is the Ultimate Fighting Championship (UFC).
"That said, the most important part for me is to work my way up to the biggest MMA organisation in the world, the Ultimate Fighting Championship (UFC), and become a champ there," said Chipfumbu.
The 26-year-old  athlete is one of the top contenders for the EFC title, which is currently held by Nkazimulo Zulu of South Africa.
Zulu has maintained a stranglehold on the title for the last two years, but Chipfumbu is fancying an opportunity to snatch the prestigious title.
In his quest to break the record and become the first Zimbabwean to win the EFC title, Chipfumbu continued with his acute rise to fame as he recently shredded South Africa's Thumisang Madiba to claim his fifth bouncing victory in the championship.
The "Gladiator", as he is affectionately known, has been involved in a six championship bouts.
Since making his debut half a year ago, Chipfumbu has only lost once to the reigning champion, Zulu, last year in August.
"Well, for now I just want to focus on the next fight. The plan is to take it one step at a time.
"I want to build a legacy, repay the effort my teammates and coaches put in by winning my fights and flying my country's flag high.
"I want to be the first Zimbabwean champion in the world of MMA, and fly the flag high," Chipfumbu said.