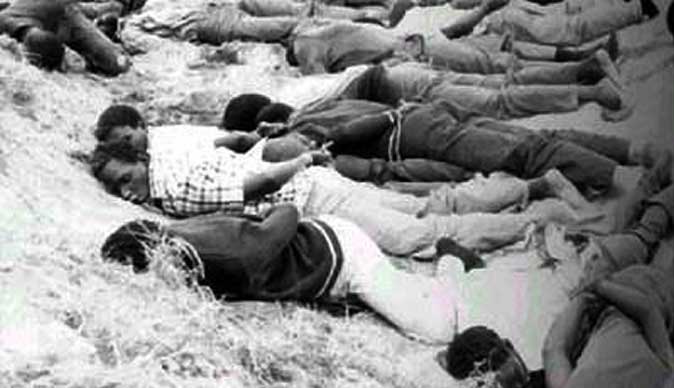 By NQOBANI NDLOVU
Traditional leaders in Matabeleland have written to the South African parliament requesting permission to be allowed to present "facts" about the 1980's mass killings in Matabeleland and Midlands as they push for an independent investigation into the atrocities known as Gukurahundi.
Chief Vezi Mafu (Maduna) of Filabusi in November 2018 petitioned the United Nations (UN) seeking the setting-up of an independent inquiry into the Gukurahundi massacres.
The government reacted angrily to Maduna's UN petition amid reports that he has faced persecution since then, but that has not deterred the traditional leader.
In a letter dated January 12, 2019 and addressed to the speaker of the South African parliament, Matabeleland chiefs requested to be "afforded an opportunity to be allowed to formally present the facts about the genocide that occurred in their region of Zimbabwe."
"Of concern, the genocide was perpetrated upon the Ndebele people by the government of the day.
"The government of the day is still in office and evidently does not take this matter seriously.
"It is blatantly obvious that this government does not wish to address this matter, hence our wish as traditional leaders to directly engage you," reads in part the letter signed on behalf of the Matabeleland traditional leaders by outspoken Ntabazinduna chief, Felix Nhlanhlayamangwe Ndiweni.
President Emmerson Mnangagwa's role during Gukurahundi continues to be questioned, and has faced protests in Pretoria, South Africa, and at the Zimbabwe International Trade Fair in Bulawayo over the emotive issue.
Mnangagwa's predecessor, Robert Mugabe, dispatched the Fifth Brigade — an army unit trained by the North Koreans — in the early 80's to to supposedly quash what he claimed were insurgents bent on overthrowing him, resulting in the killing of over 20 000 civilians.
Mnangagwa has said he is prepared to apologise if recommended by the National Peace and Reconciliation Commission, but traditional leaders doubted the president's sincerity in soberly addressing the issue.
"As traditional leaders, we live within these affected areas, within the Ndebele nation and we are mindful that this matter of the unresolved genocide has the potential to seriously destabilise the country and indeed the Southern African Development Community region," the letter added.
"The warning signs are already written on the wall, just as they were in Kenya and Rwanda.
"From our perspective, it is only the international arena that can do justice to this issue for it is unrealistic for a perpetrator of genocide to then investigate and prosecute themselves," the letter adds.
The traditional leaders were still to get a response from the South African Parliament as of last week.