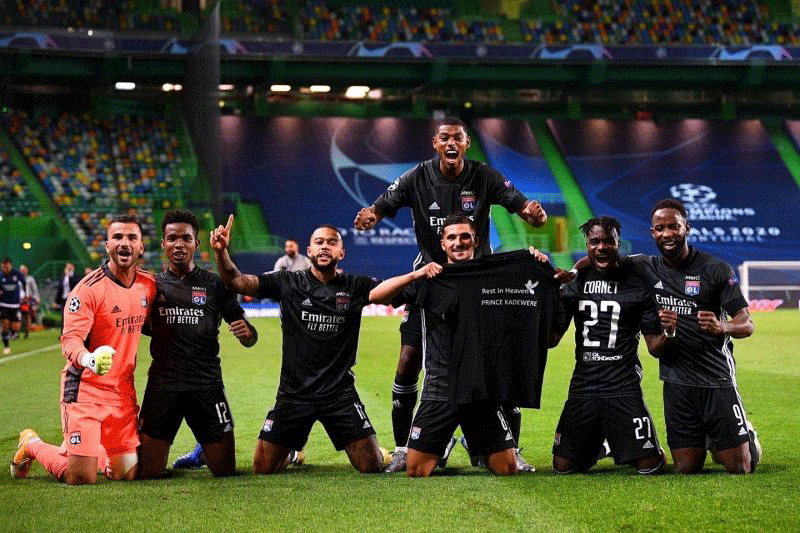 By Munyaradzi Madzokere
"Rest in heaven Prince Kadewere," beamed the LED screens at the Estádio José Alvalade Stadium in Lisbon, Portugal, on August 15, 2020.
It was only moments before the kick-off of a UEFA champions league quarter-final clash between French giants Olympique Lyon and Manchester City.
Olympique Lyon decided to provide a befitting tribute to new recruit Tino Kadewere's late brother Prince, who had stints with lower division local sides such as Starbill, Air Zimbabwe, NHS and, lately, Beta XI.
Prince Kadewere's death at 40, after a short illness, is just one of the many that robbed Zimbabwe of its football heroes last year and in what could be the darkest year for the fraternity in recent years.
It was a year in which football was adversely affected by the Covid-19 outbreak and as if that was not enough, many football icons failed to come out of it. The Sports Hub looks at the high-profile Zimbabwean football heroes who died in 2020.
Richard Choruma Two days before the end of the year, Zimbabwe woke up to news of the death of former Warriors and Highlanders Football Club midfielder Richard Choruma, popularly known as "Dabuka Express".
He was 42.
Choruma succumbed to stomach complications and kidney failure at a hospital in Tembisa, South Africa, and was laid to rest in Bulawayo yesterday.
Dabuka Express made a name at Highlanders having also played for Air Zimbabwe Jets.
Gift 'Guava' Kamuriwo Early December saw the death of another former Warriors star Gift Kamuriwo, aged 46.
The former Mhangura and Black Rhinos midfielder's demise came after battling a long illness.
Kamuriwo had an ominous start to the year after he was found guilty of receiving money to influence the outcome of a match between Black Rhinos and Herentals and was fined RTGS $10 000 and banned from all football activities for one year.
Barry Daka The Zimbabwean football fraternity lost legendary former Highlanders player and coach Barry Daka in March.
He was 71.
Daka, who starred for Bosso both as a player and coach, passed away at his Barbourfields home after a short illness three months into the New Year.
The former Young warriors and Mighty Warriors coach took over at Bosso in 1986 and won the Independence Cup, Chibuku Trophy, Rothmans Shield and NatBrew Cup with the club.
Daka is credited for producing a lot of household names in Zimbabwe.
Biggie Zuze The 2020 season promised so much for the Dynamos family after bossing the off-season transfer window bringing a number of marquee signings to the club.
A lot was expected of the club's technical team led by Tonderai Ndiraya that included assistants Biggie Zuze and Naison Muchekela.
But on June 25, Zuze died at a private hospital in Harare after complaining of breathing problems.
Zuze played for Dynamos after joining from Bindura United and also had a decent coaching career. together with Clayton Munemo, they are credited with nurturing the likes of Desmond Maringwa, Murape Murape, Philemon Mutyakureva and Francis Madziva.
He had coaching stints with Douglas Warriors, Sporting Lions, Monomotapa and Triangle United Football Club before returning to Dynamos
Zuze's biggest achievement as a coach came in 2014 when he won the NetOne Cup after beating Dynamos in the final.
Chris Sambo Zimbabwean football also lost former Premier Soccer League (PSL) chief executive officer and veteran football administrator Chris Sambo.
Sambo died at Parirenyatwa Hospital five days after celebrating his 69th birthday in late July.
The veteran football administrator was appointed the chief executive of the PSL in the late 1990s after a stint as the secretary of former Premiership side Blackpool.
Phillip Mugadza Former Dynamos chairman Phillip Mugadza is one of the first high-profile football personalities who succumbed to Covid-19.
A football administrator, businessman and top music promoter, Mugadza's death came a day after the passing-on of Sambo and two months after his brother and passionate DeMbare fan Freddy "Pasuwa'' Mugadza passed away in the United States.
Mugadza died at his house in Gunhill after complaining of hypertension.
Tanda Tavaruva In May 2020 the football fraternity lost firebrand former Masvingo United owner Tanda Tavaruva, popularly known as Mdara Mhunga.
The businessman had been ill for a long time, battling diabetes and hypertension. He passed on at his home in Rhodene, Masvingo.
He was 84.
Tavaruva founded Masvingo United Football Club, which scaled greater heights at its peak in the PSL and came within a whisker of winning the championship in 2005.
Oliver Mataba Oliver Mataba, the former ZPC Kariba assistant coach, died after a short illness in August.
Mataba, who hailed from Kwekwe, was now at Kariba Waves Strikers and the burly coach, who was 44, was buried at his father's farm in Kwekwe.
Musa Ntonga The first Zimbabwean woman to hold a high post in the administration of top-flight football clubs in the country also died in May 2020 at the age of 44.
She was the chairperson of Zimbabwe Prisons and Correctional Services 2014 league debutants Whawha Football Club and also a match commissioner.
Ntonga, who was popularly known as "Madam Boss" and "Mumu", ran for the post of Central Region Division One boss in 2016 before she eventually lost to Stanley Chapeta.