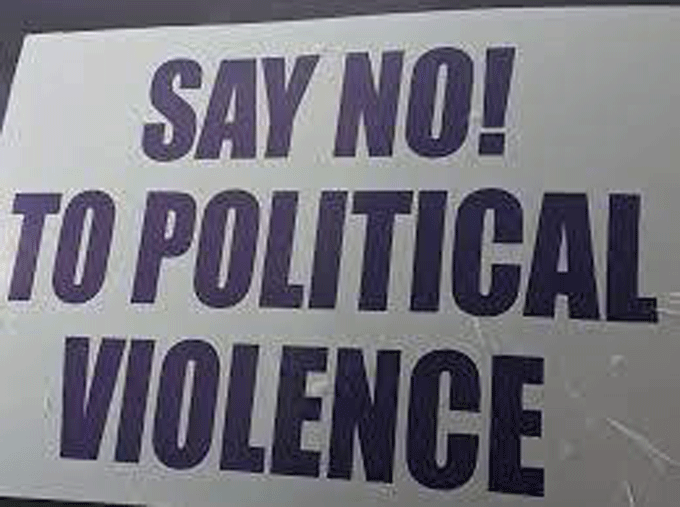 The Residents Association Coalition for Electoral Reforms bemoans the emergency of political violence ahead of the March 26 by-elections and condemns pronouncements by some political and national leaders that encourage political violence and intolerance among the citizens as this has a potential to divide an already polarised society.
The recent chilling events of political violence in Kwekwe, Epworth and Chitungwiza call for an urgent intervention before the situation gets out of hand, and any acts of violence must be condemned.
The current wave of political violence has serious implications on women and children and can see the repeat of the events of 2008 that plunged the nation into a social and political crisis, and collapsed services delivery.
We warn that any election outcome premised on violence will not produce the desired elected leadership that has the capacity to address social service delivery challenges bedevilling our country, and any election outcome birthed through violence is not "free and fair."
We affirm that Zimbabwe is founded on a multi-party democratic system and every citizen has the right to join and to participate in the activities of a political party or organisation of their choice as provided in Section 67(2)(a), and those who think otherwise are fighting the constitution of Zimbabwe.
It is a constitutional right for every citizen to participate, individually or collectively, in gatherings or groups or in any other manner, in peaceful activities to influence, challenge or support the policies of the government or any political or whatever cause in terms of Section 67 (2)(d).
Residents must not be compelled to attend a meeting or gathering as this violates Section 58 of the constitution on freedom of association and assembly.
We call upon the security sector in particular the police to exercise their mandate professionally, without fear or favour when executing their mandate.
Section 208 (2)(a), (b), (c) and (d) calls for all members of the security services not to act in a partisan manner, further the interests of any political party or cause, prejudice the lawful interests of any political party or cause, or violate the fundamental rights or freedoms of any person.
It is in our view that all cases of political violence and perpetrators will be dealt with accordingly in line with the dictates of the laws of the land, and the available systems and mechanisms to eliminate electoral violence must be activated.
We warn the government and the security establishment that the existence of machete gangs and drug peddlers poses a serious security threat which must be dealt with once and for all.
We urge the government particularly the security sector to fully exercise its mandate by ratcheting a deliberate programme of action to eliminate machete gangs as they are a threat to national security.
Furthermore, in accordance with Section 165(4)(a) and (d), we anticipate that members of the judiciary will not engage in political activities and attend political meetings as this will have implications on the impartiality of the judiciary when dealing with cases of political violence.
We call upon both private and state media to desist from channelling out hate speech and language, and that they must demonstrate professionalism when reporting on politics especially during this campaign period.
We are worried that there is no desire and commitment to embrace democratic and constitutional culture by political leaders and this has a potential to plunge the nation into a serious crisis if not addressed.
We expect Independent commissions established in terms of Chapter 12 of the constitution to support and entrench human rights and democracy, promote constitutionalism and ensure that injustices are remedied timeously.
We reiterate our position that the upcoming by-elections are a yardstick to measure the Zimbabwe Electoral Commission's capacity to hold a free and fair election ahead of the 2023 general elections.
We, therefore,make the following recommendations;
Parliament must expedite the enactment of an Act of Parliament that will provide for an independent mechanism for receiving and investigating complaints from members of the public about misconduct on the part of members of the security services, and for remedying any harm caused by such misconduct in terms of Section 210 of the constitution.
 Political leaders must demonstrate leadership by desisting from channelling out hate speech or pronouncements that promote violence, and as such we expect them to publicly retract their statements through newspapers and other platforms such as rallies and press conferences.
 The government must have a deliberate programme to arrest and eliminate machete gangs and drug peddlers as these are enablers of politically motivated violence.
ZEC must be open to receive reports, complaints from the public and take action before the issues escalate to violence.
The Zimbabwe Human Right Commission must conduct an investigation on all allegations of violations of human rights and freedoms from the day by elections were proclaimed to date and come up with recommendations that will be tabled before Parliament.
Endorsed by the following Residents Associations;
Buhera Residents Network Trust
Combined Harare Residents Association
Harare Residents Trust
Chitungwiza Residents Trust
Chitungwiza and Manyame Rural Residents Association
Combined Mvurwi Residents and Ratepayers Association
Chinhoyi Residents Trust
Gwanda Residents Association
Gweru Residents Forum
Epworth Residents Development Association
Kadoma Progressive Residents Association
Local Governance Trust
Marondera Residents Open Forum
Marondera Progressive Residents and Ratepayers Association
Masvingo United Residents and Ratepayers Alliance
Mutoko Residents Association
Mvuma Residents Association Trust
Norton Residents Alliance
Simukai Rural Residents Trust
United Mutare Residents and Ratepayers
Residents Association Coalition for Electoral Reforms
Stop disrupting PVO Bill hearings
Crisis in Zimbabwe Coalition condemns in the strongest of terms, the continued violent disruptions of hearings for the Private Voluntary Organisations (PVO) Amendment Bill by alleged Zanu PF activists.
We note with great concern that Zanu PF continues to use violence and intimidation to ensure they dominate proceedings during the hearings in an attempt to push for amendments to the Private Voluntary Organisations (PVO) Act.
On March 1, 2022 a member of the Crisis in Zimbabwe Coalition and Masvingo Centre for Research and Advocacy (MACRAD) director, Ephraim Mtombeni was attacked by alleged Zanu PF activists who were targeting citizens opposing amendments to the PVO Act.
The attack on Mtombeni followed similar incidents of violence in Highfield and Rusape on February 28, 2022 during the PVO Amendment Bill public hearings.
We deplore the fact that Zanu PF has resorted to the use of violence to silence citizens, especially those opposed to amendments to the PVO Act.
We reiterate that amendments to the PVO Act are meant to further close the democratic space and entrench authoritarian rule in Zimbabwe.
We call upon citizens to remain steadfast in opposing any form of draconian legislation. We are guided by the virtues of the liberation struggle and the new constitution: freedom of expression and association.
We further implore the ruling party, Zanu PF to exercise tolerance of divergent views and refrain from violence. –Crisis in Zimbabwe Coalition
Non-governmental organisations (NGOs) are playing an increasingly important role as agents of development.
The growth and expansion of NGOs across the globe is testament to their growing role in the development process.
Effective partnerships between governments and NGOs are recognised as being crucial in accelerating sustainable development.
The role of NGOs is even more important in low-income countries (LICs) where the fiscal space is limited.
NGOs offer a broad range of services that include: health, education, social protection, humanitarian assistance, livelihood interventions, emergency response, conflict resolution, democracy building, environmental management, and policy analysis and advocacy.
NGOs across the world help to amplify the voice as well enable inclusion of marginalised groups, including women, persons with disabilities and minority ethnic groups so that 'no one is left behind.'
Creating an enabling environment for NGOs to operate is recognised as being critical for the attainment of the Agenda 2030 on Sustainable Development Goals (SDGs) and the African Union (AU) Agenda 2063: The Africa We Want.
In Zimbabwe, NGOs have been important drivers of sustainable development through a number of channels which include: employment creation, contribution to tax revenues, foreign currency receipts, provision of social protection and humanitarian assistance, growth in the local tourism sector and overall economic growth and development.
Owing to the huge financing gap in productivity-enhancing and poverty reducing sectors of the economy such as health, education, social protection, water and sanitation, the country has had to rely on donor financing from international NGOs and development partners. –Zimbabwe Human Rights NGO Forum, Southern Africa Human Rights Defenders Network
Related Topics