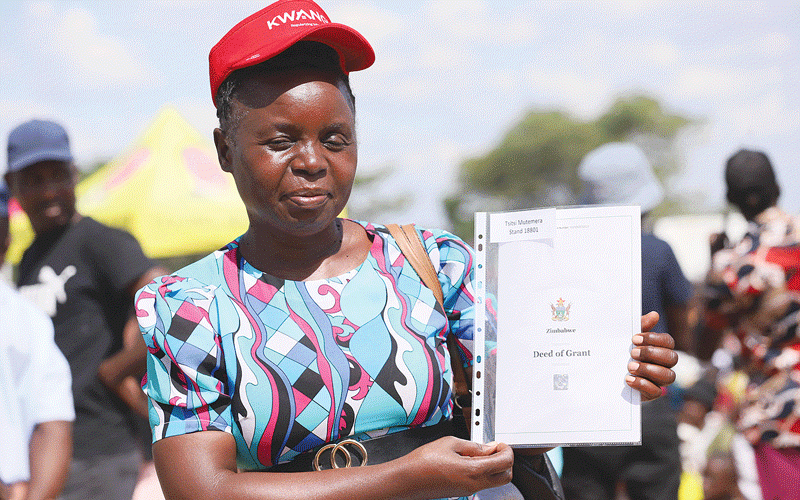 GOING by the spate of recent activities in Zimbabwe's political arena, we are, indeed, in the midst of a silly season.
Silly season has started — political parties in Zimbabwe are on a rampage going to most amazing and outrageous extents to lure votes for the August 23 harmonised elections.
However, with the silly season also comes silly political grandstanding, especially by the ruling Zanu PF leadership.
For years, President Emmerson Mnangagwa has been promising to regularise informal settlements in urban areas.
This, according to our leader, would also involve removing people settled by unscrupulous development agents and political leaders in undesignated areas.
But, as in every campaign period, we have started seeing political leaders, masquerading as co-operative chairpersons, parcelling out land to desperate home-seekers.
Zanu PF-linked land barons have been on a rampage doling out land in urban areas such as Harare, Bulawayo, Gweru, Kwekwe, Marondera, Mutare and Masvingo, among many others.
Clearly, this has become the ruling party's modus operandi, especially when it is desperate to lure voters in urban areas.
We see unsuspecting people building structures close to water channels, in wetlands, and even on places designated for social amenities such as schools which we all know will be demolished after the elections.
The worst of this illegal operation has seen people constructing houses in violation of urban centres' engineering design maps.
For example, the land barons in Retreat, Waterfalls, have pegged residential stands on land reserved for the Harare-Chitungwiza railway line, with home-seekers being asked to pay between US$10 and US$20 as allocation fee.
Land barons are taking advantage of election campaigns to allocate stands but it is high time authorities dealt with the scourge.
Government pledged to avail 15 000 housing stands to Bulawayo residents by December 2018 in what was claimed to be an effort to reduce the city's housing backlog.
Similar promises have been made across the country, but have never been fulfilled, with government officials continuing to tell people that the housing problem would be resolved.
If government was playing its part in the provision of houses the land baron scourge would have been a thing of the past by now.
This rotten and corrupt culture of duping desperate home-seekers using politics must stop.
Those in the echelons of power must investigate and put a stop to these shenanigans.
Related Topics