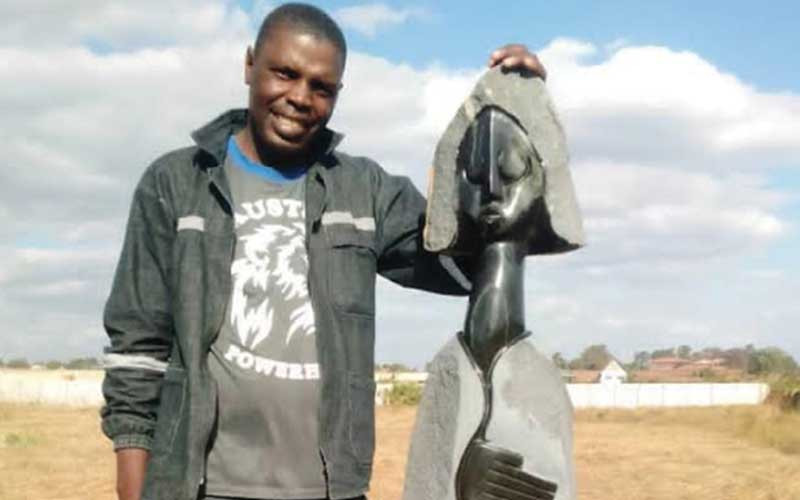 AWARD-WINNING visual artist Farai Nyakanyanza's stone statues carved out of different types of stones, have a rare persuasive and aesthetic beauty.
The Chitungwiza Arts Centre-based artist has several displays of artworks designed to suit all moods and occasions.
The majority of his works are on springstone, cobalt, fruit serpentine, butter jade and green opal, among other stone types.
His reflection on quality-driven lifestyles has led him to put in place striking self-driven fine and abstract renditions of thought-provoking and motivational monuments.
Some of the artefacts include the Germinating Flower, Showcasing My Beauty, Humble Lady Monument, Families, and Mother and Child.
"I believe it is high time visual artists took the lead in communicating important issues about life and how to go around them," Nyakanyanza told NewsDay Life & Style.
Commenting on his pieces, Nyakanyanza said Germinating Flower shows the amazing process in plant lifecycle as it comes out of the earth to its natural growing position.
"The process shows a sense of newness, innocence and hope which is brought by birth. It is our responsibility to monitor every newborn, including its growth and due care. Showcasing My Beauty is a carving that pinpoints the confidence that a model has when showcasing new fashion and designs," he explained.
The Mother and Child statue symbolises the need for continued love and support from family, particularly mothers and friends.
"The diverse artefacts in my garden show my preparedness for the opening up of the tourism sector and I have lots of stories to tell through the stone," he noted.
Through the Humble Lady Monument piece, Nyakanyanza challenges the rising cases of gender-based violence.
"The serious attention to detail and smoothness on the Humble Lady Monument emphasises the need for people to think twice in creating a perfect and peaceful environment for men, women, boys and girls which everybody desperately needs.
"Visual art communicates several messages in addition to occupying empty spaces, induces and installs beauty while lifting visibility on issues that need immediate attention," he added.
Abstract creation is one of Nyakanyanza's strengths as evidenced by some of his pieces such as that of the Wise Owl and Hippos.
Nyakanyanza's prowess in playing with a chisel has not gone unnoticed.
He scooped the second prize at the Rebirth Exhibition held at the Chitungwiza Arts Centre and won first prize in 2019 at the World Art Lioness Visual Arts Competitions.
Follow us on Twitter @NewsDayZimbabwe
Related Topics