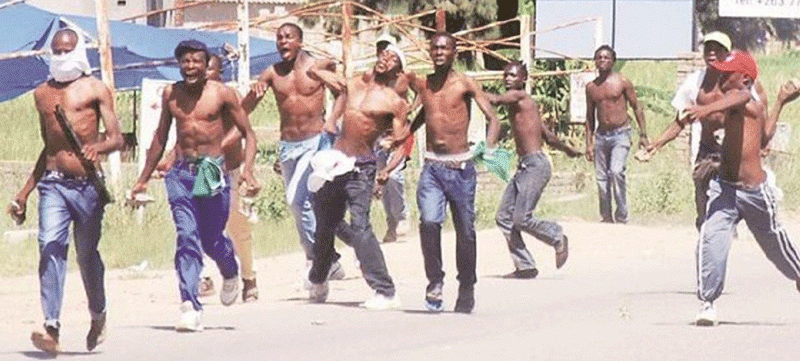 KAZANGARARE villagers in the Hurungwe district of Mashonaland West province are living in fear after being threatened with violence if they voted for the opposition in the 2023 elections or failed to contribute financially to the ruling party coffers.
Reports indicate that Zanu PF chairperson Chibwe Muchena and party women's league chair Bibiana Mandigora on Saturday told a meeting convened by the party leadership that anyone who votes for the opposition in the 2023 general elections would face torture, worse than what happened after the 2008 presidential runoff.
"It was on 3 September when we were forced to attend a Zanu PF meeting at Reza under headman Chahwanda in Kazangare," said a source.
"The two leaders, Muchena and Mandigora claimed that there was an upcoming project spearheaded by President [Emmerson] Mnangagwa whereby each person who will vote in the 2023 election should pay US$2 for passport size photos and should vote for Zanu PF. They said these photos would be submitted to President Mnangagwa and he would see who you would have voted for. The two leaders said anyone who would not pay the US$2 and submit the passport size photos would be regarded as an enemy and would be in soup."
Another source said: "As we speak, some villagers have already paid these monies and another top-up of one dollar is said to be going towards Mandigora's food."
Other villagers who attended the meeting confirmed the alleged threats.
"We were there and this was said," said another villager who requested not to be named.
Contacted for comment, Muchena denied the accusations saying there was no such programme in the area.
"Whoever told you this is lying. I know nothing about such a programme and I did not say anything that you are telling me. What I only told gatherers is they should submit passport size photos and fill forms so that they apply for loans from Women's Empowerment Bank.
On the issue of intimidating villagers as the country braces for 2023 elections, Muchena said: "Whoever is spreading that information is spreading falsehoods. People should come on the ground and not share fake news to villagers. There is nowhere I mentioned about beating those who will not vote for Zanu PF, this is just malice meant to tarnish my name and the party name," she added.
l Follow us on Twitter @NewsDayZimbabwe
Related Topics