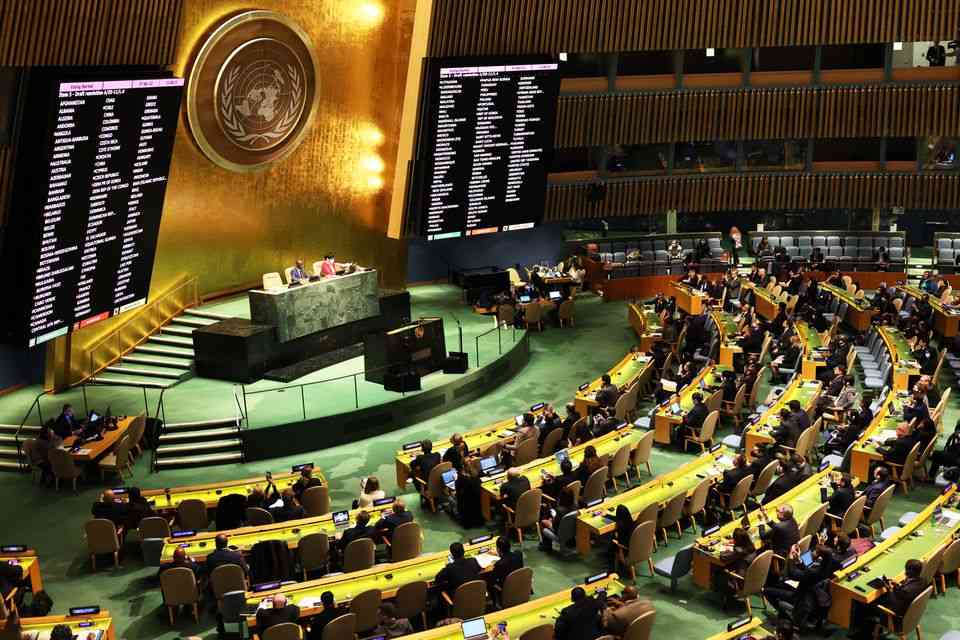 ZIMBABWE on Monday voted against a United Nations General Assembly (Unga) resolution for Russia to pay compensation for the damage caused by its invasion of Ukraine.
Ninety-four countries voted in favour of the resolution while 14 were against and 73 abstained.
The UN General Assembly adopted a resolution that calls for Russia to pay war reparations to Ukraine — loss or injury, arising from the invasion.
The 14 States that voted against were Zimbabwe, Bahamas, Belarus, Central African Republic, China, Cuba, Eritrea, Ethiopia, Iran, Mali, Nicaragua, North Korea, Russia and Syria.
Zimbabwe has been abstaining from voting in most UN General Assembly resolutions on Russia.
The southern African nation was one of the 35 countries that abstained from the Unga vote last month which called on countries not to recognise the four Ukraine regions annexed by Russia.
In March, the country also abstained from voting against Russia's invasion of Ukraine.
In April, Zimbabwe opposed another Unga resolution to suspend Russia from the Human Rights Council.
Foreign Affairs ministry spokesperson Livit Mugejo was not reachable for comment yesterday.
In presenting the resolution, Ukrainian ambassador Sergiy Kyslytsya insisted that Russia should be held accountable for its violation of international law.
"Seventy-seven years ago, the Soviet Union demanded and received reparations, calling it a moral right of a country that has suffered war and occupation," he said.
"Today (Monday), Russia, which claims to be the successor of the 20th century's tyranny, is doing everything it can to avoid paying the price for its own war and occupation, trying to escape accountability for the crimes it is committing."
Related Topics