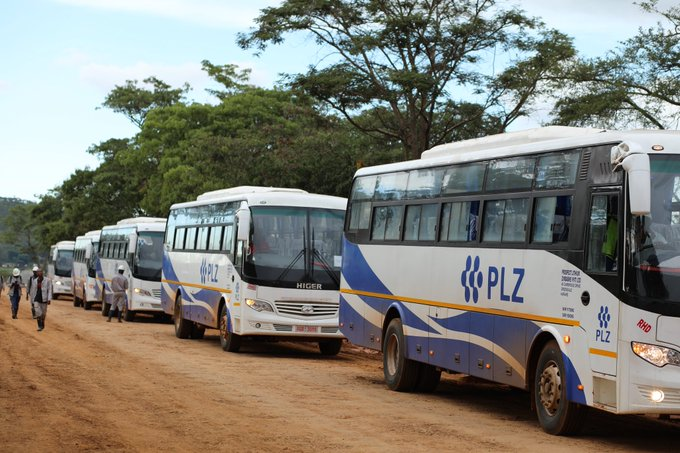 Prospect Lithium Zimbabwe – GOROMONZI: Chief Chikwaka of Goromonzi has welcomed the purchase and commissioning of staff buses by Prospect Lithium Zimbabwe.
Speaking on the side-lines of the commissioning of the buses this Wednesday, Chief Chikwaka said the purchase underscored very potently the company's commitment to investing in Zimbabwe.
"The people of Goromonzi have a lot to celebrate and give thanks to Prospect Lithium. This will make people travel in time without delays due to congestion. The service is efficient and will help all workers to get to their homes in time without delays," he said.
The traditional leader urged the drivers to be mindful of the fact that they will be carrying "precious cargo" on board who are the country's work force and to treat the vehicles as their own.
The staff buses seek to ease transport challenges faced by PLZ workers through providing them with reliable transport. The workers are coming from within and outside Mashonaland east.
Headman Mwanza echoed the same sentiments saying it is a safer way of travelling. "I think this arrangement is key and it will assist communities. "It is a good initiative."
Workers who spoke on anonymity directing all questions to management said the buses are a welcome development as they now have few transport challenges. They said the added advantage of the buses are that for long distances like Harare the buses do not stop at undesignated stations along the way so it makes it easier to be transported fast with easy.
The scheme is a fulfilment of Prospect Lithium Zimbabwe's philosophy of constantly striving to become stronger and pursue excellence.
Related Topics