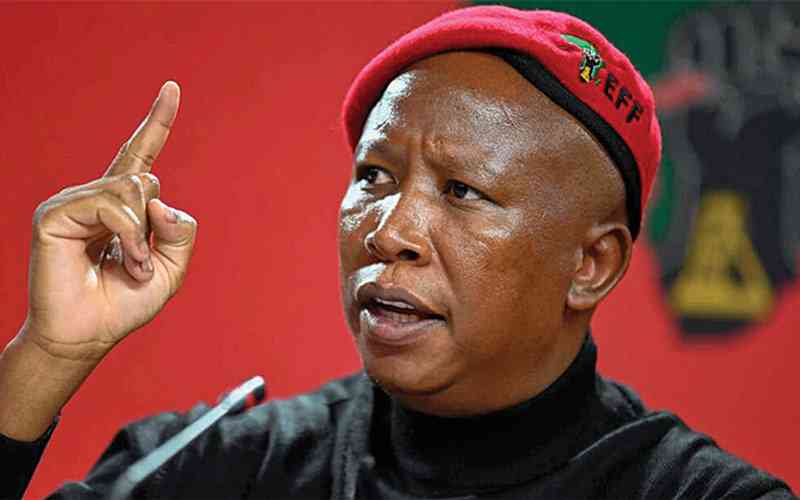 SOUTH Africa's main opposition leader Julius Malema, has urged Zimbabweans to stand up against the harassment of pro-democracy activists following the jailing of opposition politician Jacob Ngarivhume last week.
Ngarivhume was sentenced to four years imprisonment for calling for mass protests in 2020.
He will, however, serve three years.
"I was shocked to hear that the Zimbabwean government has jailed Jacob Ngarivhume @NgarivhumeJacob, for demanding accountability through picket lines on how COVID-19 funds were used in 2020 by kleptocratic politicians," Malema, who is the Economic Freedom Fighters (EFF) leader, tweeted.
"Sending an activist to four years imprisonment for simply holding different political views is pathetic. Zimbabweans must learn to protect their own, particularly those who are the voice of the voiceless against the corrupt few. The truth will never be incarcerated; Africa we are one."
President Emmerson Mnangagwa's government has been criticised for shrinking the country's democratic space by arresting critics and enacting controversial legislation.
One of the laws is the controversial Private Voluntary Organisations Amendment Bill which has been described by civil society as seeking to control the operations of non-governmental organisations at the forefront of exposing human rights violations, corruption and misgovernance.
Former Information minister Jonathan Moyo at the weekend said Mnangagwa was taking the country back to the dark days of Gukurahundi.
"Given sections 56, 58, 59, 60 and 61 of the 2013 Constitution, it beggars belief that any magistrate would be fooled by political prosecutors — some three months before a general election — into making a manifestly political decision to convict and impose a draconian sentence to knockout an electoral opponent of the sitting president, as a way of sending a chilling message to other presidential aspirants or voters," Moyo posted on Twitter.
"Truth be told, the judiciary's shocking mishandling of Bill of Rights cases these days is eerily reminiscent of the Gukurahundi years, when the Rhodesian State of Emergency retained between 1980 and 1990 was ruthlessly enforced."
But Zanu PF information director Tafadzwa Mugwadi said Ngarivhume's sentencing was befitting of the offence he committed.
"For the record, Ngarivhume was convicted for inciting and organising public violence," Mugwadi said.
"There are so many opposition leaders in Zimbabwe who hold different political views with Zanu PF, the likes of (Douglas) Mwonzora, (Nelson) Chamisa, (Lovemore) Madhuku and many others who do not hold similar political views with Zanu PF, but they are not in jail.
"Unless Malema wants to tell us that Mwonzora, Chamisa and Madhuku hold similar political views with Zanu PF. No one knows what Malema smokes and how high or low it takes him, but what is clear is that what he is smoking is not good for him."
Citizens Coalition for Change (CCC) deputy spokesperson Gift "Ostallos" Siziba yesterday said Malema's remarks confirmed fears that Mnangagwa is an autocratic ruler.
"Comments by Malema have confirmed the failure by President Emmerson Mnangagwa. It shows the second republic, the new dispensation led by Mnangagwa is old wine in a new bottle. It has surpassed the late President Robert Mugabe post-Independence government in terms of closed democratic space," Siziba said.
"President Mnangagwa has created a de-facto one-party State. The Bill of Rights under President Mnangagwa was long suspended thereafter denying Zimbabweans freedom of assembly and freedom of speech, the right to petition and demonstrate."
A number of opposition activists and other government critics are facing various charges at the courts.
Recently, CCC spokesperson Fadzai Mahere was convicted on a law that the High Court ruled as invalid. She escaped jail by opting to pay a US$500 fine.
Related Topics