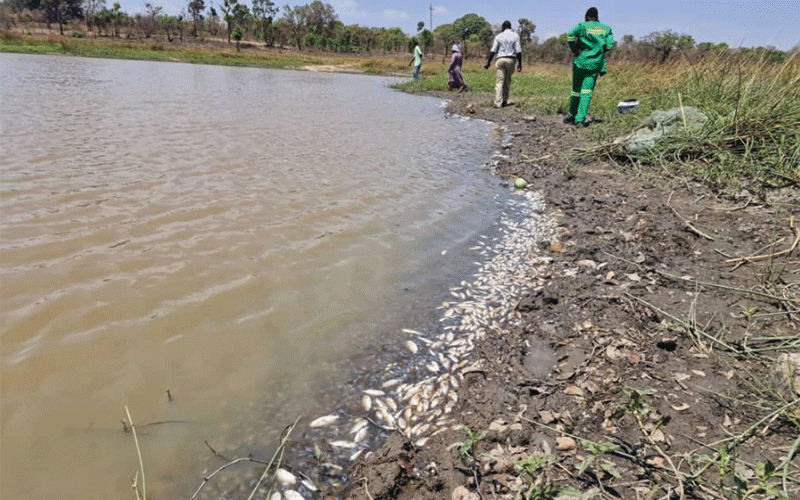 GOVERNMENT has launched an investigation into suspected fish poisoning at Karoi Dam last week.
Dead fish and other aquatic species are seen floating in the dam, located at Watson Farm, about three kilometres from the farming town.
Environment Management Agency (Ema) provincial spokesperson Munyaradzi Nhariswa confirmed that a joint probe has been launched to ascertain the damage caused and to come up with potential remedies to avoid future disasters.
"I can confirm that we received the report on suspected poisoning at a local dam near Karoi. A joint investigation has been launched where the Zimbabwe National Parks and Wildlife Management Authority, the Department of Veterinary Services and Ema attended the scene as part of a joint investigation team," Nhariswa said.
He could not be drawn into commenting on the impact of suspected poisoning saying it was still premature to do so.
"Water samples were taken to our labs in Harare. We are waiting for the results. This is a joint investigation and it is too early to comment on the impact caused. We stand guided by the laboratory results," he added.
Karoi residents have since raised concern over the sale of fish suspected to have originated from the dam.
"We call upon security agencies to widen investigations into this matter as it is a health hazard," said Thomas Ratadza of Chiedza high-density suburb.
Another resident Charles Magarapasi said: "Naturally all water bodies have more species than fish that we consume. The suspected poisoning that killed thousands of fish will have a negative impact on biodiversity at nearby dams and communities."
A few years ago, dead fish were found floating along Hurungwe district's Angwa River in another case of suspected poisoning.
Related Topics