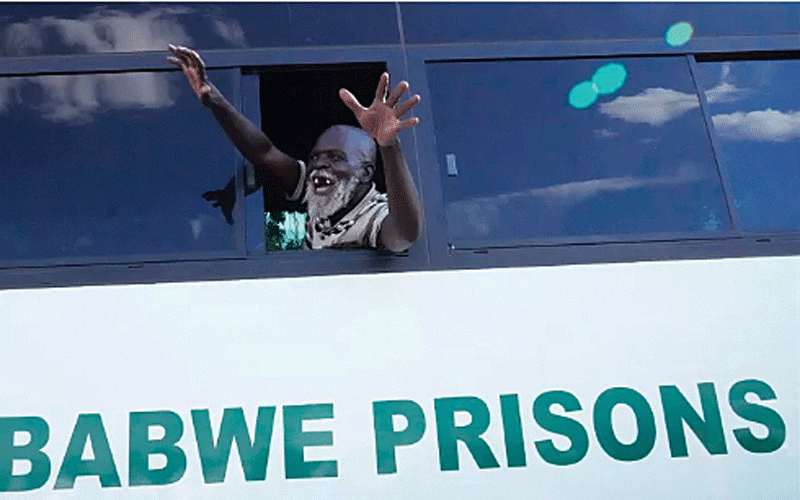 Pressure is piling on President Emmerson Mnangagwa to reconsider the release of dangerous criminals, including rapists, who benefited from an amnesty that saw the release of 4 000 prisoners.
Rapists who are over 65 years and had served two thirds of their prison terms were released under the amnesty that was meant to reduce overcrowding in Zimbabwe's 47 prisons.
Lawyers and rights groups say those convicted of rape should not have been released as their offences are classified as "specified," which do not qualify for presidential pardons, according to a government clemency order issued before the pardons.
Women's and children's advocacy groups in particular were incensed by a local television interview with four recently released inmates, who confirmed they had been serving sentences for rape or statutory rape.
The Adventist Lawyers Association (ALA) said the release of sexual offenders was in contravention of sections 19 and 81 of the constitution that protect the rights of children and women.
"Whilst we believe in the biblical imperative to forgive, we also believe that society must be protected from those who violate the rights of young girls," the lawyers said.
"In recent years, there has been a spike in child marriages that has not been just concerning, but alarming because of the slow rate at which the state seems to act on the perpetrators.
"The release of sexual offenders does not bode well with the constitutional imperatives as expressed in sections 19 and 81 of the constitution to protect children and women."
"Such release directly contradicts the express terms of the instrument relied upon."
ALA added: "There has been reform in child marriage laws, which is a welcome development.
"However, the release of sexual offenders on the very low bar of having served just a tenth of their sentences when other beneficiaries had to meet the high bar of at least a third is retrogressive to the fight against child marriages.
"The government must walk the talk and be deliberate in protecting girls and women," ALA said.
Admire Huniuswa, a legal expert, said the amnesty to rapists was potentially unconstitutional.
"The amnesty to rapists raises significant legal concerns and questions the adherence to international human rights standards," Huniuswa said.
"While the issue of prison overcrowding is a legitimate concern, it is crucial to prioritise the rights and safety of survivors and ensure that justice is served.
"Granting amnesty to rapists undermines the principle of accountability and sends a detrimental message to both survivors and potential offenders."
Pamellah Musimwa of Justice for Children said those convicted of rape or statutory rape should not be eligible for pardons and should be required to serve their full sentences.
"It is very concerning that convicts of rape and other sexual offenses were also released through the amnesty," Musimwa told VOA.
"These offences involve trauma and shock on the survivors … who … at least felt safe after the accused had been convicted and imprisoned.
"Their wounds, which were probably healing because of the sentence, are now being reopened," she added.
"They now have to interface with unrepentant perpetrators.
"Besides affecting the survivor, the convicts' release seems to trivialize the offences."
The released rapists, she said, were bragging about their releases during the interview.
"As a nation, have we done good? ... Are we saying the commission of rape is now trivial, such that the perpetrators could be released anyhow without fully serving their sentences?" Musimwa said, adding that she feared the released offenders might strike again.
"I feel the release of these people is a threat to the welfare of child survivors, their relatives and even to the welfare of those that have not been abused."
In a brief phone call with VOA, Justice ministry permanent secretary Virginia Mabiza said that rapists were not supposed to have been released on parole — and then the phone call was abruptly cut out.
Several attempts to reach Mabiza a second time were unsuccessful.
Another child rights group, Equality Now, said the premature release of convicted sexual offenders compromised public safety, denied survivors the closure they deserved and eroded faith in the criminal justice system.
"By releasing prisoners convicted of sexual offences, Zimbabwe has relegated the rights of women and girls and thus exposed them to further violation," said Equality Now's Jean-Paul Murunga.
"We therefore call [for] immediate reversal of the decision.
"Further, we call [for] effective implementation of the laws against sexual violence, including proper implementation of a sexual offenders' register, to ensure such [a] release is not repeated in future."
Prematurely freeing convicted rapists and perpetrators of gender-based violence sends a "chilling message that these violations are not taken seriously," he said.
"Granting early release disregards the severity of the crimes and undermines the rule of law and the trust placed in the legal system by victims and the public alike," said Murunga, a Kenyan national.
Musimwa of Justice for Children said the clemency order on which the inmates were released does not allow rapists to be on parole.
Former president Robert Mugabe, pardoned thousands of inmates to make room in the country's overcrowded, cash- and resource-strapped prisons in 2016.
The decision followed a March 2015 prison uprising over food shortages that turned violent as some prisoners attempted to break out of jail, said then-vice president Mnangagwa.
The protests resulted in the deaths of five inmates who were shot by police.
As president, Mnangagwa pardoned 3,000 to ease overcrowding in 2018. Neither the 2016 nor 2018 pardons extended to those convicted of murder, treason, rape and armed robbery. — Additional reporting by VOA
Related Topics