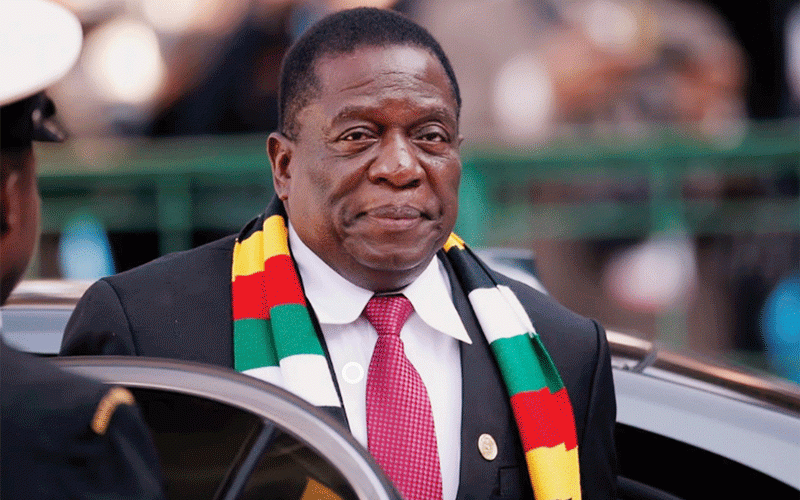 PRESIDENT Emmerson Mnangagwa is an early bird. He is always at the office before 8am. His deputy Constantino Chiwenga has the same approach to work. A good work ethic and punctuality are some of the hallmarks of good leadership; regardless who does it.
Questions may linger among critics over the quality of work and service delivery by the country's leadership but one thing to learn from Mnangagwa and Chiwenga is punctuality and to some level, a good work ethic.
On the other hand of public administration, we have civil servants accused of grand corruption, incompetence and in some instances, sabotage. Not all of them are bad. There are good and dedicated workers, some of whom have spent their lifetime serving. But it is always the bad apples that spoil the good ones. Mnangagwa laid the charges against his workforce recently. The President, at a ground-breaking ceremony of an iron and steel company in Manhidze, Midlands, had no kind words.
Mnangagwa accused top civil servants of sleeping on duty. Most spent time in their air-conditioned offices making tea. They sit on investors' documents, resulting in some national projects collapsing. The behaviour by the civil servants complicates Zimbabwe's ease of doing business. It's ranking drastically low compared to regional peers across Africa.
The approach by some government employees rubbishes Mnangagwa's "Zimbabwe is open for business" mantra. There are many examples of potential investors who have been frustrated by public officials in government departments and ministries.
Zimbabwe desperately needs foreign direct investment (FDI) for the economy to tick again. New investors are welcome to boost manufacturing, improve a decaying infrastructure and create new jobs - better paying jobs at that. But this can easily be frustrated by a group of incompetent pubic officials. The economy can be choked by corrupt officials who deliberately create red-tape to force investors to cut opaque deals.
There are performance contracts for cabinet ministers and permanent secretaries. But has this really worked to improve service delivery in government circles? The results will soon be revealed as the year draws to an end.
This week, outgoing Public Service Commission (PSC) secretary Jonathan Wutawunashe told guests at his farewell party that civil servants will this year get bonuses in accordance with their performance. No work, no bonus, he charged. This is an admission by the government that some, if not most, of its workers don't work. Officers manning various government departments can be a pain. Simple paperwork becomes cumbersome; this level of arrogance and incompetence is unacceptable.
Mnangagwa has publicly complained about his 300 000 plus officials. But beyond verbal threats, authorities must overhaul the public service and introduce a new work ethic. Those who are not working must be laid off. If they cannot get a bonus due to non-performance; they can be fired for failing to meet contractual obligations. Enough of wasting taxpayers' money on employees who are not delivering. The taxpayer expects value for money, and they deserve it.
But the restive public service blames its employer for ill-treating workers. Government workers say they are grossly underpaid. Heated negotiations have raged over the years over the pathetic salaries and working conditions.
While they gobble about over 53% of the national budget, civil servants have bitter complaints. They want salaries pegged at around US$500 per month. The government is not playing ball; it claims the wage bill is unsustainable. For its part, the government must find ways of improving working conditions and salaries for its workers to ensure optimum performance.
Decent salaries and non-monetary incentives such as housing, vehicle loans and other allowances can help stem issues related to corruption. Addressing the bread and butter issues is one of the ways to motivate a workforce.
The government, just like many companies — private and public — pampers top managers or officials with luxury vehicles and perks while other workers are seriously underpaid, that is a recipe for disaster. There is a need to balance the scales.
Related Topics