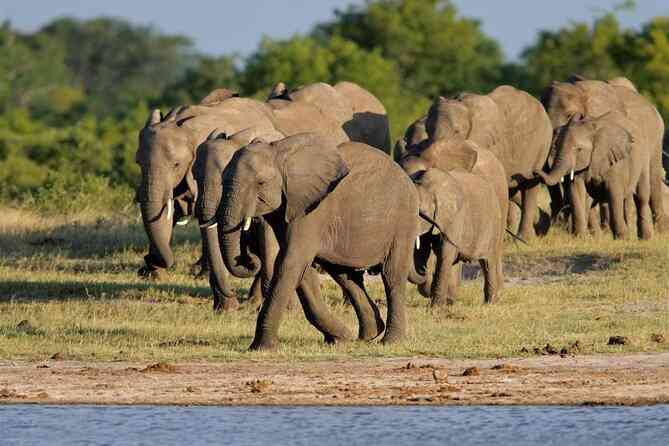 IN 2013, Tholakhele Khumalo, a villager in the Makona area in Tsholotsho district, was an innocent 14-year-old.
Despite being relegated to household chores, Khumalo was determined to earn an education.
However, her community's close proximity to the vast Hwange National Park, proved a huge setback.
Elephant herds and many other species of dangerous animals were a constant threat to her life and other villagers.
Travelling to school became a dangerous adventure.
The dangers of being trampled upon by a herd of more than 400 jumbos, which had strayed out of the national park were high.
Hwange National Park is now home to about 50 000 elephants, which far outweighs its 15 000 carrying capacity.
This means back in 2013, jumbos had already turned into a big threat to villagers.
They destroyed crops, leading to gruesome human-wildlife conflicts.
As the fight for dominance between wild animals and communities escalated, poachers, with support from frustrated villagers, turned to cyanide poisoning to decimate elephants on a far wide scale, triggering an international outcry.
Approximately 300 elephants succumbed to this deplorable act.
Almost a decade later, the 24-year-old Khumalo, now a primary school teacher in the area, vividly recalls the torrid times gone by — and she had many stories to tell about the deadly effects of human/wildlife conflict.
"When the tragedy first emerged, I was a little child growing up in the village," Khumalo told the Zimbabwe Independent duringthe official opening of the camp last week.
"But I still recall how the international community was attracted by poachers' callous activities," she added.
Khumalo was part of Makona villagers, who last week witnessed the official opening of a range base — a place where rangers protecting animals reside — at Hwange National Park.
It was the latest of several phases of battles by government to address increasing incidents of human/wildlife conflict.
The permanent range base was funded by the Zimbabwe Parks and Wildlife Management Authority (ZimParks) and its partners, International Fund for Animal Welfare (IFAW).
The US$500 000 facility — a milestone project that is part of a US$5 million five-year conservation package being run by IFAW and ZimParks — puts rangers in close proximity to what was once a wildlife poaching hotspot.
Makona now has a fully-fledged permanent range base covering more than 5 000 square kilometres in the southern section of Hwange National Park, which shares a long and open boundary with communal lands and neighbouring Botswana.
Facilities in the range include an office complex, an operations centre, a recreational facility and 12 housing units accommodating more than 24 game rangers and their families.
It is situated approximately 15 kilometres from the Tsholotsho community, which enables rangers to swiftly deploy on incidences of human-wildlife conflict.
The butchering of 300 elephants a decade ago, which had catastrophic ecological implications, surpassed the 2006 Zakouma elephant slaughter crisis in Chad, where poaching of African elephants in the vicinity of Zakouma National Park claimed approximately 100 animals.
"The IFAW-ZimParks partnership has invested more than US$3,5 million in the Hwange-Matetsi — Zambezi landscape. These funds have gone towards combating wildlife crimes, ranger welfare, park management, tourism development, wildlife rescue and mitigating human-wildlife conflict," IFAW said during the official opening of the camp.
Wildlife is teeming in the national park, attracting tourists who are anxious to see the African jumbo roam in its natural habitats.
Wildlife authorities have expressed satisfaction with the number of lions, buffaloes, leopards and several animals, whose populations have been growing in the part.
Khumalo said: "The cyanide disaster was preceded by several cases of human-wildlife conflict because elephants were destroying people's fields.
"In turn, some villagers started killing animals for meat while some sold animal products for money. Some villages also assisted poachers in poisoning elephants with cyanide."
She added that although poaching was rife in the area, efforts by ZimParks and its partners were playing a key role in its curbing.
"We no longer hear stories about poachers these days because people now know the importance of our wildlife heritage. Villagers have become the first line of defence in protecting the animals," Khumalo said.
Pathisani Sithole, a villager in the area, outlined how important it was for communities to understand the relationship between wildlife conservation and development.
"The area has faced serious shortages of water for domestic purposes but proceeds from animal conservation have seen boreholes being drilled in the area," Sithole said.
The project being spearheaded by IWAF and ZimParks has seen roads in the park being given a facelift.
"Hwange main camp is around 90 kilometres from the communities, and with so many elephants roaming areas outside the park, it was difficult to get assistance when elephants invaded our communities," Sithole said.
Before the project was completed, ZimParks officials would take about a day to attend to distress calls by villagers.
Reaction times are likely to be reduced significantly, authorities said.
IFAW president and chief executive Azzedine Downes hailed the partnership and its achievements.
"We are thrilled to celebrate this achievement together with ZimParks. It is a testament to a mutual, long-term commitment to protecting and preserving biodiversity, grounded in a partnership to deliver transformational change for people, wildlife and the natural environment," Downes told the Independent.
The Zimparks-IFAW partnership also saw communities living in wildlife-rich buffer zones just outside Hwange receive a major boost following the revamp of the Dete Old Age Home, a community facility dedicated to senior citizens' care.
The Dete Old Age Home, underwent a US$160 000 renovation as part of efforts to demonstrate practical conservation benefits for local communities.
Situated on the edge of the 14 651 km² national park, the Roman Catholic-run institution has expanded as part of the partnership.
IFAW and ZimParks are also working closely with the buffer communities to mitigate human-wildlife conflict and promote conservation-friendly alternative livelihood strategies.
Community interventions by the ZimParks-IFAW partnership include setting up community nutrition gardens and boreholes in the Hwange and Tsholotsho areas to improve access to clean water and enhance food security.
Other activities included the upgrade of the 20-kilometre road linking Makona ranger station in the park's southern part to the Tsholotsho community.
The upgrade will allow rangers to swiftly respond to incidents of human-wildlife conflict.
On the education front, ZimParks and IFAW also provide educational support to 300 students drawn from 21 schools in Tsholotsho, Lupane, and Hwange Districts under the Environmental Stewardship Programme.
In an interview during the launch, IFAW executive vice president Jason Bell said the organisation had a 25-year Memorandum of Understanding with the government of Zimbabwe.
"I think Zimbabwe as a country, years ago, was sort of left behind by the conservation community. If you look at the Kavango-Zambezi Transfrontier Park, you see how flooded it is with NGOs (non-governmental organisations) but no one came to Zimbabwe.
"It is important that other partners come into this space and make Zimbabwe a place to come to," Bell said.
Zimparks director-general Fulton Mangwanya said this partnership had transformed Hwange National Park.
"The IFAW-ZimParks partnership has transformed a large part of Hwange National Park resulting in zero incidents of elephant poaching in the Makona area and the wider park over the last three years," he said.
IFAW is a global non-profit helping animals, and people thrive together and are experts and everyday people working across seas, oceans, and in more than 40 countries around the world.
The organisation rescues, rehabilitates and releases wild animals while it also restores and protects their natural habitats.
IFAW also partners with local communities, governments, non-governmental organisations and businesses to pioneer new and innovative ways to help all species flourish.
Related Topics