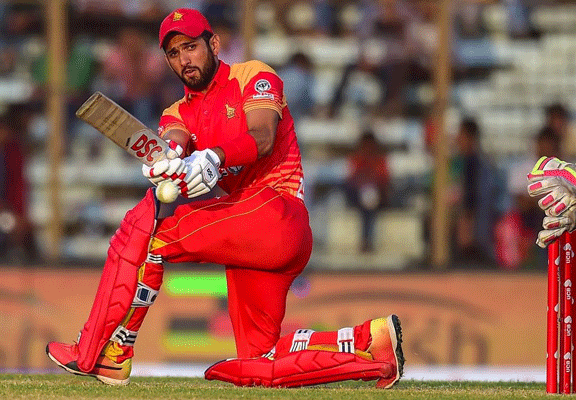 BY MUNYARADZI MADZOKERE IT'S only been a year and four months since Zimbabwe cricket all-rounder Sikandar Raza underwent an emergency biopsy after the discovery of a potentially career threatening tumour in his arm.
There were fears that the infection on his bone marrow could be cancerous, but luckily for him the tests came back negative.
Raza is currently enjoying the best form of his life after winning two player of the series accolades in the just ended white ball tour of Bangladesh at Harare Sports Club as well as the player of the tournament in the ICC World Cup Qualifier B in Bulawayo.
All this, he achieved in the space of a month during which he struck two centuries and three half centuries and claimed 12 wickets during the same period.
The 36-year-old cricketer has since soared on the ICC ODI all-rounders rankings to sit in fourth place while he is now the 29th best batsman in the format.
Raza revealed that there was a possibility that he would have his arm amputated if the tumour had been found to be cancerous last year, bringing his career to an abrupt end.
"For my family and I it was a difficult time and there was a possibility of me not playing the game again. I remember speaking to the surgeon before my second surgery and I said 'God forbid if it is cancer, what are the possibilities?' And he said because its bone marrow the chemotherapy may not work so we will have to amputate your arm. But here I am," Raza told journalists after the conclusion of the 2 – 1 ODI series win over Bangladesh on Wednesday.
"What can I complain about? Why am I doing well? Because I am happy to be alive, to be among my family and among you guys and still represent my country. I put a smile on my face and try to do as best as I can," Raza said.
The problem for Raza began when he started feeling a lot of pain in his right arm during the Zimbabwe-Afghanistan series, which included two Tests and the three T20Is, in Abu Dhabi in March 2020.
He went on to have surgery on April 2 to remove the tumour and a tissue sample was sent to the lab for testing before he was cleared of serious illness.
Raza has starred with bat and ball for Zimbabwe, helping the country qualify for the 2022 ICC T20 World Cup as well asT20i and ODI series wins over Bangladesh.
Related Topics