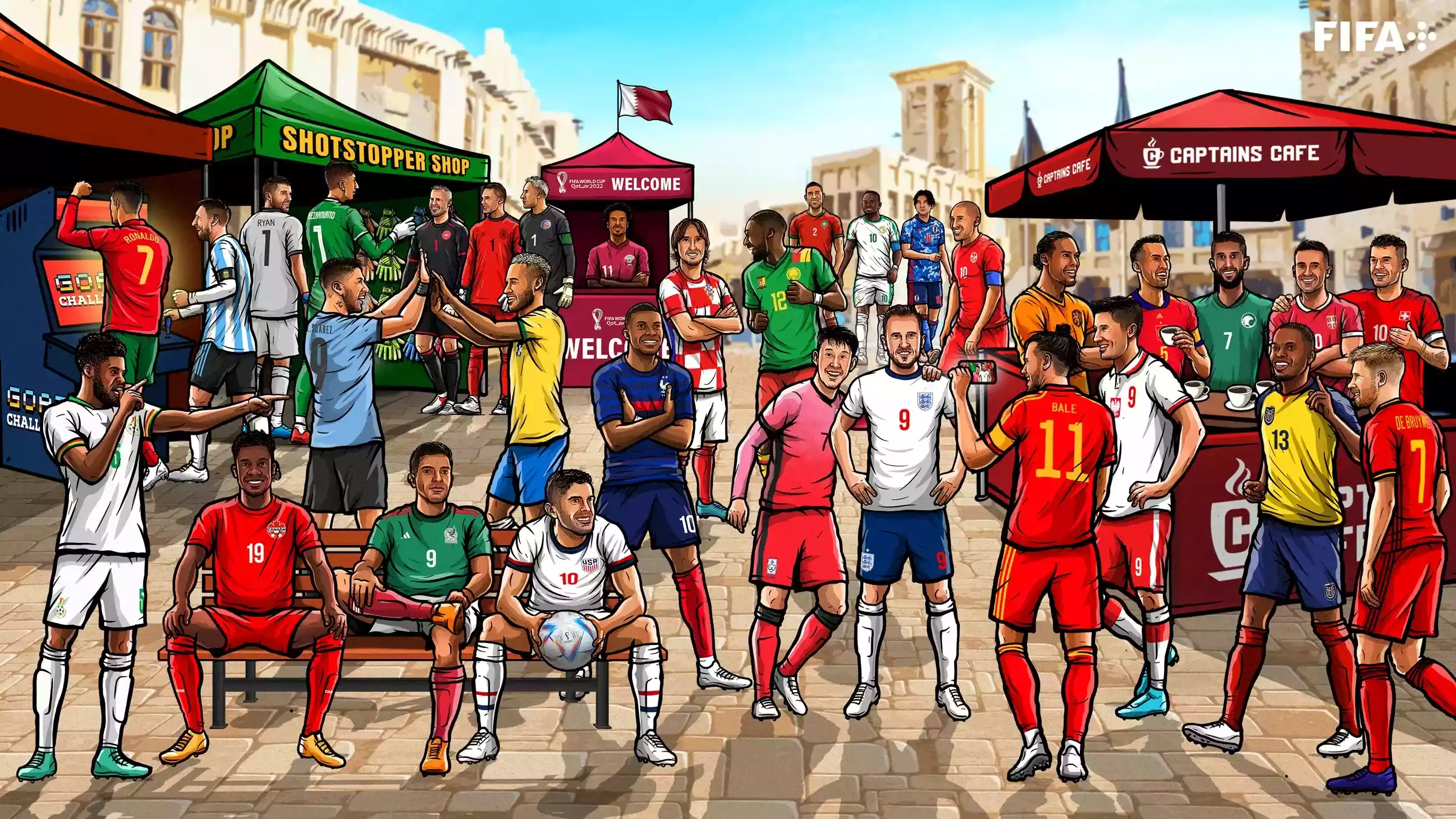 Four years ago, aged just 18, a young French kid announced himself to the world in breath-taking fashion, bossing a tournament and a final that he had no right to.
Kylian Mbappe's arrival on the stage of the biggest tournament in world football, the World Cup of 2018 was in many ways reminiscent of the astonishing arrival on the world stage of Pele at the 1958 World Cup in Sweden.
Although himself just seventeen years old at the time, Pele was already playing at a level way beyond his years, captivating teammates and rivals alike with his blinding speed, dazzling footwork and an understanding and reading of the game that only highly skilled veterans could claim to possess .
Brazil in 1958 surprised everyone with their absolute total dominance romping to a 5-2 thumping of the hosts Sweden in the final with Pele grabbing the limelight and announcing to the world that even though he was just a teenager, he had indeed arrived and was in fact despite his tender years, arguably already the best player in the world.
Ditto Kylian Mbappe in 2018.
In a team full of superstars he stood head and shoulders above them all as France claimed the World Cup for the second time in their history.
This young kid Mbappe was the player they turned to when they needed to make things happen.
When the going got tough, Mbappe got going.
As we fast forward to 2022, If anything Mbappe is even stronger, fitter and faster than he has ever been.
The young Parisian boy who turned down the opportunity to join Real Madrid in the close season has now emerged as the stand out player in a star studded PSG side containing both Lionel Messi and Neymar and in the process has shown a tough mental side to him that suggests that not only does he want to be the best, but he believes that he is the best and will do anything to stake his claim.
This he will do even if in doing so, he enrages some, upsets others and belittles some.
He goes into this World Cup on the back of a superb start to the French season where PSG have obliterated all in sight, but while his form is not in doubt, the French team itself is looking shaky.
The Nations League contests over the past week sprung many surprises and France, Spain, Germany and especially England all had hiccups and setbacks which have their fans concerned.
France in particular with such a formidable squad and as a nation many regard as strong favourites for the tournament looked oddly out of sorts and out of tune.
With Brenzema back in the fold and firing on all cylinders, the French ought to be unstoppable but I just wonder if Benzema's presence may actually prove to be more of a hinderance as Deschamps tries to accommodate his assortment of riches in attack.
The Mbappe of this season has a bigger say in the running of his club and has become the supreme leader at PSG demanding to be treated like he is the king.
Is Mbappe's perceived or real arrogance going to be the stumbling block that thwarts not just France's World Cup aspirations, but Mbappe's too in the long run?
Will playing with a Benzema who has come off a monumental season and who can justifiably lay claim to be the best player over the last twelve months, be unsettling for the younger Mbappe or will he acknowledge the presence of Benzema's greatness and work at merging their talents for the benefit of the team.
Only time will tell but if there's one thing we have learnt from the past season, it's that Karim Benzema himself is fed up playing second fiddle, especially when one considers that he was in the shadow of Cristiano Ronaldo for much of his career at Real Madrid.
For close to a decade he sacrificed his own goal haul and career aspirations for the sake of his team.
We are finally, as Karim Benzema enters his twilight years, beginning to fully appreciate his true worth, his uncanny ability and just what a tremendously committed and gifted player he truly is.
One can only pose the question and we can have endless debates about it, but what indeed might Benzema's career have been like if Cristiano Ronaldo had not come to Real Madrid?
Is it possible that Karim's name might have been the one in the headlines over a decade together with Messi's and not Cristiano's?
Anyway that's never going to be properly determined but what's not in doubt is that Karim Benzema is this year a shoe in for the Ballon D'or and Deschamps is going to kick himself if he fails to get this duo of Kylian Mbappe and Karim Benzema working in tandem.
If he succeeds then there's every likelihood that both Mbappe and Benzema will be the best attacking duo at the World Cup and it stands to reason that France will be a definite favourite to lift the prestigious prize.
If, however, he cannot get the French leading men to work together for the collective good, then sadly I fear that France will internally destruct and we will have images of the 2010 French fiasco playing out all over again.
Personally I fear for the French who all too often allow their emotions and egos to get the better of them.
Ironically It's the very same passion and pride that pushes them, cajoles them and carries them over the line when the going is good but it doesn't take much to shift the playing gear from drive to reverse and when that happens, all hell breaks loose and it comes back to haunt them and then even outrageous talents like Mbappe and Benzema will be unable to stem the tide.
The Brazilians on the other hand appear to be riding the crest of a wave, blowing aside all in their wake.
There's a sense of harmony, a feeling of hope and a projection of world class quality.
How on earth do you attempt to single out potential stars of the tournament from a Brazilian side littered with attacking superstars?
No one can ever doubt the global appeal and of course undeniable talent of Neymar even if he continually serves up a dish of Hollywood theatrics that we've all now become accustomed to.
Neymar on the field and on song though, is the reincarnation of Ronaldinho, a world beater, a crowd pleaser and potentially the grand superstar of this World Cup.
He has been for the better part of a decade, the pin up boy, the superstar, the glamour boy that Brazilian football always craves and now Neymar with his stellar supporting cast is expected to lead Brazil to their first World Cup win since 2002.
It's a dismal record for this proud footballing nation and the pressure on their national side will be even greater and is mounting because this time, they do truly believe that they have a side capable of bringing the trophy home.
While Brazil of 2002 had Ronaldo,Rivaldo and Ronaldinho, this year's version while not quite matching that generation's skill set is nevertheless stacked with greater attacking depth and oozes class upfront.
Neymar is still the leading man with a supporting cast that includes Vinicius and Rodrigo of Real Madrid,Rafinha of Barcelona,Richarlison of Tottenham Hotspurs and Jesus of Arsenal who amazingly finds himself propping the queue and praying for a starting berth.
While all these players are stars in their own right,it is to Neymar and not Jesus that they will look to for guidance, intervention and inspiration.
Neymar clearly made the wrong call in exiting Barcelona at a time when he was at the peak of his career but after all the drama of the past few seasons, he is now back to his best for PSG.
With him as the conductor, Brazil are gelling smoothly and making all around them look decidedly ordinary.
In their most recent friendlies they thrashed African World Cup participants Ghana 3-0 and Tunisia 5-1 in matches that were supposed to test them.
Neymar at the centre of it all is purring and prowling and he together with his fellow superstar attackers are going to take some stopping.
A Brazil in full flow at this year's World Cup will destroy just about every side on the planet.
If Neymar is fully fit, I fail to see why he cannot be the star of the World Cup because his supporting cast will relieve him of the sole burden of being the creator, destroyer and finisher.
He will though be the perfect enabler!
There will surely be other stand out performances from players whose sides will be too frail to go deep into the tournament.
Kevin De Bruyne remains an exceptional talent but his Belgium golden generation always flattered to deceive.
England's Harry Kane meanwhile remains a striker of rare international quality but he has never had a copper generation let alone a golden one around him to carry England past the finish line.
Spain will mesmerize all with their passing and technical ability but teenage marvel Pedri who will shine in abundance at this year's World Cup cannot alone be both creator and finisher extraordinaire.
If we are looking for the ultimate star of the show then I've got a hunch it might just be Lionel Messi.
He has been the best player in world football for close to fifteen years and what we have been privileged to witness from him, we will never see again in our lifetimes.
However all along there was this nagging doubt and feeling that he hadn't quite done it for his country even though there were a number of close shaves including the unlucky 1-0 loss to Germany in the 2014 final as well as a number of Copa America final losses.
And then just as his Barca career appeared to be on the wane, his Argentina career took off.
The Copa America triumph in 2021 where he was the player of the tournament with four goals and five assists galvanised not just his national career but the team as a whole.
A routine 3-0 friendly victory over Jamaica with Messi again chipping in with two goals took their unbeaten record to a remarkable 35 matches, just two shy of Italy's record which they will surely break during the course of the World Cup.
Their team is solid if not spectacular.
This is not an Argentina side of yesteryear sparkling with talent all over the field.
In fact this is unquestionably their least gifted side since 1986 when Maradona himself took what was an average side to meteoric success.
Like the 1986 side this is a team of grit, of cohesiveness, of passion and plenty of heart.
It's a team of Messi plus ten Lisandro Martinez's who are going to die on the field for their country.
And as they have very demonstrably shown recently, they will die for Messi too.It's why Argentina will win, it's why Messi will be the star of the World Cup and when that happens, he will cement his place in the halls of fame together with the late Maradona as the two best players of all time.
Till the next time folks…..
Feedback: [email protected]
Related Topics