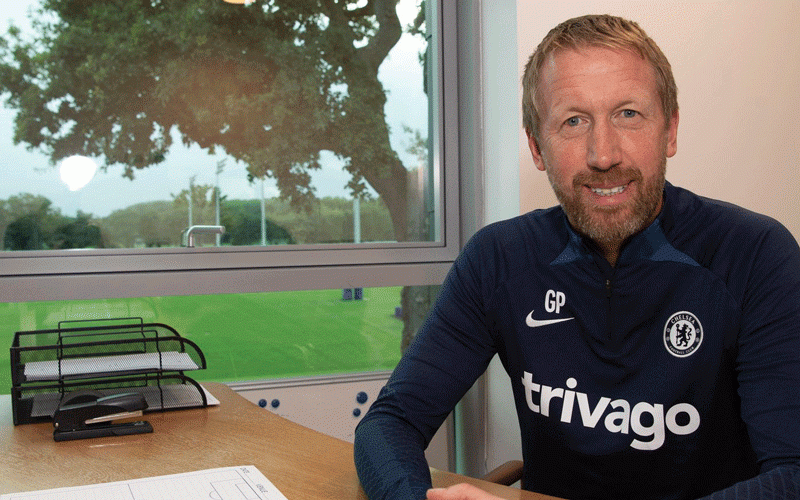 Are you as surprised as I am at the quiet but steady,satisfactory and so, so subtle revolution that is underway at Stamford Bridge?
This Graham Potter version of Chelsea is barely recognizable from the side that was drowning under Thomas Tuchel and is now politely purring its path up the table in both the EPL and the Champions League.
It raises the obvious question as to how pretty much the same Chelsea group of players under Tuchel are now able to raise their game so effectively under Potter.
On Wednesday in the Champions League, Chelsea went away to Salzburg who had not lost a game at home for over a year and showed their true mettle securing a terrific result which secured early qualification to the knockout rounds as winners of the group.
For a side that was bottom of their group after the first two matches played, its been a remarkable rapid turnaround all done with the minimum of fuss and fanfare.
I apologize for the Harry reference but Potter has quite literally walked into the most demanding arena in English football and waved his magic wand.
He's not a baby who needed time to adjust at Chelsea in order to learn the ropes and based on his performance thus far has definitely not required any potty training!
He has clearly changed their formation, altered their strategy and smartly given all of his players a run around so that he can assess them and not be forced to rely on previous performances or reputation.
Not by chance is record signing Kepa Arrizabalaga the much maligned resigned and previously consigned to the scrap heap goalkeeper, now sitting pretty as Potter's chosen number one after a string of stirring world class performances.
Likewise, even permanent benchwarmers Loftus look the other cheek and Chalobah are now getting regular game time with Chalobah even being mentioned as a possibility for England's Qatar odyssey.
It's worth pointing out that Potter already has the buy in from the players notwithstanding the fact that he has had scant opportunity on the training ground with the match schedules being as congested as they are this season.
As it stands, he's sitting on nine unbeaten games as Chelsea boss with only four goals conceded in that time.
All this points to a Chelsea who surely can only improve once they find an improvement on Aubameyang in attack and when that happens Chelsea will rise up the table and provide a stern challenge to Arsenal and perhaps even Manchester City.
I must admit though to my own skepticism when he was initially announced as Chelsea boss and I'm sure most Chelsea fans thought the same way as I did.
While his record at Brighton was impeccable, to expect him to make the upgrade to Chelsea just seemed implausible, wishful thinking and a bridge too far.
Here was a simple Englishman with none of the suaveness, etiquette, image and so called technical coaching ability that the European coaches appeared to be blessed with in abundance.
This was a man seemingly out of his depth and definitely not from the school of coaches that Chelsea would normally hire from.
It got me thinking way back to the time when the world's best player at the time, Ronaldinho signed for Barcelona in 2003.
It was a massive coup for a Barcelona side who were really struggling and he would ultimately play a significant role in not just their tremendous recovery, but also in the massive success that was about to engulf them.
At the time, Florentino Perez the president of Real Madrid publicly stated that he could never have contemplated signing Ronaldinho for Real Madrid because he didn't fit the image, was not good looking enough for their brand and would send the wrong signal to their fans.
It was a shocking statement but Ronaldinho and Barcelona of course would have the last laugh.
Likewise in this context, fashionable fancy Chelsea would traditionally have opted for another high cost, high maintenance, high octane and drama filled European coach.
The hiring of Potter signals that the winds of change are indeed sweeping around Stamford Bridge with the arrival of new owner Todd Boehly.
Lol! I am writing this before Chelsea visit Potter's old home Brighton on Saturday and the Seaguls may choose to make a mockery of all I have written above!
Potter, however, is not the only English coach causing waves currently because at Newcastle in the north east, the doting devoted die hard Geordies are witnessing a turnaround under Eddie Howe that's genuinely so well deserved for these soccer mad fans.
They have suffered from decades of underachieving Newcastle sides but now finally under Howe and a dose of Middle Eastern investment,the club are flying.
Their superb victory away at Spurs on the weekend propelled them to fourth in the table and has got them dreaming of Champions League qualification.
Howe's detractors will no doubt point out that he's been fortunate to have been backed heavily with key transfers such as the new Toon Army darling, Brazilian Bruno Guimaraes.
That's very simplistic for if one observes with more scrutiny, it's very apparent that Howe has also managed without exception to get every player he already found at the club, to play at a higher more intense level.
He's not advocating in the interim for galactico signings,preferring instead to work with what he has and gradually roping in quality.
In a nutshell, he seems like a sensational fit at Newcastle and will in time take them to the promised land of regular Champions League football.
Both Potter and Howe have their own unique management style, both have gone to ambitious elite clubs, both of them are winners and interestingly, both are surprise, surprise,English!
Gosh!
It almost sounds absurd talking of a competent English boss when we're accustomed to the usual mentally challenged dross English managerial material that is not good enough for the Championship, let alone the EPL!!
But that's not the case any longer and when you throw Brendan Rogers into the fray despite his wobbly start this season at Leicester, there's enough to suggest that English managers have finally paid their school fees and are beginning to emerge as a force.
Please note that generational talented superstars such as Steven Gerrard (who was rightly replaced at Aston Villa by a European class act manager in Unai Emery)and Frank Lampard have not proven themselves to be a part of this group of outstanding English managers.
Football clubs cannot and must never assume that being a highly successful player automatically qualifies you as a highly successful manager, as we are witnessing over at Barcelona where the Xavi experiment is beginning to implode with devastating consequences.
Xavi has been at the helm of Barcelona since November 2021 and to suggest that he has been an improvement on Ronald Koeman would be a monstrous lie.
He has had the full backing of the Board from day one as well as the privilege of bringing in players he personally admired and requested.
Other than his master stroke handling of Osman Dembele who sadly though despite his extraordinary ability still remains an enigma,Xavi has failed handsomely.
Watching a boyish but brilliant and brutish Bayern, batter Barcelona in midweek was too much to bare and questions are now being seriously asked about one of the club's favourite sons.
Unless Barca end up winning La Liga,I don't believe that even Xavi will be able to lever himself out of this one!
On the other hand, Barca's true all-time favourite son Lionel Messi was in sublime form scoring two sumptuous goals in the Champions League this week as he attempts to bring joy at last to Doha and Paris!
His erstwhile partner in crime Cristiano Ronaldo meanwhile, showed palpable relief when he found the net after numerous failed attempts for Manchester United against FC Sheriff in the Europa League.
It's becoming very evident for all to see that Messi's star still shines brightly while Cristiano's is waning and fast.
Someone though who remains integral, central and pivotal to his side is Kevin De Bruyne.
I admit to being a fan of this awkward potty looking and shy chap who day in day out, continues to play the game he loves with unbelievable consistency and excellence.
He remains the best attacking midfielder in the EPL and has been so over the last decade.
This was enhanced on Tuesday night when I watched a Manchester City side struggle and look decidedly ordinary against Dortmund without him.
The bare bold truth is that City are only half the side without him.
The reality is that Haaland will not score as many goals if Kevin De Bruyne is not on the field to spray those inch perfect passes on a plate for him.
I believe this is a chink in the City armour because despite City's supposed depth, if De Bruyne and Haaland are not on the pitch together, City look distinctly average.
Dortmund proved this on Tuesday in a match I felt that they might have won had they themselves not been so profligate in front of goal in the first half.
City will be praying that Kevin De Bruyne remains fit and injury free because I fear that no other genuine Champions League contender is so utterly reliant on one player as City are on him.
It's quite simple and a no brainer;no Kevin De Bruyne, no Champions League for Manchester City!!
Till the next time folks…
Feedback [email protected]
Related Topics