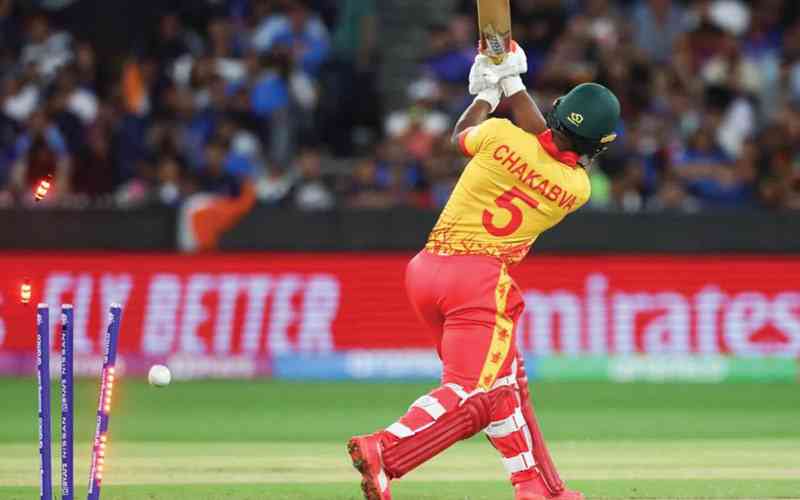 AFTER a dreadful T20 World Cup campaign Zimbabwe cricket vice-captain and wicketkeeper Regis Chakabva has relocated to Australia with his family where he will turn out for Bamawm-Lockington United in the Goulburn Murray Cricket season which began yesterday.
Chakabva was scheduled to make his debut for the team also known as BLU against Leitchville-Gunbower yesterday afternoon.
This could signal the end of his international career for Zimbabwe although he has emphasised his desire to carry on in the national team colours.
The 35-year-old wicketkeeper batsman has played more than 100 matches for the Zimbabwe national team including all eight of Zimbabwe's matches at the ICC men's T20 World Cup which concludes this weekend in Australia.
But he could only manage 65 runs in eight innings.
However, he is excited about the new chapter, which is opening in his cricket career.
"I am raring to go. Things have been really good. The boys have been really nice and really friendly. I'm looking forward to the rest of the season and getting to know everybody," Chakabva said in an interview with Riverine Herald.
The move to Australia was a long time coming for Chakabva and he explains how it came about.
"I got in touch with my agent and said I would love to go down under and get some cricket going. He got in touch with BLU, and we had a good chat with [BLU president] Matt Hamilton and the committee.
"We had a good conversation and straight away I thought it would be lovely. I got the opportunity to come eventually and here I am," Chakabva said.
Chakabva has moved to the region with his wife, Matilda, and his young son and daughter Ethan and Hannah, with the family living in Moama.
Moama is a town in the Riverina district of southern New South Wales, Australia.
"The plan is to stay in Australia for quite a while. Obviously be with BLU for quite a few years, I'm just looking at that and excited about that.
"Everything has been good. It is quiet and the family is enjoying it. It is definitely not as busy compared to the big cities back home in Zimbabwe.
"Coming from Harare there is quite a lot of hustle and bustle going on the whole time there, so we have been enjoying the laid-back atmosphere," he said.
After making his international debut back in 2008, he has represented Zimbabwe in all formats of the game — playing in 22 tests, 61 One Day Internationals and 49 T20is.
BLU president Matt Hamilton expressed his excitement at the arrival of the top player and his family at the club.
"I am sure he will be absolutely fantastic for the club. The way Regis can relate to people is truly amazing. A lot of people across the area will gain a lot of benefit from having Regis Chakabva on the cricket field and in the community," Hamilton said.
"And knowing Regis like I do now, I can honestly say he is a younger brother. It has been a long period of time and an amazing journey. Would you do it again? You certainly would for a bloke of Regis's calibre and his family Matilda, Ethan and Hannah," he said.
BLU reached last season's A-grade grand final after finishing third on the GMC ladder last season and knocked off second-placed Rochester in the semis to reach the decider in which they fell to Echuca by six wickets.
Chakabva is looking to help the club scale greater heights.
"In terms of being here and what we are trying to achieve with the club, obviously we are looking to do the best for the club. We had a really good season last year and so we are hoping that we can continue on that trend.
"I'm expecting to play every game. As long as I am fit and healthy, I should be good to play every game. I'll be involved with quite a bit of coaching as well. I'll be working with Matt alongside the guys at the club to try and help out with the juniors and make sure that there is that talent and potential coming through the club," he said.
In Spite of his poor form and criticism from Zimbabwe fans following his recent poor performances especially at the World Cup, Chakabva is keen to continue playing for the Chevrons.
"In terms of how that is going to work out with Zimbabwe, I am obviously still hoping that I can keep on going with my international career for however long I can," he said.
"We have had a good conversation with the guys back home and they are quite understanding of where I am at this point in time.
"At this point in time, the games are mostly going to be after the season. So at least when the season is done, I will be a lot more free and open to head back home and continue with that," he said.
Related Topics