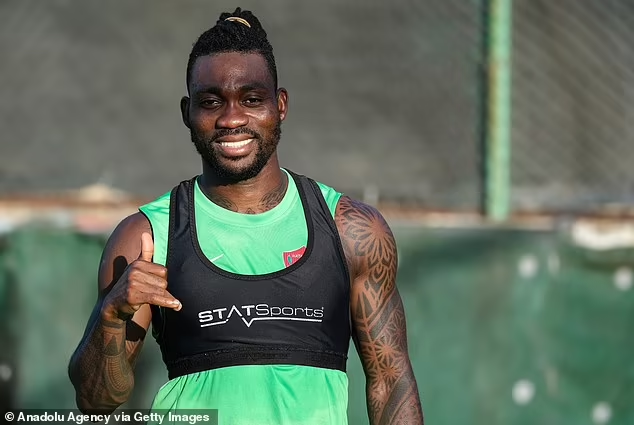 Christian Atsu has tragically been confirmed to have died following the devastating earthquake in southern Turkey and northern Syria last week.
The 31-year-old's whereabouts remained unknown after the 7.8 magnitude earthquake that took place in the early hours of the morning of February 6.
More than 42,000 people have been killed and thousands more injured, while millions have been left homeless following the disaster.
There were hopes the former Chelsea, Newcastle, Bournemouth and Everton winger had been rescued, but his club Hatayspor and agent Nana Sechere had revealed over the past week that these claims were untrue.
Several search and rescue operations in the debris of the building where Atsu and Hatayspor's sporting director Taner Savut lived, took place - with Savut also missing.
Sechere explained on Tuesday how Atsu's exact 'room location' and even two pairs of his shoes had been located.
It was then confirmed by another of Atsu's agents Murat Uzunmehmet that he had been found under the rubble on Saturday, 12 days after the earthquake.
Uzunmehmet told reporters: 'Atsu's lifeless body was found under the rubble. Currently, more items are still being taken out. His phone was also found.'
31-year-old Atsu enjoyed an extremely impressive football career after he broke through with Portuguese giants Porto.
His exploits in Portugal - which also included a loan spell at Rio Ave - led to Atsu earning a move to Chelsea.
He spent five years at Stamford Bridge but never actually made an appearance for the first team as he spent temporary spells away from the club with Vitesse Arnhem, Everton, Bournemouth, Malaga and Newcastle, before he made a permanent move to the Magpies in 2016.
He was promoted to the Premier League with the club during the 2016-17 season under Rafa Benitez and he made 121 appearances in total over five years.
Upon leaving Newcastle, he moved to Saudi Arabia to play for Al-Raed, before he joined Hatayspor last September.
Atsu also had a decorated international career, winning 65 caps for Ghana and scoring nine goals, while he also represented them at the 2014 World Cup.
He was awarded Player of the Tournament at the 2015 AFCON when the Black Stars came runners-up.
After growing up in Ghana, Atsu had moved to Portugal to pursue his dream of becoming a professional footballer at the age of just 17.
Atsu was a devout Christian and married his wife Marie-Claire Rupio Atsu in 2012. The couple had three children together - two sons and a daughter.
Related Topics