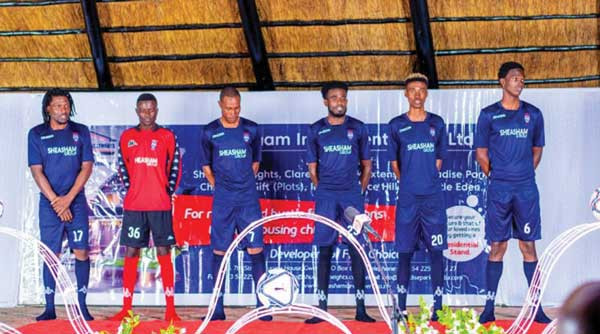 Sheasham risk facing the full wrath of the Premier Soccer League (PSL) if they go ahead with plans to boycott their weekend match against Caps United scheduled for Mandava Stadium in Zvishavane.
The league newbies have said they will not travel to Mandava for the match in protest over the PSL's decision to move the game from their home ground Bata Stadium in Gweru.
The stadium, which is undergoing renovations, hosted a Sheasham versus Highlanders game a fortnight ago after it was cleared by the Zifa First Instance Board (FIB).
However, after an outcry from some football stakeholders who felt that the facility was approved prematurely, the PSL directed Sheasham to revert back to Zvishavane for their home matches.
This decision has not gone down well with the Construction Boys, who have vowed not to fulfil the fixture if the PSL insist on Mandava.
They feel that the league honchos are being unfair since Bata Stadium was given a greenlight for use by the Zifa FIB, the only board with such powers.
But the PSL have dared the newcomers, warning that they will institute disciplinary proceedings on them in the event that they don't play ball.
The sanctions that they face include a 3-0 walkover result and a fine.
"At this point, we will be guided by the constitution," PSL spokesperson Kudzai Bare said yesterday.
"It is clear that there are processes we follow when a team does not fulfil a fixture," she added.
Order 18.1 and 18.2 of the PSL's Standing Orders and Rules states that: "Every club shall be obliged to honour every league fixture as directed by the League General Secretariat.
"Any club without just cause that fails to fulfil its fixture obligation in respect of any league match on the appointed date or dates shall be deemed guilty of bringing the game of football into disrepute and shall be subject to a Disciplinary hearing."
Sheasham want answers from the PSL on why their venue has been banned, having initially been approved by Zifa's FIB.
Their sympathisers are also perplexed by the decision, after the stadium was re-opened amid pomp and fanfare two weeks ago following three decades of dormancy.
NewsDay Sport understands that Zifa acting chief executive officer Xolisani Gwesela has been spearheading dialogue between Sheasham and PSL boss Kennedy Ndebele to try and contain the already chaotic situation.
Club chairman Reginald Chidawanyika said they have already written to PSL competitions manager Elisha Mandireva that they have no plans of travelling to Zvishavane this weekend.
According to him, the PSL is yet to respond to the correspondence, save for the fixtures list that they published on Monday which shows Sheasham playing on Sunday at Mandava.
"They acknowledge that they are wrong but are trying to persuade us to comply with the directive.
"So far Kennedy [Ndebele] has been pleading with us and Gwesela [Xolisani] has been mediating but I asked for a written response from them but nothing has come through.
"We wrote to PSL competitions manager advising him that we are not going to Mandava Stadium," Chidawanyika added
Meanwhile, Sheasham coach John Nyikadzino said they will not be distracted by the off-field drama.
"As Sheasham FC employees we follow directions from our bosses, hence we are prepared psychologically," Nyikadzino said.
Related Topics