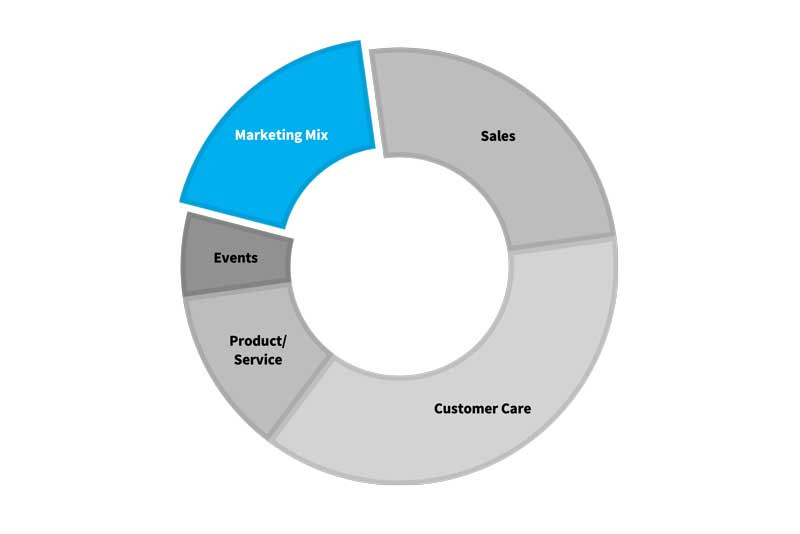 Branding has revolutionised service management in all aspects, bearing in mind that branding sits on top of almost everything. Hence, in the school of marketing, brand management has become a special converter where a service has been easily transformed into a product. Invisibility amongst other characteristics of a service is now a thing of the past. Through a properly configured brand mix, our SMEs operating in the tourism sector are now able to make their offerings shoppable than any time before (even when potential tourists await a moment of truth). It is through some progressive discussions with other fellow entrepreneurs in the sector that I realised the need to revisit branding mix for tourism business. Here we talk about bringing the consumer and the brand together through a prescription of some tourism brand mixes (though not a one size jacket to fit all).
To start with, is the "place" as a critical component of the tourism brand mix (a central pivot to say). Whether the SME operator is in the accommodation, travel or resort they all belong to a place. Our role as SMEs is to develop a tourism brand that talks a place and its attractiveness. Imagine we are turning our social infrastructures and amenities into littered jungles and that destroys any good as aesthetic about a place. This is a drawback in the branding of tourism operations. A balance of this mix should be taken as a foundation for vibrancy in tourism branding. Yes, most of the SMEs have related their brand identity and elements to the most popular world heritages in Zimbabwe including Victoria Falls and Great Zimbabwe. These have been over-used and are becoming common on the market (making every tourism related brand almost similar). As shared in the previous edition there are some unique and never talked about places around the country which one can ride on through brand differentiation of places. Every place in a tourism destination should speak its unique story as a brand mix element. The key task for our tourism SMEs is to find that place(s) which links with your specific brand orientation. Of course some of our SMEs have made it through relating their brands visibility to some unimaginable scenic and adventurous places in the Eastern Highlands. You can do the same.
In the traditional/generic marketing mixes "promotion" has been regarded as a key driver to extensive brand publicity. It still applies in the brand mix of our tourism operators. This is an area we have also talked about in the previous editions. Our SME operators in the Zimbabwe tourism industry should redress and configure their promotional mixes for specified targeted audience towards real brand visibility. Promotion of tourism has been limited as for the elite of our societies in the past. In the current operation of our SMEs there is no need to be restricted since everyone is now a potential tourist. Our promotion should target almost everyone (with different packages for different groups). Many thanks to the Mukando travel scheme that was introduced by ZTA towards supporting domestic consumption of the tourism offerings. As home-grown players we should appreciate and promote our brands to the domestic tourists as we go global. It should be remembered that publicity matters most in the tourism brand promotion mix, especially in reaction to the negative image that is likely to follow our enterprises.
The tourism brand mix will not be complete without looking at the "product" that the SME offers. In a broader perspective, the tourism products in a destination include physical items such as attraction facilities, infrastructure and transportation that lure tourists — supporting a safe and enjoyable stay. Imperatively the operator's brand mix should talk to these and convince any potential tourist that everything is under control. Also critical is being true and making synergies for these to be readily available at any point of consumption. Every SME should know where he or she belongs in the range of products offered as part of the whole tourism value/supply chain. Mostly we have seen hotels, restaurants, tourist centres, theme parks, entertainment and sports activities, shopping malls, and casinos. If operating in one of these then it is high time to comply and be accredited as a tourism player in Zimbabwe (towards collaborated destination branding). It is not only about having the product, but attractive packaging in a way that is acceptable/expected by the tourists through consultation and market research. Many of the times we forget to consult the customer in the packaging of our tourism products and think they will just sell like any other. No, we should remember that most tourism products are perishable and seasonal, hence their packaging is distinct. As a way forward into refining the tourism product and its packaging, we have to move away from relying on traditional nature as tourism assets. Let's add on other new types to support the brand mix such as health and church tourism.
Price is another key component of the tourism brand mix. Globally it is evident that pricing of tourism brands is related to the level of excellence or value provided and perceived. And what the tourist look for is the value for money through satisfaction. Our SMEs operating in this sector should be able to evaluate and uplift themselves from the general to supreme brands as reflected in their pricing. The price that is charged for these offerings should be equal to the values presented. We don't just price. Otherwise if pricing is not done carefully, we will under/over charge to terrorise our own brand(s).
People are also a critical cog as previously mentioned, especially with Zimbabwe as a tourist destination having a renowned intellectual capacity globally, providing highly qualified managers and employees for the tourism industry. The tourism brand mix needs to be infused with reputable professionals who are highly qualified for their jobs. This results in improved SME brand recognition from a human resource perspective. Most activities in this industry are technical with specialised skills like the cooks. Some patrons come to eat in an establishment just to follow a popular chef for certain dishes. Think about this as you position your brand(s) too.
Lastly, the tourism brand mix is not complete until we come up with efficient processes. The time taken in providing a service to visitors affects brand reputation (either negatively or positively). Importantly there is need to avoid delays so that the brand will be known for efficient processes and attract repeat business through word of mouth. Till then I leave you with the words from Scott Cook that; "a brand is no longer what we tell the consumer it is—it is what consumers tell each other it is."
Dr Farai Chigora is a businessman and academic. He is the Head of Business Science at the Africa University's College of Business, Peace, Leadership and Governance. His doctoral research focused on business administration (destination marketing and branding major, Ukzn, SA). He is into agribusiness and consults for many companies in Zimbabwe and Africa. He writes in his personal capacity and can be contacted for feedback and business at [email protected], WhatsApp mobile: +263772886871.
Related Topics