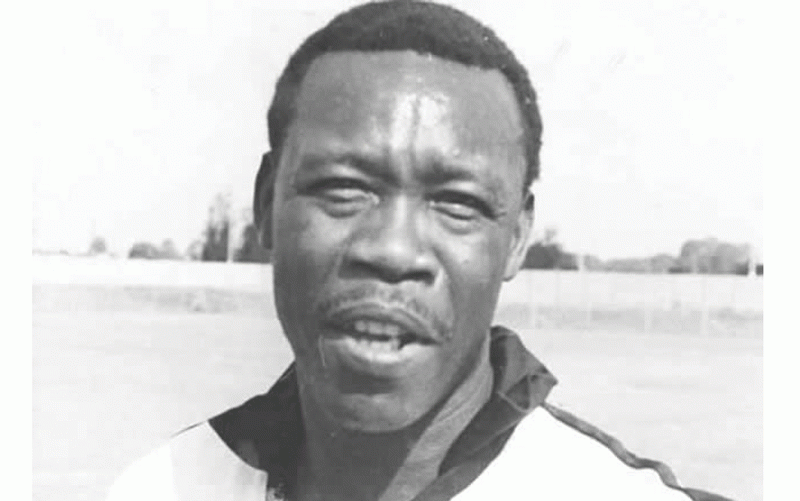 If you go back to the period of vinyl records made in Zimbabwe, the name of producer, Tymon Mabaleka will appear on almost all of them.
It is not often that I write about people behind the scene in the music business. However, Tymon Mabaleka deserves a special place on the Zimbabwe music landscape.
A lot of musicians who were in Harare who saw footballer Tymon Mabaleka aka 'The White Horse', behind the recording and mixing desk when Gallo Records re-located from Bulawayo to Harare in 1982, wondered what a famous footballer was doing in music. One musician asked me what Tymon was doing in music.
Gallo Records, which later changed its name to Zimbabwe Music Corporation had a hard time trying to convince Harare musicians that Tymon was an accomplished music producer. It wasn't until Gallo Records brought artistes from Bulawayo such as Lovemore Majaivana, Solomon Skuza, Ebony Sheik and Fanyana Dube to record in Harare with Tymon that Harare musicians started to trickle-in and accepted Tymon as a good producer after listening to his production on Majaivana's album. When Gallo Records changed to Zimbabwe Music Corporation, (ZMC), in Harare, they merged with Teal Record Company which also changed its name to Gramma Records, thus becoming the two biggest music production firms in the country.
Along came music producers, Chrispen Matema, A.K. Mapfumo, Bothwell Nyamhondera and Peter Mparutsa who worked together with Tymon at Shed Studios in Southerton, Harare to record the Harare-based and other artistes from the country such as Zexie Manatsa, Leonard Zhakata, Khiama Boys, John Chibadura, Devera Ngwena Jazz Band, Thomas Mapfumo, Oliver Mtukudzi, James Chimombe, The Bhundu Boys, The Pied Pipers, The Frontline Kids, Sungura Boys, System Tazvida, Tongai Moyo, Paul Matavire, Leonard Dembo, Kasongo Band, Alick Macheso and many others.
Tymon was born in Matabeleland South at Nswazi in Umzingwane District. He attended Losikeyi Primary School in Bulawayo.
After that, he attended Mpopoma High school for secondary education and later moved to Mzilikazi High School. On completion of his O' levels, he became a great footballer, playing for Highlanders Football Club.
Tymon began his illustrious career as a footballer at Eastlands before moving to Highlanders in 1973.
That season is considered as the turning point for the once docile giant in semi-professional football. Bosso who had been promoted back to the elite league after topping the lower division in 1972, following their demotion in 1971 when they finished with a paltry seven points, relied on the brilliance of players like Tymon to assert themselves as one of Zimbabwe's top sides.
With Tymon in the thick of things alongside Cavin Dube, Lawrence Phiri, Billy Sibanda, Edward Dzowa, Kenny Luphahla, Mike Mpofu, Peter Bhebhe, Ananias Dube, Josiah Nxumalo and Boet Van Ays, Highlanders won their first major title – the 1973 Chibuku Trophy and regional title.
He is one of the country's most revered music producers having done works for Oliver M'tukudzi, James Chimombe, Lovemore Majaivana and Solomon S'kuza and the Fallen Heroes under Gallo later known as Zimbabwe Music Corporation on the Kudzanayi label.
In the music world, the 'Whitehorse' produced Majaivana's Salanini Zinini, which had songs such as the title track, Kuleliyani'zwe Dabuka Mhlaba, Nkazana, Uzakufa Kubi, Isambane, Simoni ka Jona, Inyoka, Indlela and Ubaba Wafa.
He also produced the late Solomon Skhuza's Medelina and Intombi. In addition, he was instrumental in producing Ebony Sheikh's Emhlabeni Kunzima, Shepherd Chinyani, and the Vhuka Boys' Mai Vakakosha, Pakuyambuka by Leonard Zhakata, the late John Chibadura's collection, The Essentials, Kassongo Band's Bana Kassongo and the Zimbabwe People's Band's Wale Walio among others.
I first met Tymon in 1982 in New Ardbennie, Southerton, Harare when he was working for Gallo Records .
Mabaleka became one of the directors of the company working alongside Ralph Glover, Tony Rivett, John Grant, the late Elvis Chimene and Silvanos Mutizwa. These 'boys' had migrated from Bulawayo to Harare in search of greener pastures.
The Bulawayo branch of Gallo (ZMC) was manned by the late Elijah Ngwenya and Abel Jonga who remained there for family reasons.
Zimbabwe Music Corporation and Gramma Records which Tymon worked for, became the biggest music recording and production firms in the country in the 1980's and 1990's before the advent of music piracy and home studios.
Mabaleka, in his capacity as music producer, produced one of Matabeleland's most recognised and adorable musicians, the legendary Lovemore Majaivana (who had also moved to Harare) Fanyana Dube and Solomon Skuza, to name a few.
In his passion for high quality productions, he also came up with gems such as Ebony Sheikh's Emhlabeni Kunzima, Shepherd Chinyani and the Vhuka Boys' Mai Vakakosha, Mugove by Leonard Zhakata, the late John Chibadura's collections.
He worked and produced some of Oliver Mtukudzi's and Ilanga's top hits.
Mabaleka was a quiet, soft spoken and likeable personality and we got on straight away. He told me that after his football career with Highlanders, he had been hired by John Grant, who was at the time the managing director of Gallo Records which had set up base in Bulawayo before moving to Harare where they felt there was more business.
During one of my conversations with him in the early 1980's, I asked him what musical skills he had and he simply said: "I have no musical skills. I cannot play any musical instrument, but I just love music. It is on the strength of this that I trained to be a music producer."
Indeed, in no time at all, Gallo Records which shared the same premises with Teal Record Company in Southerton soon had Tymon Mabaleka competing with Chrispen Matema of Teal Record Company and Steve Roskilly of Shed Studios as producers. Other producers who came along the way such as Henry Peters, Bothwell Nyamhondera, Peter and Golden Muparutsa had Tymon to contend with as he was already established in the business.
Tymon's influence on the shape of today's Zimbabwean music as its producer, will remain with us forever. He is one of the country's most revered music producers. The list of musicians he worked with is endless. As mentioned above, he did work for Oliver M'tukudzi, James Chimombe, Lovemore Majaivana, Solomon S'kuza and the Fallen Heroes, Ebony Sheikh, The Frontline Kids, Shepherd Chinyani and the Vhuka Boys, Leonard Zhakata, the late John Chibadura, The Essentials, Kassongo Band and the Zimbabwe People's Band, to mention only a few..
Tymon who now lived in Mandara, Harare was a God-fearing person. On several occasions I met him going to church with his wife, Susan, and his three children. He would stop to talk about the power of music and how it can influence society and the rest of us to become good citizens. He had become so passionate about his role in music that one could not persuade him to become anything else.
When Zimbabwe Music Corporation was amalgamated with the former Teal Record Company which had now become Gramma Records, Tymon was made the company's Artistes and Repertoire (A&R) executive. The company then moved from its Southerton base to Williams Way in Msasa. As a way of showing his elevation and appreciation for his loyalty to the company, Tony Hagelthorn, the then Managing Director, bought Tymon a Toyota Venture which he used for both business and private affairs. Hagelthorn had now become the managing director after the departure of John Grant and Tony Rivett and the split by Mike Ralph who went to form Record and Tape Productions (R.T.P.)
In my interview with Tony Hagelthorn, the managing director of Zimbabwe Music Corporation, he said to me: "If you want loyalty from an employee with only three O' levels, make him a manager, give him a reasonable salary, buy him a car and make some business cards with his name and "manager" on them. He will stay with your company forever because he knows that he will never get another job with such perks elsewhere". I think he was referring to Tymon at that time.
Tymon had an excellent public relations record with many musicians as he was easy to talk to. Musicians who found it difficult to talk to management at Gramma Records or Z.M.C. found solace in talking to Tymon when expressing their grievances. At one point he even became the personal manager to John Chibadura as he would advise the musician on how he ought to spend his royalties. He would also arrange tours for performances on his behalf.
In 2008, during Zimbabwe's economic meltdown, Elias Musakwa, who had established Ngaavongwe Records, a gospel music record company and who also worked for the Reserve Bank of Zimbabwe, negotiated with the owners of Gramma Records and Z.M.C. to take over the running of the two music companies. He succeeded in doing so. After Musakwa's take over, a number of the former stable's employees were retrenched, but Tymon and Emmanuel Vhori, whom Musakwa felt were assets to the company, were kept on.
Despite the dwindling figures in record sales due to piracy as well as other economic hardships, Tymon kept producing more and more groups and individual musicians up until the time of his death. He was also responsible for transforming local music which had been recorded on vinyl records to CDs.
Mabaleka was buried at Lady Stanley Cemetery in Bulawayo.
It is hard to forget a man of that calibre. He will remain one of the best revered music producers of our generation and all his hard work will be sorely missed.
n Feedback: frezindi@gmail.com
Related Topics