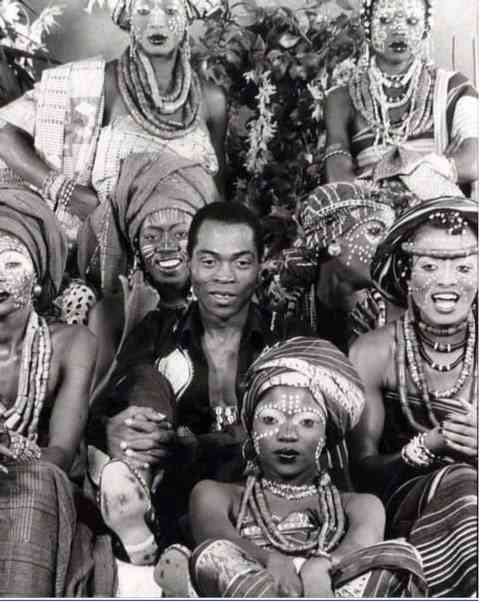 There is no doubt that Thomas Mapfumo aka Mukanya, pioneered the Chimurenga music genre in Zimbabwe.
In the same way, Fela Aníkúlápó Kuti the Nigerian musician and activist (born on October15, 1938 and died August 2, 1997) is credited with being the pioneer of afro-beats.
Fela Aníkúlápó Kuti, whose full name is Olufela Olusegun Oludotin Ransome Kuti also known as Abami Eda, was a Nigerian musician, bandleader, composer, political activist and Pan-Africanist. He is regarded as the pioneer of Afrobeats, a Nigerian music genre that combines West African music with American funk and jazz .
Fela is well known for his political songs such as Coffin For Head of State, Expensive Shit, Colonial Mentality, Teacher Don't Teach Me Nonsense, International Thief Thief, Zombie and the big one, Lady.
Born to an Anglican minister and school headmaster and a mother who was a civil rights leader with such a fearsome reputation, Fela's transition from model young man to the anomalous voice of the masses remains the subject of conversation and study today. By many Nigerian standards of the time he was viewed as a good boy.
After his secondary school in Nigeria, his parents sent him to London to study medicine but, clearly aware it was not his way, he enrolled at the Trinity College of Music instead. Even then, Fela seemed a 'good boy' by certain standards.
According to JK Braimah, one of his best childhood friends, "[He] was a nice guy, a really beautiful guy. But as square, as they come. He didn't smoke cigarettes, let alone grass. He was afraid to even have a romantic relationship with girls."
Ten years later, Fela was back in Lagos. He opened up a bar and a performance arena called the Afro-Spot. His music, which he and Tony Allen had christened "Afro-beat" was a manifesto; a statement of the troubles that Nigerians and Africans faced, the state of the nation and a way out.
A large part of this featured attacks on Nigerian politicians, businessmen and the military rulers of the time who Fela accused of treating the people like lesser beings and mortgaging the nation's future to foreign interests.
As one would expect, they paid attention, but it came to a head when, in 1977, Fela released "Zombie", a mordant, unsparing attack on the Nigerian military and the culture that the institution had built and inculcated into its soldiers.
Using the zombie as a metaphor, Fela described Nigerian soldiers as a bunch of robots with no spine, waiting on orders from above as they marched like toy soldiers.
In 12 minutes and 24 seconds of saxophone and percussion-driven pummeling, Fela ridiculed the Nigerian military, making fun of everything from their "zombie-like" obedience to the music they marched to.
The song was one of Fela's most instant hits but from early on, it was clear that the Nigerian army was not a fan of it.
There are reports that soldiers would flog and punish record stores found playing the song in the loud manner that Lagos-based stores would do at the time.
Fela got so big in Nigeria that with the money he made, he decided to build his own compound which he called Kalakuta Republic. "Kalakuta" was a mockery of a prison cell named "Calcutta" that Fela inhabited. The name was originally derived from the infamous Black Hole of Calcutta dungeon in India.
In 1978, the pioneer of Afrobeats, Fela Anikulapo Kuti, married 27 women in one day. This should not be strange to those who know the life and style of the Nigerian music legend nicknamed Abami Eda (strange creature).
He gave a piece of paper to his female band members requesting the names of those that would like to marry him. The entire twenty-seven female band members put down their names.
After getting their consent, Fela Kuti married the 27 women on the February 20, 1978, at the Parisona Hotel in Anthony, Lagos, with the blessings of twelve Ifa priests. It was alleged that some parents of the ladies objected to the marriage.
Fela married the women to protect and keep them together. The marriage ceremony was attended by Fela's families, friends and other band members.
During the marriage ceremony, Fela rendered a short speech, pressed naira notes on his new wives' foreheads and gave them marriage certificates. Fela embraced a rotation system of 12 wives at a time. After the marriage, Fela took his 27 wives to Ghana for honeymoon.
Fela Kuti, had riled the Nigerian government too much by 1977. On February 18, about 1 000 armed soldiers stormed his communal compound, which he had christened the Kalakuta Republic. His mother was thrown from a window and subsequently died from her injuries and the compound was burned to the ground. Fela's response? More songs attacking the regime, including Coffin for Head of State.
What do you get when you combine 11 years of military rule and an eager military head of state holding a grudge, with a disenfranchised people and an eccentric, amoral musician who has a knack for speaking truth to power and has built a commune of like-minded individuals?
What you get is a series of arrests that culminates on February 18, 1997, with an attack by over 1000 soldiers on Kalakuta, home to Fela Anikulapo Kuti, his mother, the activist and matriarch of the Kuti clan, Funmilayo Ransome Kuti, his children and his band of misfits.
There are varying reports of what had instigated this visit.
The soldiers claimed that they had come in search of one of Fela's boys who had fought a Lance Corporal over a traffic violation and then fled into the commune.
Mabinuori Kayode Idowu, a member of Fela's Young African Pioneers and the author of "Fela: Why Blackman Carry Shit" wrote in his book, " In reality, the soldiers had come for deeper vengeance; Fela's refusal to participate in Festac, the publication of the YAP News condemning the introduction on our roads of an army horsewhip culture, and the uncompromising views as expressed in his (Fela) lyrics were the reasons behind the attack on Kalakuta Republic."
Either way, after they were refused entry into the compound, the soldiers pulled down the gates and went on a rampage.
They set about chasing and flogging everyone in sight, destroying property, including recording and performing equipment, stashes of recorded music and valuable records.
In a matter of hours, soldiers had ravaged the entire building to the ground. Some of Fela's wives would allege that they had been raped.
Many would carry the scars of blows till their death. But in the most inhumane of their many competing actions, some of the soldiers climbed up to the second story room where Fela's mother, Funmilayo Ransome-Kuti, an Amazon if there ever was one, was living.
No one knows what transpired but as Yeni Kuti would later tell, they were in shock when they saw the Lion of Lisabi thrown out of a second-storey window. She would later die from her wounds.
Members of Fela's entourage were detained in prison where, for some, the torture continued. Eventually, nearly everyone regained their freedom.
Many of Fela's band members became homeless after the devastating soldier attack on Fela's commune (Kalakuta Republic).
The government's attitude to the event was evident from the next morning. State-owned media avoided reporting the issue like a plague. Soldiers could be seen seizing and destroying copies of Punch and other newspapers which reported the incident.
I was privileged to attend Fela 'Ransome' Kuti's sold- out concert at the Brixton Academy (Now called The Brixton 02 Arena) in London in1982. He brought an entourage of 29 musicians who included six of his wives. He only sang one song (She Go Say I'll Be Lady Oh) throughout the night for four hours as the audience took part in exchanging dance moves while showering Fela with $1 notes on his forehead. The band took breaks in between the song with continuous bass and percussion rhythms going on while Fela moved to the floor to dance with the audience who showered him with dollar notes on his forehead. The audience seemed to have enjoyed that night although I was disappointed to come for just one song. To me, it was a cultural show meant for Nigerians who missed home. Perhaps it is because I failed to understand the meaning of the song in its entirety. The lyrics went something like this:
If you call am woman
African woman no go 'gree
She go say, she go say, "I be lady, oh"
Ha-ha-ha, ha-ha-ha
However, in 1986, shortly after his release from prison, Fela Kuti divorced his 27 wives on the claim that marriage brings jealousy. It should be noted that they were not forced to leave his house after the divorce; some lived with him till his death in 1997.
Today's Nigerian Afro-Beats stars such as multi-millionaires Wizkid, Davido and Burna Boy are all riding on the back of Fela Kuti's Afro-Beats sensation.
Related Topics