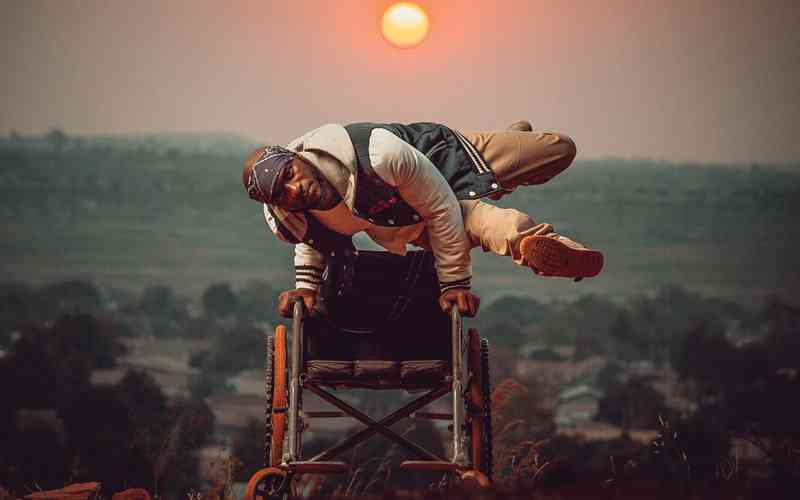 AT the top of his voice, 33-year-old break-dancer B-boy Christyles — real name Blessing Fire — hypes dancer after dancer as they take to the floor in a cypher attracting tens of hip-hop enthusiasts at an arts centre in Harare.
Occasionally, to motivate the young dancers under his tutelage and to keep the young crowd hooked, the award-winning dancer takes the stage to display his exceptional handstands that attract wilder cheering.
When it comes to breakdancing, B-boy Christyles is an undoubtable connoisseur but his strong stage presence, imposing voice and silky dance moves are nothing short of a miracle to those conversant with his upbringing.
"My whole childhood was filled with anger, lots of emotions, confusion, and it was all too much," Christyles told Standard Style.
Born with a disability that saw him wheelchair-bound from a very tender age, it was almost certain that the Glen View- raised performer's life would be pigeonholed. He was taunted, silenced and ostracized throughout his primary school period.
"I actually did not learn in primary school because other students used to make fun of me and I had to defend myself. In third grade, I got into a fight with some guys and the teacher gave us heavy punishment that added more to my problems," he recalled.
"My parents made a complaint to the school and from then teachers said they were not going to teach me and that was the darkest moment of my childhood."
Constantly referred to as "that child" in school, Christyles was made "a bad example for all the kids" to the extent that when he got into a more welcoming high school environment, it was too late as he was not only partially illiterate, but had developed hatred for academic education.
"My focus was no longer in school, I was at a point of assessing where exactly I belonged because I could not read and I could not write so I did not have a voice," he said, adding that he fantasized about being part of a gang.
"I thought I could be a gang member because I had a lot of hate and I really wanted to belong to something."
Between the release of Hollywood movie Step Up in 2006, imitating his gymnast brother and the sheer determination to strengthen his physique, a talent was born in 2007.
By his own admission, the realisation of his dancing capability came as an accident and had he not gotten encouragement from hip-hop dancers that recognised his potential, his career would have remained a pastime activity.
"I had no idea by that time what b-boy (a form of breakdance) was because I had been practising hand stands, trying to balance and just doing something cool," he explained how he first met and became a part of pioneering dance crew The Inmates, after finishing his Ordinary Level studies.
"That is when I discovered that I have a talent and started learning b-boy then going online to understand more about it and all the competitions that were there. I fell in love with break dancing."
What followed after that was a wave of tours, awards and winning of competitions on local and international platforms.
He has travelled far and wide and has achieved a great deal as a result of the craft.
"The (hip-hop) culture really pushed me because what I saw from guys like Fungi Chana who I met when I was just coming from high school was a whole different level because these guys stopped focusing on my outward appearance.
"They started focusing on my talent and assured me that I could do this (and) they were not embarrassed to go with me on stage and I proved them right by giving great performances," said Christyles.
His talent has also opened up opportunities for him to nurture younger talent, first as creative director in various local youth organisations and now as a founder of his own.
"I have since started organisations namely Break Nation and Streetlight, which mainly focus on discovering young talent and pushing the (dance) movement," he said.
Streetlight seeks to educate, elevate and empower artists in the urban art and culture industry through value addition so they can monetise their art and professionally build as well as grow their careers.
This coming Saturday, the organisation is set to host The One Dance Battles at Long Cheng mall in the capital.
The event, which coincides with the International Dance Day, is aimed at providing a platform for the dancers to grow, compete and take a more serious professional approach in the development of their craft according to Christyles.
"We plan to host The One Dance Battles once every month throughout the year.
"We are focusing on training young people, which is still a process because we actually need a proper space to do this," he said while appealing for financial assistance.
"Some of the moves they (breakdancers) do are risky and we still need parents to bring their kids to a safe environment but most of the times we cannot afford because renting studios is expensive."
On a personal level, Christyles fits the description of a ghetto youth, who defied odds and achieved what his peers can only dream of but he is not satisfied, not until the art of "b-boys is taken seriously".
"In other countries b-boy is taken seriously as a sport and it is now part of the Olympics but here we are struggling to make people understand, so our efforts can be lucrative," he laments, but quickly challenges counterparts to acquire knowledge in order to advance creatively and financially.
While his story of defeating persecution, disregarding disability to becoming an international beacon of his craft is one for the history books, he is not yet taking credit.
"I have come a long way, performed on big and small stages, I have won all sorts of competitions but I still have a long way till I see my people making it to the international scene. Till I see break-dancing being respected, I will not take credit for anything," he chuckles.
Related Topics