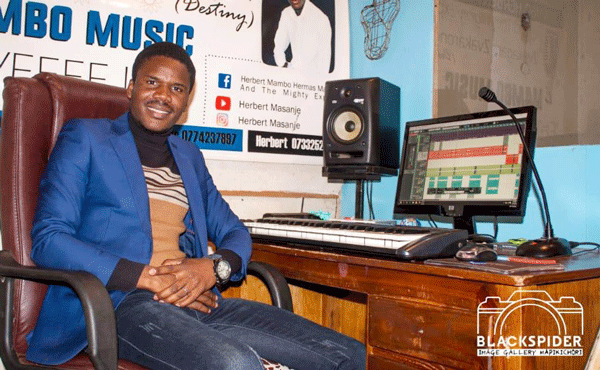 By Burzil Dube
CHEGUTU is predominantly known for being in the midst of commercial farming activities and home of artisanal gold miners.
The sprawling town has many upcoming small to medium enterprises whose hard work is gradually paying dividends as they try to keep their heads just above the economic waters.
The same also goes for Chegutu-based music producer Hebert Masanje, who has managed to defy all odds within the entertainment industry as he has brought some of the country's top artistes into his stable.
Some of the household names that passed through Masanje's recording studio include Obert Chari whose hit Mebo continues to rock the country's broadcasting stations.
Other artistes include Comic Pastor, Bothwell Butau, Bontoman and Samuel Chijange of the Tirikufamba Mamaera fame.
"On the song Mebo, I did all the instruments as well as mixing and mastering as well as producing the entire album titled Batai Mazwi and this also applies to various musicians whom I have assisted as well," said Masanje in a recent interview with Standard Style.
Masanje is also the brains behind Chari's latest album titled Ubuntu, which is destined for greater heights within musical and entertainment circles.
Popularly known in music circles as Mambo Hermus, Masanje also worked as a producer for Butau whose album Manyemwe topped music charts in 2019 while he recorded Hosho Nemarimba, Nyarara, Parinobuda and Shirikadzi.
"I recently did the title track Tikwazisane and Kana Usandide off Butau's album that was launched in the first week of October this year," Masanje said.
Mambo Hermus, whose recording studio is located in Chegutu's KuDurawall in the light industrial sites, also played a role in producing Mbuva Yangu penned by Augustine Zimbile, a Gokwe-based senior police officer.
The 34-year-old, whose late father was a musician, plays all major instruments and produces various types of music genres from sungura, kwaito to hip-hop, among others.
He, however, said some Zimbabwean musicians lack originality and there was need to do away with copycat mentality where some form of plagiarism of work from  other countries such Nigeria, Tanzania among others is done.
"It seems some are even embarrassed to play genres such sungura type of music and there is need for local artistes stand up and counted among the best on the international scene," he said.
Related Topics