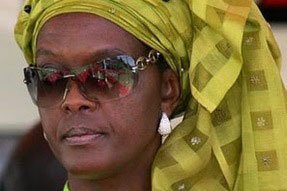 ZIMBABWE's First Lady Grace Mugabe on Friday failed to contain her emotions and as she was told horrid stories of abused Zambian women, she broke down and cried. Selina Banda, 56, a gender-based violence (GBV) victim, said she had experienced emotional and verbal abuse at the hands of her husband, a pastor.
Banda, who was married for 33 years and only divorced a week ago, said her husband hounded her from home on several occasions.
She also told Mugabe and First Lady Dr Christine Kaseba how the abuse resulted in mental illness, which she has since recovered from with the help of the Young Women's Christian Association (YWCA). Mugabe said it is sad that women continue to experience violence at home although there is massive sensitisation going on about the vice.
When she visited the YWCAin Lusaka Mgabe said that gender-based violence was a challenge experienced not only in Zambia but in Zimbabwe as well. Mugabe said men are in the habit of abusing their wives because of Lobola (bride price).
She said women should work hard to become independent and reduce dependence on their husbands. "It is surprising that we continue to hear of GBV at a time like this when we expect people to be enlightened. What is happening here is no different from what is going on in Zimbabwe, where women and children continue to suffer in silence," she said. — Zambia Daily Mail.
Related Topics