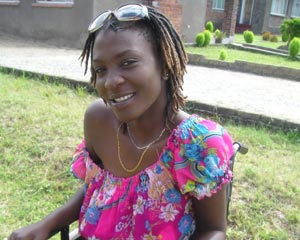 FORMER Studio 263 actress, Benhilda Marume, who played Tamara — Tom Mbambo's sister, in the soap, has died.
BY WINSTONE ANTONIO
She was 30.
Marume died on Friday at United Bulawayo Hospitals where she was admitted after being transferred from Munene Hospital in Mberengwa. Family spokesman and actress' brother, Milton Marume, confirmed the death saying she will be buried at her rural area in Mukumba in Marondera.
"Benhilda passed away on Friday around 11pm after a short illness. She left Harare on Sunday on an assignment in Mberengwa," he said. "She started vomiting on Thursday morning and she was taken to Munene Hospital before being transferred to United Bulawayo Hospitals, where she died," he said.
Milton said his sister had two scans and a minor operation on Friday. Studio 263 director, Godwin Mawuru said he was saddened by the news. "It is a loss to Studio 263 and the whole of Zimbabwe," Mawuru said. "She was still part of us. She was a very dedicated and intelligent woman who rose against disability."
Benhilda was born on February 7 1982 in Bulawayo and she was the last born in a family of six, with two boys and four girls.
She did her primary and secondary education at Victoria Primary School and Victoria High School in Masvingo respectively.
Before her death, Benhilda was working with the Disabled Women Support Organisation (DWSA) as the programmes officer. She was also a member in the special youth advisory board on disability.
Mourners are gathered at number 5514 Platinum Road in Zimre Park.
Related Topics