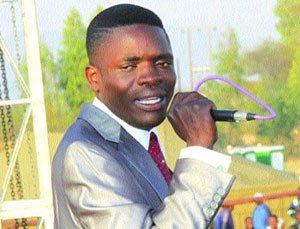 Despite scoring nine points at 'A' Level, Tryson Chimbetu decided to divert from his education path to pursue music professionally.
REPORT BY TAWANDA MARWIZI
He is a promising artist who has done well under the mentorship of Alick Macheso. Now, Chimbetu is proving to be one of the serious contenders to the Dendera crown although he still has a lot of work to do for him to beat his cousin Sulumani.
Standardlife&style spent an hour with the musician at his late father's house in Glen View 4 and he revealed a lot about his career and ambitions.
"At school I usually said I wanted to be a lawyer but as I grew up I just felt that music was in me. I could have done something else professionally but I think I had a calling," said Chimbetu.
He did his secondary education at Glen View High 3 and would at times carry a guitar to school to practise during his free time.
While most of his peers enjoyed playing plastic balls in the streets, the young musician was busy taking notes from his father Naison.
Narrating how he began his musical journey the Kumapako hitmaker said, he ventured seriously into the career in 2002 when he went to Mutare with his father and shared the stage with several other musicians.
"I was still young then but I told my father how much I wanted to venture into music. My father inspired me. He was a brilliant song writer, and is credited for writing some of Simon [Chimbetu]'s all-time hits like Mudzimai Wangu, Kunjere Kunjere and Sekuru Ndipeiwo Zano."
In 2004 Tryson tried to join his cousin Sulumani but the duo failed to strike a professional deal to enable them to work together.
His efforts finally paid off when he formed the group Marxist Brothers and released his first album Marxist Revival in 2005.
Turning to how he spends the income from shows, the young musician said he did not focus on leading a flashy life like some other musicians, but invested in the welfare of his family and future.
"I believe in leading a simple life. I spend part of my income on the upkeep of my siblings and the rest is invested in shaping my future and that of other family members."
He recently renovated his father's house, which now looks outstanding in the neighbourhood.
"The house was dilapidated and I had to renovate it. I thank my father wherever he is because he set the foundation for me. My family is very happy now."
The young musician spends most of his time at home and practising at New Life Night Club in Budiriro.
"My biggest target is to make this house look good because I like to spend most of my time here at home. On Tuesdays and Wednesdays I go for rehearsals at New Life. On Sundays I go to church," said the soft-spoken musician.
True to the Christian gospel of giving, he recently assisted one of the popular Pentecostal churches in Glen View by loaning them his musical kit during a crusade.
"It was just a way of giving back to God because he is the one who is behind all the success I have had so far in the music industry."
A HUMBLE MUSICIAN WITH A PROMISING FUTURE
tryson has a commendable way of relating to his neighbours and most of them described him as a humble musician who had a promising future.
"He is just humble. If you go to him seeking assistance, he is always willing to assist. Most people here opt to go to him for help instead of other prominent people in the area because of his character," said an old woman who identified herself as Gogo Mushamba.
He is planning to start building his own house soon.
"I have plans of building a house at a new residential stand I bought in Msasa Park. However, I enjoy this neighbourhood more and it will take time to move away even after I complete the new house."
The musician, who drives a Toyota Mark II, said he prioritised building a house first before spending money on expensive cars.
He said he was not interested in flaunting his money because he had to prepare for a bright future since he would soon consider getting married and settling down with a new family.
If all goes well, he will hold a gig to honour his father in March and will invite other Chimbetus — that includes his cousins Sulumani, Douglas and uncle Allan.