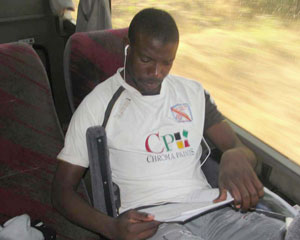 WHEN people talk about Monomotapa Football Club, names such as Ronald Chitiyo and Kuda Musharu are often mentioned as the stars of the team.
REPORT BY TATENDA KUNAKA
But one player, Obey Mwerahari, who has not been noticed among the team's best performers, has been behind the team's success.
Mwerahari (23), is a utility player who can be played as a right back, centre back or as a central midfielder.
The former Young Warriors defender has been a consistent performer and a key player for Monomotapa. The rock-steady defender is one of Monomotapa's prized assets as from last season.
At the beginning of the season, Mwerahari attracted the interest of Dynamos coach Kallisto Pasuwa, but their bid hit a brick wall at the last minute.
Speaking to Standardsport, Mwerahari said being underrated motivated him.
"It is normal for a player to be underrated the world over. It inspires me to keep on working hard.
"One day people will notice my efforts, it is only a matter of time before that starts happening," said Mwerahari.
Mwerahari represented the country in the Under-17 national team and subsequently graduated to the Under-20 and the Under-23 national teams.
He played in the same team at Under-23 level with Khama Billiat, Archieford Gutu, Denver Mukamba, Lincoln Zvasiya and Matthew Rusike, to name just a few. These players now form the core of the new-look Warriors team.
If called for national duty, Mwerahari believes he can add value to the team, which is facing a shortage of defenders and central midfielders. This predicament has forced Warriors coach Klaus-Dieter-Pagels to play other players out of their usual positions.
Mwerahari's ability to defend, attack and his aerial strength can be utilised by the Warriors.
Mwerahari started his football career at Agatha Sheneti Football Academy before joining the now defunct Eagles on his way to Monomotapa.