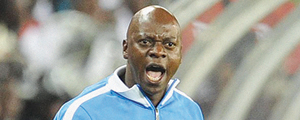 WARRIORS coach Ian "Dibango" Gorowa was known for his boiling temper as much as his eye for goal in a career that ended prematurely at the age of 28.
REPORT BY ALBERT MARUFU
Whether playing for Black Rhinos, Dynamos or South Africa's Ajax Cape Town, Gorowa was never one to hesitate meting out instant justice on opponents whenever he thought his rights had been infringed upon.
Ironically, Gorowa started his career at army side Black Rhinos where discipline is of top priority.
It is this trait that saw the former winger physically attacking Manning Rangers' Kerryn Jordan after he inflicted a career ending injury on his Cape Town Spurs (now Ajax Cape Town) teammate Vusi Laher in 1998.
Coincidentally, Gorowa was to suffer the same fate as Laher when he also sustained a career-ending injury the following year in a game against Vaal Professionals FC.
Though in the past he had received marching orders for his temper, it is these two incidences that moulded him into the coach that he is today.
"I learnt that sometimes it is not deliberate to injure someone. I always turn the negatives into the positives and praise the Lord for all the blessings that I have," said Gorowa who was capped 26 times with the Warriors and scored 11 goals.
Today the 41-year-old sometimes gets emotional, but that is a far cry from the player who was a referees' menace during his playing days.
"When coaching, you lose your temper quite a lot, but now I am calmer," he said.
This has worked for Gorowa at various clubs that he has worked for in South Africa, among them cash-rich Mamelodi Sundowns where he was caretaker coach from February to June 2011.
"My stay at Sundowns taught me how to cope with pressure and handle high-profile players," he said.
Turning to the Warriors, while his predecessor German national Klaus Dieter Pagels is a firm favourite of Barcelona's tiki-taka style, Gorowa is a firm admirer of total football, which is a Dutch philosophy.
"We have to qualify for African Nations championships (Chan) finals and the 2015 Africa Cup of Nations in Morocco. I believe in total football which is a Dutch philosophy," he said.
This is not surprising for a man who played for Ajax Cape Town which is a sister club to Netherlands' Ajax Amsterdam.
In total football, a player who moves out of his position is replaced by another from his team, thus retaining the team's intended organisational structure.
In this fluid system, no outfield player is fixed in a nominal role; anyone can be successively an attacker, a midfielder and a defender. The only player fixed in a nominal position is the goalkeeper.
Tiki-taka is a style of play in football characterised by short passing and movement, working the ball through various channels, and maintaining possession.
Gorowa added that locally-based players would form the bulk of his squad.
"I think we are still assessing most of the players. I will use them [locally-based players] as the base and core of the national team," he said.
Gorowa said his major hope was to see local football getting better not only on the field, but on issues like player welfare and sponsorship.
Why did Gorowa leave SA for Zim?
But why did Gorowa, who as assistant to Mushin Ertugral won the Absa Cup with Ajax Cape Town in 2007, leave South Africa to take up a job at the financially troubled Zifa?
"I am motivated by the desire to give back to the country and try to improve the standard of football.
"I have done a lot of courses. I have the highest qualification in South Africa, which is the pro licence. This is an intense course with a lot of research work on various aspects of the game including philosophy, psychology, and anatomy," he said.