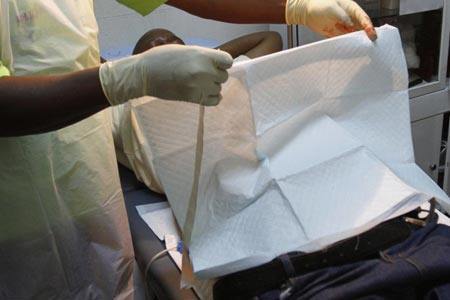 OFFICIALS from the Ministry of Health and Child Care have been going around schools in the country disseminating information on procedures and benefits of male circumcision to pupils, some as young as 12 years old, courting the ire of some parents.
BY PHYLLIS MBANJE
The officials however said they were targeting pupils in higher grades in both primary and secondary schools. For anyone below the age of 18, consent for circumcision has to be sought from the parent or guardian.
But some parents felt that the issue of circumcision was being introduced too early and might be harmful to the pupils.
Ministry of Health and Child Care national male circumcision (MC) coordinator, Sinokuthemba Xaba said the exercise was meant to furnish the pupils with information which they would share with their families and help them make a decision.
"The exercise is merely for giving out information. We do not expect the pupils to then make decisions but the parents, if they so wish, will then consent in writing," he said.
Xaba said in some instances the schools had invited them to either give the lectures to the teachers who would in turn filter the information down to the pupils, or address the children directly.
"It differs with schools; some allow us to interact directly with the pupils while some prefer the officials to address teachers. Bottom line is that it is all about disseminating the right information," he said.
An official from Population International Services (PSI) said there was nothing wrong with disseminating information about circumcision to pupils. He however admitted that some parents had reservations about the exercise.
"Even if the children do not immediately put the information to use, it might help them as young adults to know and appreciate the benefits of circumcision," he said.
Last month, Xara said the programme faced a myriad of challenges which included limited demand for the services among older men, inadequate human resource and limited government funding.
This is despite the belief that if the exercise is successfully rolled out, 212 449 infections would be averted by 2025 while HIV prevalence would decrease to 4,4% by 2025 compared to an anticipated 7,3% if MC is not scaled up.
Parents who were attending a graduation ceremony at a preschool in Meyrick Park in Harare recently expressed mixed feelings over distribution of information about circumcision to pupils.
"I do not see anything wrong with the ministry giving information to the children as long as they are mindful of the language they use and do not try to manipulate the children," said Sheila Hove from Harare's Westgate suburb.
However, Robert Gwata from Richwell Gardens in Mabelreign had this to say: "Surely, that is a preserve of parents and guardians. Why should these guys go to schools and try to sweet talk our children to have the procedure done. We will have problems when they come home with their heads full of things that they have no control over."