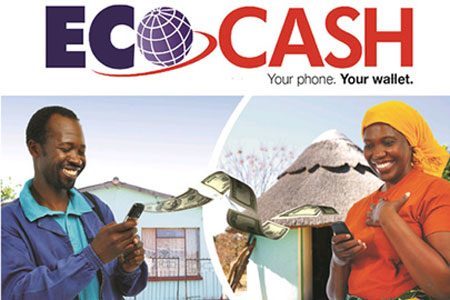 LOCAL banks face a tough hurdle as the emergence of mobile money transfer services (MMTS) appears to pose a serious threat to their survival.
BY NDAMU SANDU
Econet, the country's largest mobile operator, launched EcoCash in 2011 to tap into the unbanked. It was followed last year by NetOne which relaunched its own OneWallet.
Soon afterwards, Telecel's MMTS, termed Telecash, was launched to also tap into the lucrative business.
The proliferation of the MMTS comes on the backdrop of banks' failure to reach to potential clients, leaving a huge chunk of the population financially excluded.
A survey by the Zimbabwe National Statistics Agency (Zimstats) showed that 40% of adults do not use any financial products. Should they desire to borrow, they turn to family and friends and if they opt to save, they do so at home.
This means that a large percentage of the population has no access to financial services. The emergence of MMTS now poses a threat to the survival of already struggling banks in a tough and illiquid market. But, can MMTS take over the role of banks?
Traditional roles of a commercial bank include deposit taking, savings, lending out money, money transmission and international payment systems, among others.
Analysts say mobile money transfer services have not yet replaced commercial banks' roles of lending money and international payment. They agree however, that they have displaced the money transmission role to some extent.
"Mobile money transfer services can displace current roles of banking in certain markets because of the existence of the unbanked community," a banking executive said. "In terms of deposits, banks will be a preferred choice for bulk deposits since agents have a limit that one can put in a wallet."
Financial analyst, Ranga Makwata said MMTS have done better to promote financial inclusion and their establishment was a response to a need. "Banks had all the time in the world to develop relevant products but they stuck to the old ways of doing banking and are now crying foul after noticing that they have been overtaken by events," he said. "Be that as it may, banks remain relevant and they should see MMTS platforms as a new opportunity for their businesses and not view it as unwanted competition."
Local bank, CABS, has already taken an innovative route through launching its own MMTS termed Textacash.
Banks' costs include among others rentals, furniture, software and staffing. Standardbusiness learnt that a small branch in the central business district costs in excess of US$5 000 per month in rentals alone. It is manned by no less than seven employees.
Juxtapose the costs with those incurred by an agent who needs space for a desk and chair in a clothing shop!
"You can't compare the two. It's like comparing chalk and cheese," an executive said last week.
Makwata said the onus was on banks to get rid of unnecessary, expensive structures which were making the cost of financial services dearer to customers.
"Innovation should be encouraged, not stifled to preserve archaic business models. The regulator of MMTS, which is the RBZ has to come up with relevant regulations to govern the operations of MMTS," he said.
Makwata said "anything that makes the cost of transaction, lower is good for the customer".
"In fact MMTS have done what banks have failed to do in a long way; providing relevant financial services to previously unbanked groups," he said.
But Makwata said what was unhealthy was the current stand-off between Econet and the Bankers Association of Zimbabwe on the usage of the EcoCash platform.
"Those are issues the regulators would need to address to promote cooperation between two groups since they need each other," he said. Darlington Mandivenga, Econet Services CEO said his company had made its position clear but welcomed "all financial institutions to participate on the EcoCash platform".
"There are, in fact, more commercial banks that are linked to EcoCash than those yet to do so. Negotiations continue to ensure even more integration for the benefit of customers," he said.
Mandivenga said the response to EcoCash had been phenomenal and subscribers had grown to 3,5 million with over 10 000 agents countrywide.
Recently, Steward Bank said that it had reached one million customers, as a direct result of customers signing up for EcoCash Save, one of the products on the EcoCash platform.
"This means Steward Bank, by customer numbers, has become the largest bank in the country within a very short space of time. This shows the impact of mobile money. Many of these customers did not even have a bank account a year ago," Mandivenga said.
He said there was an increase in the number of companies using the EcoCash payroll as it guaranteed "an employee that when they need money, they will get it".
"For employers, apart from making sure staff is guaranteed access to their money, there is the added advantage of security. There is no need to transport huge amounts of cash to pay salaries, placing lives and cash at risk," Mandivenga said.
Related Topics