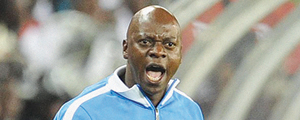 Convicted Singaporean bookmaker Wilson Raj Perumal has made sensational revelations about how he was allegedly duped by then Warriors striker Ian Gorowa when he tried to manipulate the outcome of Zimbabwe's Dunhill Cup match against Bosnia-Herzegovina in Malaysia in 1997.
BY MICHAEL MADYIRA
In a tell-all biography of Perumal called Kelong Kings, written by award-winning Italian investigative journalists Alessandro Righi and Emanuele Piano and published last week, he revealed in great detail his underworld operations.
Gorowa has however denied ever meeting Perumal.
In October 2012, Standardsport exclusively revealed that Perumal infiltrated the Warriors in the late 1990s.
In extracts from the biography obtained by Standardsport, Perumal described Warriors players as "dirt-poor."
A Warriors side toured Malaysia in 1997 for the Dunhill friendly international tournament that also had Vietnam, Indonesia, China, Finland and Singapore as participants.
The Gibson Homela-coached outfit had players who included Memory Mucherahowa, Masimba Dinyero, Kalisto Pasuwa, Chamu Musanhu, Matambanashe Sibanda, Claudius Zviripayi, Muzondiwa Mugadza and Kaitano Tembo.
Perumal discloses that this was his first effort to rig an international match. But it was a false attempt as five Zimbabwean players reportedly bagged his money but performed contrary to his instructions on February 24, 1997 with Gorowa leading the rebellion.
The Warriors drew 2-2 with Bosnia-Herzegovina instead of tailoring the result to Perumal's desired 4-0 loss. Dunhill tournament records explicitly showed that Gorowa grabbed the equaliser while Perumal stated in his biography that the player who levelled the score line was part of the group of five players he had paid to lose the match.
In an interview last week Gorowa said it was the right thing to score but denied ever encountering the bookmaker described as "world's most prolific match-fixer in football's recent history." "I guess I did the right thing," said Gorowa.
"Yes I scored from 40m and we went through to the semi-finals. No, not at all do I remember a Singaporean man approaching our team. I am not too sure, I do not remember talking to anyone. We wanted to win that Cup so much. We were tough guys so I am sure no one knew about match-fixing."
In his side of the story, Perumal said he was broke and had only US$3 000 in his pocket but an old associate of him, only named as Pal, helped him pay the five Warriors an upfront of US$30 000 as part of the promised US$100 000 for losing the match 4-0.
"I decided to try my luck with the Zimbabwean players. I knew that these black guys were dirt-poor and could be corrupted so I decided to approach them," said Perumal.
He learnt about the whereabouts of the Zimbabwean players and approached one unnamed player.
"I met the player on my own and told him that I was a football agent, took him out for dinner and then put him on a shopping spree," he said.
"It felt like a first date. Then I made my offer. 'Would you be happy to receive US$100 000 dollars to lose a game?' I asked. 'Extremely happy,' was his reply. 'The US$100 000 is not meant for you alone,' I clarified, 'but for five or six of you who can be trusted to work for me."
The unnamed player then arranged for Perumal to meet four other players the following day.
"One of them was extremely cautious and kept asking questions. 'We don't know whether you are a policeman or not,' he argued. 'I'm not a policeman,' I answered. 'Look at my passport, I am a Singaporean who has come to Malaysia. This is my profession. I fix matches. Either you want to do business or you don't,'" said Perumal.
The Zimbabweans assured Perumal to lose 4-0 and were handed a deposit of US$30 000 to share and the remaining US$70 000 was to be delivered the day after the match. The arrangement was for the match to close goalless at halftime and the Warriors were supposed to concede four goals in the second half.
But Dinyero opened the score line in the 24th minute to assume a halftime lead for the Warriors.
"I had misjudged the Zimbabweans; they were actually much better than the Bosnian players. The first half closed 1-0 for Zimbabwe and I was starting to grow nervous," said Perumal.
Asim Hrnjic and Dzelaludin Muharemovic pulled back for Bosnia in the 58th and 67th minute for their side to lead 2-1.
"Bosnia scored twice within a ten-minute span … mainly because my five boys in the Zimbabwean team were performing way below their standard. I needed another goal from Bosnia to clear the handicap. But suddenly, at the 75th minute of game-play the Zimbabwean player who was asking a lot of questions about me being a policeman volleyed the ball from 40 meters," Perumal said.
"2-2. What followed was the strangest goal celebration that I've ever seen in my entire life. The Zimbabwean player brought his hands to his head as if to say: 'What have I done.' Then all five players, my five guys, gathered like a rugby scrum and started talking in a circle right in the middle of the pitch."
Dinyero said he never suspected anything during the tour but said on their way back home from Malaysia, one Dynamos player remained in Indonesia for "trials" at the invitation of his new "agent," and followed home a couple of weeks later.
Homela who was also coach said in an interview last week that everything was above board among the players.
Related Topics