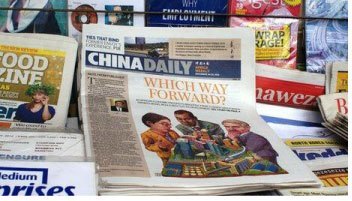 ZIMBABWE will on Wednesday join the rest of the world in commemorating World Press Freedom Day amid growing concerns over the deteriorating media environment and lack of commitment by government to align media laws to the constitution.
by Everson Mushava
Zimbabwe Voluntary Media Council executive director Loughty Dube said although the country witnessed positive development in the striking off of criminal defamation laws, a lot still needed to be done regarding alignment of laws to the new constitution that provided media freedom.
"Many journalists are still being harassed under archaic laws such as Access to Information and Privacy Act, Official Secrets Act, and many other laws that have not been aligned to the new constitution," Dube said
The Constitutional Court in February outlawed criminal defamation that had been used by the state to clampdown on media practitioners.
Dube said it was sad that Zimbabwe would be celebrating World Press Freedom Day at a time President Robert Mugabe was threatening action against the media and stifling social media.
"That is undemocratic and retrogressive. We see this happening in China. It shows a government that is living in fear of its own people. There is nothing to fear unless government is admitting that it is infringing the rights of its citizens and, therefore, wants to suppress media freedom," he said.
Dube said Zimbabwe should also move towards media diversity, adding that most of the broadcasting stations being licensed did not represent diverse views.
Government in recent years awarded several radio and television licences, mostly to individuals and organisations linked to Zanu PF.
Media Institute of Southern Africa (Misa) said despite Zimbabwe adopting a progressive constitution in 2013, the media environment was still deplorable and could worsen following threats by Mugabe to clampdown on social media.
"Rather, President Mugabe is hinting at plans to introduce more stringent monitoring of the internet and other social media platforms in attempts to reduce the so-called abuse of the technology by Zimbabweans," Zoé Titus, Misa regional director said.
Last year Zimbabwe witnessed the arrest of several journalists from both the public and private media in an onslaught against the profession.
Obert Gutu, spokesperson for the Morgan Tsvangirai-led opposition MDC party, said while the local print media had been substantially liberalised, Mugabe's government had maintained a vice-like grip on the electronic media.
He said Zanu PF had made cosmetic liberalisation of the airwaves to maintain their propaganda.
"Even the community radio stations that were recently licensed have got a Zanu PF flavour and bias, Gutu said.
"Thirty six years after attaining independence, Zimbabwe still has only one television station that is monopolised by the State. Effectively, therefore, there is virtually very limited press freedom in Zimbabwe."
Political analyst Vivid Gwede said: "The fact that we still have one television broadcaster which is controlled by the state highlights the long journey we have to go to open the media to many players."