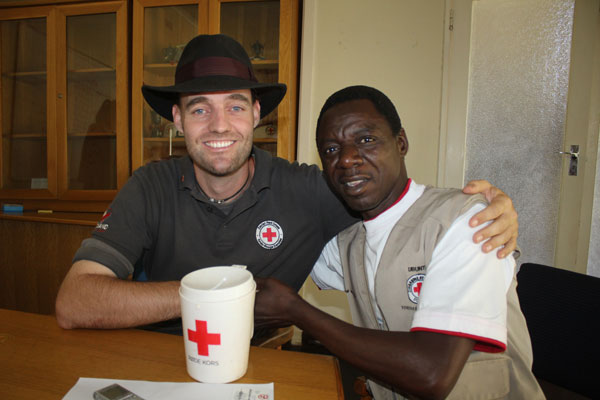 Danish Red Cross goodwill ambassador Torbjørn C Pedersen is a man on a mission. He wants to visit every country in the world without using air travel.
By Moses Mugugunyeki
Thor, as Pedersen is fondly known, spent the better part of last week in Zimbabwe — his 109th country to visit since he left his home country two and half years ago. He insists he will visit every country in the world.
"I am travelling to every country without using air travel," Pedersen told The Standard Style last week. "This is my 109th country to visit since I left Denmark on October 10 2013."
He uses buses, taxis, trains, boats, ships and his own two feet — all on a shoestring budget of $20 a day.
The Dane who entered Zimbabwe through Beitbridge Border Post from Mozambique via South Africa said he is driven by the desire to do what no one has done before.
"Not many people have actually reached every country in the world in their lifetime. Far less people have done so, than people who have summited Mount Everest," he said.
"Nobody has ever travelled to every country in the world without getting into a plane. Some adventurous souls have, however, come pretty close.
"Doing something new is exciting and it turns out that it serves as a source of inspiration for many. But the inspiration is not always what seems most likely. Some are naturally inspired to visit new countries and far away cultures."
He said his motto for the journey was, A Stranger is a Friend You've Never Met Before.
Pedersen, who acknowledged that Zimbabwe was a beautiful country compared to most countries he visited, said his adventure was also meant to promote Red Cross work around the world.
"I have been given an amazing honour of travelling as goodwill ambassador for the Danish Red Cross. As such, I get to represent and promote the Red Cross in 189 countries in the world. That means that the Red Cross is basically in every country in the world," he said.
"I am on my knees for Red Cross volunteers who make a difference in the lives of millions of people across the globe."
The 38-year-old Dane also met Zimbabwe Red Cross Society humanitarian ambassador Alick Macheso last week. The two interacted and shared notes on humanitarian work.
"On behalf of the Zimbabwe Red Cross Society, I am happy to welcome the goodwill ambassador of Danish Red Cross," said Macheso. "He is on an important mission that is taking him all over the world, promoting Red Cross work. The good work he is doing in promoting the Red Cross mission must be commended."
And Pedersen added: "It is an adventure in itself to learn about this old organisation [Red Cross] which was founded in 1863. And it is certainly an honour to promote it publicly."
Born in Denmark to Scandinavian parents, Pedersen says he will only return home after completing his quest to visit 203 countries of the world. "I am on a mission to visit all countries of the world. I have been away from home for two and half years and covered 50% of my adventure. I am likely to go back home in 2018," he said.
Pedersen went to school in Denmark, where he also did military service before finding his feet within the shipping and logistics sector.
"In 2009, I became an independent businessman and after years of working on other people's projects, I was able to create my own," he said.
The intrepid traveller who left the country for Zambia on Saturday last week said Zimbabwe was an amazing country full of opportunities.
"Zimbabweans are amazing people. Once you start to speak to them then you will realise that everyone knows that there is a future," he said.
"I haven't experienced the hopeless attitude of some other countries I've been to. Isn't that extraordinary?
"An educated population which knows that nothing comes from nothing. If you want results then you better work for it. A large part of the population is impressively creative when it comes to making ends meet. You might be an attorney…but can you also do landscaping? You might know how to weld…but can you also sell rocks? Start a restaurant? Plan weddings? Nothing comes from nothing."