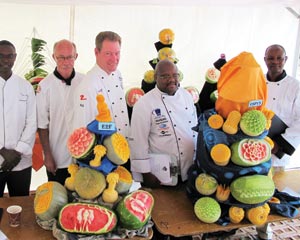 In my opinion, this is a multi-million dollar question. Last week I spent time with a young farmer and his wife from Mashonaland West. They were both very excited in their new venture in horticulture as well as many other farmers who seem to have good markets. The couple left me good looking ripe tomatoes and green pepper, left over from their delivery that day. However, my focus in this article is not about what income we are generating from gardening and farming, but the health aspect that our produce can bring to our tables.
Doreen Badze
I deliberately have been avoiding this topic for the longest time. I have written many articles on fruit and vegetables and highlighted their nutritional value, medicinal properties and mentioned every goodness in them.
Furthermore, I live very close to a fruit and veggie store that attracts scores of customers who primarily go there for purchase of fresh produce. Mostly we are aware of the benefits of fruit and vegetables and some of us sadly are not fully utilising the produce in our gardens to benefit our health.
A few years ago, I woke up with chest pains and got hospitalised for a thorough check-up. It was determined that nothing was serious but that I needed to follow a diet that included mainly fruits and vegetables. However, while I was alone in the hospital bed, I accessed the folder that had the doctor and nurses' documentation. It partly read "49-year-old-obese female admitted complaining of chest pain". I felt like I had been hit in the head by something realising that according to my weight on admission, I was medically being considered as obese. I remember the dietician visiting me at my bedside offering a meal plan that excluded fried foods, salt, sugar, and refined carbohydrates, etc. She went on to talk and explain about basic diet and nutrition guidelines that I honestly knew about but, just sat there and listened like I had no idea what I needed to do. I guess with a combination of the right food and medicine, I got better and was discharged and asked to follow a cardiac diet. For the next few months that followed I sure enough was compliant to the diet and exercise plan that was prescribed. Years have gone by and here I am, better off with my own garden that has most vegetables grown organically, but still I consciously slipped back into non-compliance mode. It would have sounded better if I used the word "unconsciously" but that is not the truth. The amazingly lack of food discipline is unbelievable and debilitating.
If many of my readers resonate with my story, the question is what do we need to do to stay alive and healthy? In my opinion, let our gardens work for us. The reason I avoided this topic for so long is because I feel like a hypocrite that does the talk and not the walk. As much as I do not like the word, I am still obese, but once you exceed your ideal weight, you start being regarded as fat to be blunt. Oh what have I done? I just deliberately gone public with my overweight issues. As much as I am answerable to myself, I have chosen to be answerable to my fans of this column. There is no reason for a gardener to be obese when surrounded by fresh produce.
Losing weight This is a vast entity and I will not burn my brain cells digging deeper into the complications of counting calories, whatever that is. I have decided to keep it simple and just eat as many vegetables and fruits as I can from my own garden starting from today and buy the few I do not have. Gardeners/farmers, we have a challenge of letting our gardens/farms work for us before prioritising acquiring markets to sell, looking forward to as much money as we can make without considering the correct consumption of our yields.
In my next article, I will give you details on how I want to invite my fans to embark on this journey of weight loss while answerable to myself and my followers.
In our garden nursery this week we have the following seedlings; amazing rape hobson, tsunga paida, tomatoes tengeru, green pepper, red cabbage, king onion, lettuce commander, romaine lettuce and red lettuce. We also offer germinating services. In this cool season farmers having trouble germinating especially peppers or any other seeds come to Badze Garden Nursery and let us help with the use of an electric germination chamber. How to grow garlic video by Doreen Badze now on You Tube. Please view. Happy gardening week!
l Doreen Mutobaya Badze is a retired nurse and passion driven gardener, she can be reached at 0779 730 880 or at 16 Metcalf Road, Greendale, Harare. Email: dbadze4@gmail.com Facebook page: Badze Garden Nursery.