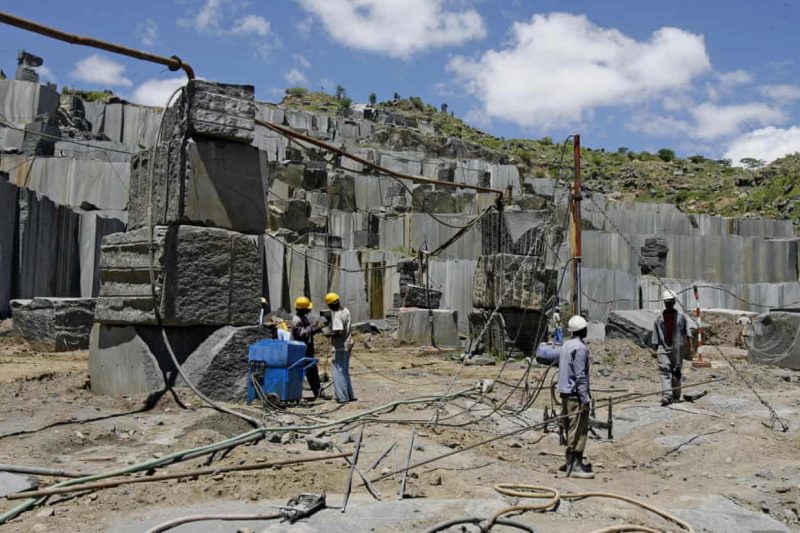 By Kennedy Nyavaya When earnings from selling tomatoes could hardly secure the next meal for Linda Sherekete (29) and her two children — aged seven and 10 — she became desperate for a decent-paying occupation.
In Zimbabwe, employment does not come-by easily and at Lowdale Farm in Mazowe South, Mashonaland Central province, the prospects of getting a suitable job were even slimmer.
The area, situated some 25km north of Harare, is known for smallholder farming and informal gold mining, making it a very masculine environment.
In 2018, Labenmon Investments set up a US$20 million-nickel processing plant to beneficiate the base metal at Lowdale.
Sherekete knew she had to be daring to get a job there nine months ago.
"I used to sell tomatoes at a vending stall, but the money was not enough. So I decided to join the men who were waiting for job openings at the plant's gate," she explained. Persistence saw her not only becoming a security guard manning the same gate, but the first woman to be employed there.
"Poverty gave me strength to come job-seeking here. I have two children and now they are getting enough to eat and go to school in appropriate uniforms,. which shows that they have a working mother."
The plant currently employs 108 people and the number of women has risen since Sherekete got a job.
Labenmon Investments, a Chinese mining and logistics firm, which started its local operations in 2006 with a special focus in gold and nickel mining, has now included value addition and beneficiation through establishment of refineries.
This comes as the country is pursuing an ambitious US$12 billion mining industry target by next year as part of the broader macroeconomic roadmap towards an upper middle-income economy by 2030.
The development has seen an influx in Chinese investments and while they have been contributing to increasing formal employment and setting up infrastructure, critics believe that it has not been enough compared to the profits they are making.
"In our mines, refinery plants and also transportation companies we have employed hundreds of local people, we strive to protect the environment and also conduct our corporate social responsibilities (CSR) just as we do in China," Labenmon Investments manager Tang Jun told journalists last week.
"Our main purpose is to improve the lives of the people and benefit the community."
In addition to donations made to a local primary and secondary school, Labenmon has built houses for their workers, among other CSR projects.
Jun also revealed that they have committed US$2 million to convert Lowdale's rugged 8km main road into a world-class concrete one.
According to him, they have settled for a more costly concrete road instead of a tarred one for its durability — concrete roads last up to 25 years — and as an assurance of their sincere partnership with locals.
"In China we have one saying that if you want to have a good life or become rich you first have to construct a good road," said Jun adding that the high-priced road is "a sign of sincere contributions by Chinese investors".
"There is widespread talk on social media that we are looting resources but we are not looting, we are here to partner with the government and local people in mining, refinery and export of products that earn foreign currency for the government and its people.
"We are happy to be with the Zimbabwean sisters and brothers working together to improve livelihoods and contribute to the economic development of the country."
For years, China has been the largest source of foreign investment in Zimbabwe since the latter adopted a "look-east policy" in 2003 that seeks trade as well as political agreements with Asian countries considered friendly to it.
Last year trade between the two countries, which has seen Zimbabwe export goods like tobacco, ferrochrome and copper among others while importing electromechanical products, communication technology and textile products etcetera, reportedly amounted close to US$ 2 billion.
However, a cloud of uncertainty hoovers over a significant number of local Chinese businesses says Farai Maguwu, the founding director of Centre for Natural Resource Governance (CNRG).
"A baseline of Chinese Investments in Zimbabwe shows that the majority are extractivist in nature, they are very exploitative and negotiated at the political and military level," Maguwu told The Standard.
"When they get to the community the decision has already been reached and they are not accountable to the local people, but to the one who gave them access to the community."
It takes two to tango and although Maguwu raises red flags on both parties he mainly accuses government for an apparent pillaging of local natural resources, which he said is a result of rent-seeking behaviour and laxity of local laws.
"The government of Zimbabwe must create a framework at the political level of what we want to get out of our natural resources then the junior officials who make policies will ensure that when investors come they play to the games that we would have set but at the moment it is just rent-seeking," he said.
But, looking at the Labenmon case where millions of dollars have been poured into developing the community and the positive testimonials of their workers the big question is why is there a blanket perception that Chinese Investors are looters?
"Chinese investors have been bad-mouthed a lot of late and we have not said anything but now we want to show people what we do," says Steve Zhao, director of China-Africa Economic Research Centre.
Essentially, Zhao says, the Chinese community now wants to "speak out about who we are and what we are really doing" to dispel the "fake accounts intended to smear us".
"The majority of Chinese people and companies in this country are good people and want to develop the country as well as share the success experiences from China with the local people so as to build the Zimbabwean economy."
Building together is what Tichaona Gwashavanhu (42), an informal gold miner turned plant supervisor at Labenmon, believes the miner has gotten them to a point where they are seeing development in their community.
"This area was so primitive and it was scary because of rampant crime, but now we are relieved as a result of these developments," said the married father of four.
"We look forward to a lot of other developments that they have promised and we are ready to help them in these mutual achievements because they are not originally from around so they may not know what we want in our country but we will tell them so we can build together."
Related Topics